These sweet potato corn cheddar fritters fry up to make a delicious appetizer or side to dinner.

Fritter is a fun word, isn't it?
It's fun to say, they're fun to eat and it totally skirts around the reality of the situation which is, it's fried.
I could've probably called these sweet potato corn & cheddar balls too but I like to reserve that word for round objects of the sweeter, no bake variety. I also find the need to make inappropriate comments when the word "ball" is in the title of a post and I'm just not feeling that witty at the moment.
So, here we are with fritters which you should know I pronounce in my head as FRITT-AHS! (part Boston accent part circus announcer).
Would you believe this is actually the first time in my life that I've legit fried something?
Yep. My frying virginity has been taken. I was waiting for Mr. Right all this time. He finally came along dressed as a sweet potato, seduced me with roasted corn and cheddar cheese, totally won me over, made me a woman and left me high and dry with a house that still smells like a fast food joint and an empty OJ container half filled with used oil.
It wasn't as glamorous as they said it'd be.
Isn't that what everyone says?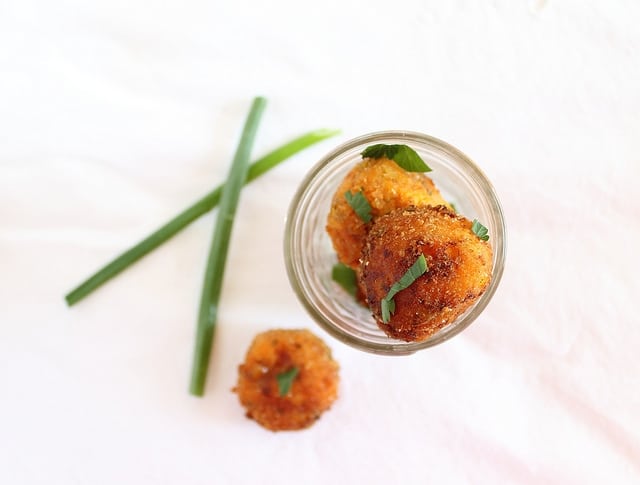 Everything I make recently seems to warrant this type of explanation because nothing is straight up what it seems. So here we go…these are a sweet potato fry meets a hush puppy, meets a cheesy-gooey cheddar popper.
Any objections?
I didn't think so.
Go get your fry on. FRITT-AHS!
Adapted from From My Heart
Sweet Potato Corn Cheddar Fritters
These sweet potato corn cheddar fritters fry up to make a delicious appetizer or side to dinner.
Ingredients
2 sweet potatoes, peeled, cubed and boiled until soft
1 green onion, finely chopped
2/3 cup roasted corn (frozen is fine)
3 tablespoons yellow corn meal
1/2 cup cheddar cheese, grated
1/2 teaspoon smoked paprika
salt & pepper, to taste
3/4 cup breadcrumbs
oil for frying
Instructions
Place softened potatoes in a large bowl and mash. If potatoes were just boiled, place in refrigerator for at least 20 minutes to cool before proceeding.
Add onions, corn, corn meal, cheese, paprika, salt & pepper and gently combine with a spatula.
Roll about 2 tablespoons of the mixture into balls, (It will make about 15 of them) place them on a dish and refrigerate for 15 minutes.
While balls are chilling, pour enough oil (I used vegetable) into a pan with raised sides so that the oil goes up about 1/2 inch. Turn burner to medium and let oil heat up.
Take balls out of the refrigerator and roll in breadcrumbs in a shallow bowl until fully coated.
Once oil is hot (check by flicking some water into it & hearing a sizzle), place 4-5 balls at a time into the oil. Fry for about 2 minutes per side until golden on all sides. Remove from oil and drain on a towel.
Garnish with parsley and/or more chopped green onion and serve while warm.