These cranberry cheddar sausage bites are perfect as a holiday appetizer or even a game day snack. Serve them with some cranberry sauce for dipping!
*Post updated 11/16/2017 to include a video on how to make these Cranberry Cheddar Sausage Bites. Scroll down to watch. They're holiday appetizer worthy and perfect for Game Day eating – everyone will love them!
Let's talk about Halloween for a hot second because after last night's onslaught of trick or treaters I'm either getting super curmudgeonly (quite possible) or the future of the general American population is a scary thing.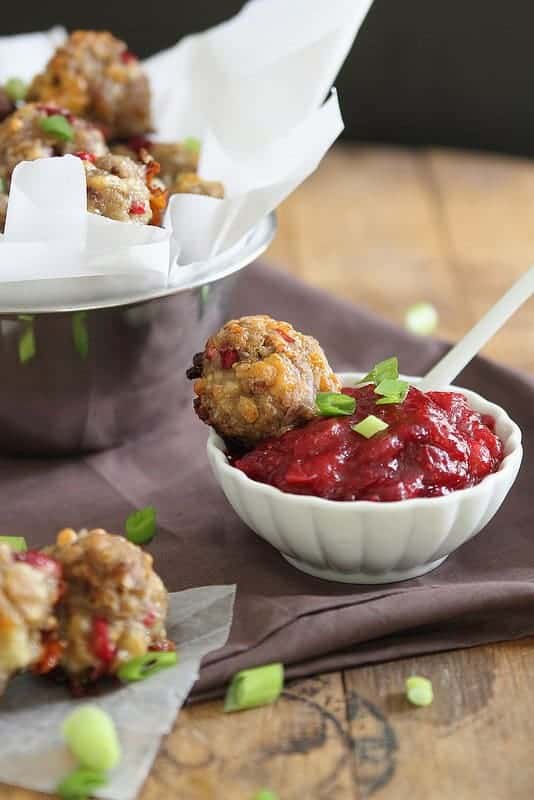 When did it become ok to ring a door bell, not even say "trick-or-treat" and then ask the person handing you FREE candy if they have more Crunch bars because you like those better than Butterfingers?
Because that just happened at my parents house last night as I sat in their kitchen overhearing the whole thing.
The best part?
The parents were standing a few feet behind the kids and said NOTHING.
I would be mortified of my child's manners. Or maybe more accurately, of my lack of parenting skills that allowed such a thing to come from their ungracious little mouths.
Let's flash back to 1990 and 8 year old me walking through our neighborhood trick-or-treating. It went some thing like this:
Ring the doorbell/door opens/"TRICK-OR TREAT!" (at the top of our lungs)/quick discussion of what everyone was dressed up as/hold out plastic pumpkin and secretly hope for something good to be thrown our way praying there were no nasty yellow wrapper Mary Jane's in that bowl but keeping those thoughts IN OUR HEADS/say "thank you!" no matter what was given to us and be on our way to the next house.
Apparently, "trick-or-treat" is now optional and not only is candy assumed to be given no matter what but it better be the "good kind" too or you're going to hear audible complaints or requests for something else.
I guess I'm just in shock. No one ever "taught" us how to trick or treat when we were kids, it was just implied you were to be polite.
So is all this just an indication of a lack of general manners?
I don't know, maybe I'm reading too much into a handful of bratty kids on a doorstep and I should just go back to isolating myself in the kitchen all day.
Because cranberry cheddar stuffed sausage bites are a heck of a better time than obnoxious elementary schoolers.
They're an appetizer versatile enough to go from holiday dinner party appetizer spread to Game Day eats in front of the TV.
No matter the crowd, they'll be gone in minutes with their cheesy sausage deliciousness!
And don't skip the cranberry sauce for dipping. The tart brightness is a welcome pairing with the savory, salty sausage.
This boozy bourbon cranberry sauce recipe is a good one!
Find more appetizer ideas great for holiday parties with these baked maple sweet potato tots, butternut squash goat cheese dip or these spicy cinnamon roasted chickpeas.
And if you need a gluten-free version of this recipe, try these gluten-free sausage balls.
Cranberry Cheddar Sausage Bites
These cheddar sausage bites stuffed with fresh cranberries are a perfect seasonal appetizer, game day snack or even as dinner!
Ingredients
1 pound sweet Italian sausage
1/3 cup fresh cranberries, chopped
1 cup grated sharp white cheddar
2 tablespoons minced shallots
1 tablespoon dijon mustard
1 teaspoon baking powder
1/2 cup whole wheat white flour
salt & pepper to taste
Instructions
Preheat the oven to 350 degree and line a baking sheet with foil.
Combine all the ingredients in a large bowl and mix together with a spatula or your hands until the ingredients fully incorporated.
Roll the mixture into balls and place on the baking sheet.
Bake for 25 minutes.
Serve with cranberry sauce for dipping.
Nutrition Information:
Yield:

24
Serving Size:

1
Amount Per Serving:
Calories:

83
Total Fat:

3g
Saturated Fat:

2g
Trans Fat:

0g
Unsaturated Fat:

1g
Cholesterol:

11mg
Sodium:

191mg
Carbohydrates:

8g
Fiber:

1g
Sugar:

0g
Protein:

5g
This website provides approximate nutrition information for convenience and as a courtesy only. Nutrition information can vary for a variety of reasons. For the most precise nutritional data use your preferred nutrition calculator based on the actual ingredients you used in the recipe.