These spicy cinnamon roasted chickpeas are a definite crowd-pleaser for parties and a delicious snack.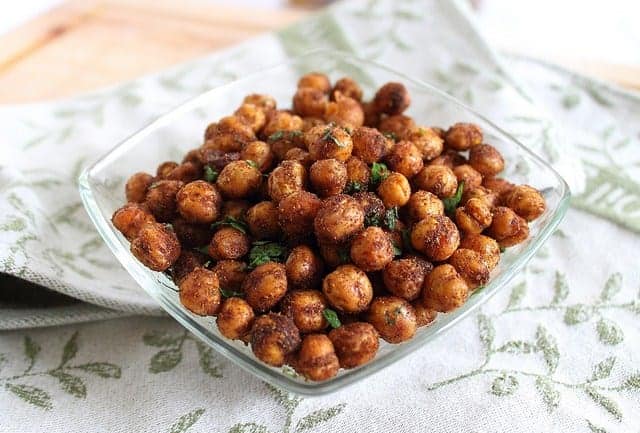 Let's count the ways in which yesterday was bizarre.
1. I woke up 30 minutes before my alarm clock and getting out of bed didn't actually sound like some sick form of ancient torture. Mornings are usually fun around here, can you tell?
2. The work day consisted of 4 conference calls that were actually productive (a highly abnormal occurrence in my job the business world).
3. Ulysses came home from work and declared that we do "a financial analysis". Um….ok?
4. We let Ginger out after dinner and she came back to the door with a potato. She had no desire to eat it. She just dropped it on her bed as if to say "here mom, I brought this for you. I know you like them." I laughed at the incredible weirdness of that whole situation for at least an hour. Apparently the neighbors must keep potatoes outside? wtf?
5. I ate a smoothie and an entire can of roasted chickpeas for dinner (while doing aforementioned financial analysis).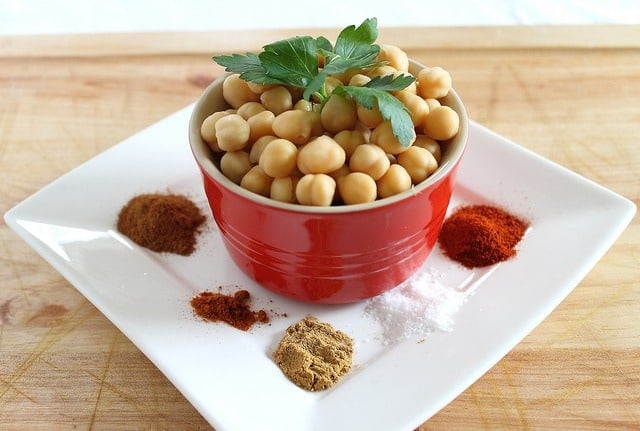 So….chickpeas…roasted. Why the hell haven't I tried these little nuggets of deliciousness sooner?!
And, who the heck actually determines the "servings per…" on food products? Because after eating an entire 15oz. can of these for dinner, I can assure them their 3.5 servings per can is off.
Way off.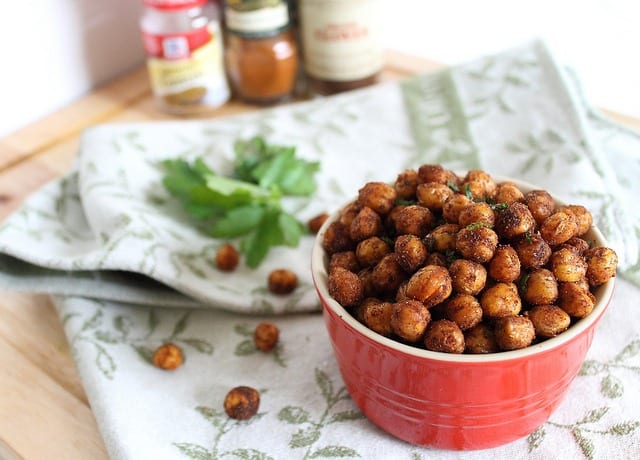 Especially when you roast them in a spicy cinnamon mixture that tastes like a cross between bar nuts and apple pie. Sound weird? Yes. But for every fleck of spice, there was an equal fleck of cinnamon and it friggin rocked my taste buds off.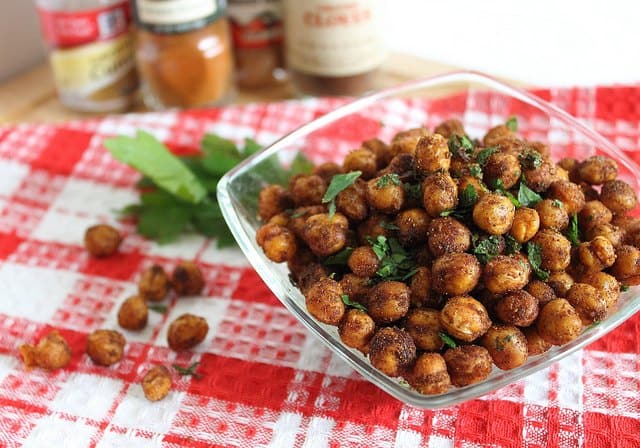 So much so that I didn't even want to poke my eyeballs out while evaluating our assets and liabilities.

2
adjust servings
Spicy Cinnamon Roasted Chickpeas
These spicy cinnamon roasted chickpeas are a definite crowd-pleaser for parties and a delicious snack.
Ingredients
1 15oz.

can chickpeas, drained and rinsed

1

tablespoon extra virgin olive oil

1/2

teaspoon cumin

1/2

teaspoon paprika

1/2

teaspoon cinnamon

1/4

teaspoon coriander

1/4

teaspoon cloves

1/4

teaspoon kosher salt

1/8

teaspoon cayenne pepper

1/8

teaspoon smoked paprika

1

tablespoon parsley, finely chopped
Instructions
Preheat oven to 400 degrees and spray a baking sheet with cooking spray.
Combine all ingredients except parsley in a small bowl and toss to fully coat.
Spread chickpeas out on baking sheet and roast for 30 minutes, tossing 2-3 times.
Once roasted, sprinkle with parsley and pour into serving bowl.