These goat cheese and spinach mashed sweet potatoes are the perfect healthy side dish for dinner.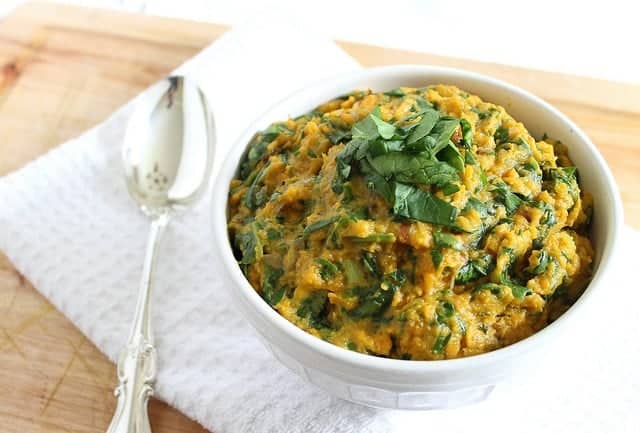 Yesterday while starring at a PowerPoint presentation about capital spending on college campuses, I started thinking about sweet potatoes. Because obviously there's a correlation between $/gross square foot spent on college buildings and my side dish for dinner.
Duh.
There are certain things that I always have on hand. Wrinkly sweet potatoes on the verge of going soft (ha!), baby spinach (which my ghetto Asian produce market spells "spinage" on the plastic box it comes in), goat cheese and this plastic baggy of dried thyme that I've had well over a year for the sole reason that I have severe issues throwing things out.
I eat them all individually, but why not mashed together to make a creamy, veggie filled side dish?
Add in some sautéed shallots for some extra flavor and this was the perfect side to the filet mignon we ate last night for dinner. Basically, I did a Valentine's dinner a day late and I think it tasted even better than it would've on Valentine's Day simply because I spent 24 hours dreaming about it after seeing too many pictures of other people's delicious filet dinners.
A juicy, medium rare filet is exactly why I could absolutely never be a vegetarian. It's all that's right in this world in one perfect forkful.
These are creamy from the goat cheese and yet sweet from the shallots. You don't even know the spinach is there except for it's texture so it's a great way to sneak in some extra greenery.
Could you eat this alongside tofu or tempeh? Sure…I guess. But if you eat meat, go splurge on the best cut you can find and get this on your dinner table with it.
Wine is mandatory optional.
Goat Cheese Spinach Mashed Sweet Potatoes
Yield: 4 servings
Prep Time: 5 minutes
Cook Time: 15 minutes
Total Time: 20 minutes
These goat cheese and spinach mashed sweet potatoes are the perfect healthy side dish for dinner.
Ingredients
2 large sweet potatoes, peeled and chopped
1 ounce goat cheese
1 cup baby spinach, finely chopped
1 shallot, sliced
1 tablespoon extra virgin olive oil
1/4 cup milk
salt & pepper
2-3 sprigs of dried (or fresh) thyme
Instructions
Bring a large pot of water to a boil with sweet potatoes in it and cook for about 15 minutes until fork tender. Drain and set aside.
While potatoes cook, saute shallots with olive oil in a medium pan over medium heat until softened and just starting the brown (about 5-7 minutes).
Combine cooked potatoes, sauteed shallots, spinach, goat cheese, milk and thyme if using in a medium bowl.
Mash together with a potato masher or fork until well combined.
Add salt & pepper to taste and mash again.
Serve warm.