These crispy polenta cakes are served with a mushroom ragu. The perfect party appetizer. Elegant, delicious and easy.
Every year the same thing happens. My imagination conjures up some over the top, sequin studded, champagne sipping, New Year's eve party. I fantasize about fancy passed hors d'oeuvres on silver platters and wearing heels in the kitchen.
Then reality strikes and I realize I'm not Carrie Bradshaw (although she would never be cooking on New Year's eve), we live in the sticks and all of our friends have kids and/or newborns.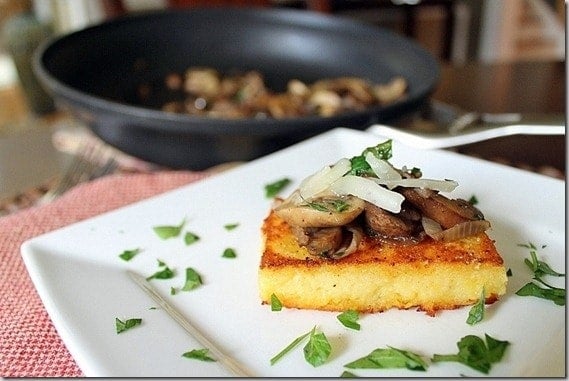 Sigh.
I saw a polenta recipe on Bon Appetite and literally had to make it. If I was hosting that New Year's, this would be one of those passed hors d'oeuvres.
Polenta screams classy just because it's not really "American" (and classy is so far from true considering it's cornmeal + liquid…but just go with it) and oyster mushrooms are one of those things that look all fancy but really aren't. So basically this whole recipe was one delicious tasting farce. Looks complicated/fancy/elegant whatever, but so isn't. My kinda thing.
The combination of the savory pan fried polenta squares with the slightly creamy mushrooms is out of this world delicious. It's one of those bites where your mouth just does a happy dance and says "why do you not feed me like this all the time?"
It also transported me back to visiting my family in Italy when I was studying abroad in Spain in college. My second cousin made us polenta with a cinghiale (wild boar) ragu that her husband had caught. It was such an unbelievably comforting dish. When I think of that trip, that's my first memory. This cute little squared bite reminded me of that in a slightly less hearty way.
So, regardless of what you're doing on New Year's, fancy party or sitting on your couch, passed hors d'oeuvres or a microwave meal, heels or slippers, you should make room for this in your plans.
And if you are having that fancy party, hook a girl up with an invite next year!

12
adjust servings
Polenta Squares with Mushroom Ragu
These crispy polenta cakes are served with a mushroom ragu. The perfect party appetizer. Elegant, delicious and easy.
Ingredients
Polenta
1

cup yellow cornmeal

1

cup chicken broth

1

cup milk

1

bay leaf

1/2

cup grated gruyere cheese

2

tablespoons butter, divided

2

tablespoons extra virgin olive oil

salt & pepper to taste
Mushroom ragu
8

ounces white button mushrooms, sliced

8

ounces baby portobello mushrooms, sliced

5

ounces oyster mushrooms, sliced

1

tablespoon butter

2

tablespoons extra virgin olive oil

1

large shallot, sliced

2

teaspoons balsamic vinegar

2

tablespoons chicken broth

2

tablespoons milk

2-3

tablespoons fresh parsley, minced

salt & pepper to taste
Instructions
Polenta
Bring chicken broth, milk and bay leaf to a simmer in a medium sauce pan, turn off heat and cover for 15-20 minutes.
Once cooled, remove bay leaf.
Bring mixture to a boil and slowly whisk in cornmeal, until thick and smooth (about 1-2 minutes)
Add in butter and cheese off the heat and whisk until combined and melted.
Pour polenta into a greased 8x8 pan and smooth out evenly. Refrigerate for at least an hour, until firm.
Mushroom Ragu
Melt butter and olive oil in a large skillet over medium high heat.
Add mushrooms and let cook for 10-12 minutes, until soft and the water has mostly evaporated.
Add shallots, balsamic vinegar, salt and pepper and saute for another 2-3 minutes.
Add chicken broth and saute for 1-2 minutes.
Add milk and parsley and season again with salt and pepper to taste.
Squares
Cut the chilled polenta into squares.
In a medium skillet over medium high heat, melt remaining tablespoon of butter and 2 tablespoons olive oil.
Pan fry polenta squares for about 2-3 minutes per side until golden brown.
Drain on a paper towel.
Spoon mushroom mixture over polenta squares.
Top with extra grated gruyere and fresh parsley.
Serve warm.
Recipe Notes
Polenta can be made and chilled ahead of time and sit overnight in the refrigerator.