A simple, summer bruschetta recipe using fresh seasonal tomatoes and topped with a balsamic glaze.
I think I've already established that tomatoes are one of my absolute favorite summer foods with my summer stuffed tomatoes and summer gazpacho. Apparently, using the word "summer" in the recipe title is also a favorite so I figured why not continue the tradition with this one? I don't really know what a "winter" bruschetta would look like, but I'll just roll with it.
Bruschetta (please pronounce like Giada would: "brus-ket-a" Ok? Thanks.) is amazing in the summer because it's star ingredient is at its prime. Winter tomatoes are usually from somewhere in South America and taste nasty & mealy. Local, summer, heirloom tomatoes are where it's at. Try not to make this in the winter, it just gives the dish a bad rap.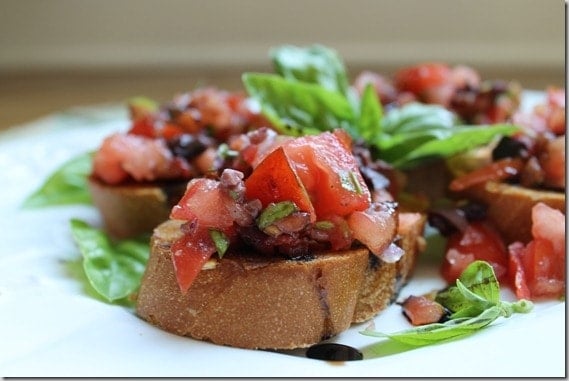 Because of bruschetta's simplicity you should have the best, freshest ingredients you can find/afford. Try and get a somewhat decent olive oil, you can taste the difference.
My trick to making this extra tasty though is all about how you use these two ingredients.
I think most people just slice up some bread and throw it under the broiler before topping the pieces. I also think they commonly mince up the garlic and throw it in the tomato mixture. Here's a new take, drizzle the olive oil on the bread slices, smash a garlic clove and rub it onto each bread slice, resist the urge to throw minced garlic in the mixture!
This approach will leave your house smelling like the best Italian restaurant you can imagine when the garlic starts to give off it's aroma while the bread is under the broiler. It also eliminates that bitter, spicy raw garlic bite you would've gotten if the garlic had gone straight into the mixture. Double win.
And while you're waiting for the bread to broil, take the time to reduce the balsamic vinegar. Instead of a completely acidic bite, you'll get a syrupy topping that's perfectly balanced between sweetness and acidity.
Top each garlicky slice with the tomato mixture & balsamic reduction and savor each bite.
Summer Bruschetta
A simple, summer bruschetta recipe using fresh seasonal tomatoes and topped with a balsamic glaze.
Ingredients
Small loaf of french bread
2 heirloom tomatoes, chopped
2 tablespoons minced red onion
3 tablespoons basil, chiffonade
2 tablespoons kalamata olives, chopped, optional
2 tablespoons extra virgin olive oil, plus extra for drizzling on top
4 tablespoons balsamic vinegar
1 clove garlic, crushed
salt & pepper
Instructions
Preheat broiler to high.
Pour balsamic vinegar into small saucepan and reduce over medium-low heat until it thickens into a syrup like consistency.
While balsamic vinegar reduces, slice bread into approximately 1 inch thick slices.
Lay bread on baking sheet, drizzle with olive oil and rub with crushed garlic clove.
Broil with oven door ajar for a few minutes until bread gets lightly toasted.
Combine chopped tomatoes, minced onion, basil, olives if using, and olive oil in a small bowl and season with salt & pepper.
Once bread is finished toasting, top with tomato mixture and drizzle with balsamic reduction. Garnish with more basil and olive oil.