A pumpkin inspired day including a quick 10 minute recipe for pumpkin chocolate chip cookies. Perfect for fall!
This week's What I Ate Wednesday is brought to you by Libby's pumpkin. <–said in my best TV commercial announcer voice.
This can had the same magical powers of Mary Poppin's bag, it was never ending! It just kept on pumping out delicious things. First, pumpkin banana chocolate chip bread this past weekend and then both breakfast and an afternoon treat yesterday. Not bad for a 14 oz. can!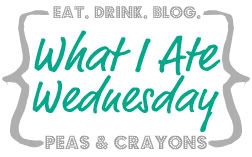 Pumpkin oats + coconut butter. I'm not sure I could be more excited about 2 other ingredients. If you've never tried coconut butter, I assure you it is worth every single penny of the $12.95 price tag for the jar.
I had 3 hours of back to back phone conference meetings yesterday morning for work. When lunch time came I was more than ready to eat.
A hummus BLT, except with maple tempeh bacon. I grabbed this on a whim in the grocery store a few weeks ago. It looks absolutely disgusting and it's texture before being cooked is even worse. The final product, however, is pretty damn good. It legitimately smells and tastes like bacon. I will eat tempeh and might even go so far as to say I like it sometimes but, it's not one of my favorite foods or anything. Maple smoked tempeh though is pretty delicious.
The whole picture with an overripe white nectarine and a Stonyfield French vanilla yogurt.
Work, work, work…bam! 3pm slump.
Anyone else wish you could curl up into a ball and nap right around this time every day? Working from home, this "slump" hits me hard. There are no coworker distractions or balls to throw around the office, just me, Ginger and a fully stocked kitchen. So, I decided to take a 10 minute break to create some goodies to get me through the afternoon.
Pumpkin chocolate chip cookies. Hello, gorgeous.
These literally took 10 minutes to make from grabbing everything out of the pantry to putting them into the oven.
I used a recipe from All Recipes as inspiration but tweaked almost 50% of the ingredients because there is just no need for 1 cup of white sugar and 1/2 cup of oil in any recipe. Well, maybe sometimes, but not when you don't want to feel bad about eating 3 of these at 3:30pm and then another 2 after dinner.
They came out very "cake like." Delicious, just cake like. They're incredibly soft, with just enough flavor of pumpkin + cinnamon to taste fall-like, but plenty of chocolate chips to keep them well in the traditional cookie category.
Don't know how to finish up that last cup of pumpkin in an open can? These are a pretty good option.
Afternoon slump = fixed.
Dinner was some suspect 10 days past "use by" date tofu. Ulysses totally didn't know that until now, he's a stickler for expiration dates and probably wouldn't have eaten it had I told him. Gotcha babe.
Baked coconut + bread crumb crusted tofu with broccoli.
Some leftover rosemary + parmesan grits were added to the plate after this was taken. They just weren't photogenic enough to make the cut.
Dessert? Some more cookies of course.
With a glass of coconut milk.

Pumpkin Chocolate Chip Cookies
A pumpkin inspired day including a quick 10 minute recipe for pumpkin chocolate chip cookies. Perfect for fall!
Ingredients
1 cup whole wheat pastry flour
1 cup all purpose unbleached flour
1/3 cup granulated sugar
2 tablespoons canola oil
1/2 cup unsweetened applesauce
1 cup pumpkin puree
1 egg
3 tablespoons milk
2 teaspoons baking powder
1 teaspoon baking soda
1/2 teaspoon salt
1 tablespoon vanilla extract
1/2 cup chocolate chips
Instructions
Preheat oven to 350 degrees.
Line cookie sheet with parchment paper or silpat.
In a small bowl, combine sugar, oil, applesauce, pumpkin, egg, vanilla and milk.
In a larger bowl, combine flours, baking powder, baking soda and salt.
Add wet ingredients to dry and mix to combine.
Fold in chocolate chips.
Drop by heaping spoonful on cookie sheet and bake for approximately 10 minutes, until edges start to brown.
Remove from oven and let cool a few minutes before transferring to a cooling rack.
What's the best thing you ate yesterday?
Have you broken out the pumpkin yet?