This pumpkin hazelnut hot chocolate is warm, comforting and the perfect thing to cozy up with as the weather gets colder.
About this time seven years ago (wow, it's crazy how fast time goes as you get older), I received an unsolicited home decor magazine in my mailbox. Married just over a year, I had packed up New York for Florida to be with Ulysses the day we returned from our honeymoon. We had a beautiful house, a pool in the backyard and life was good. Or, so I thought until that magazine arrived. Normally, I'd throw that kind of junk right into the garbage and not give it a second thought. For some unknown reason though, I opened that one. I can vividly remember looking through it on the couch as the sun poured in through the living room window. The door to the screened in patio was open while the late October 70 degree breeze flowed through the house, and I just lost it.
I saw picturesque fall foliage setups with pumpkins, gourds and hay bales. I saw snowy covered front porches with monogrammed welcome mats. I saw people bundled up in cozy winter jackets, scarves and hats with cups of warm drinks in their hands and as the tears streamed down my face, I told Ulysses we needed to move back to New York, that I missed the "changing of the seasons". Fast forward to present time and if you've read this blog for any length of time you know that I sincerely regret that decision. Twenty-five year olds shouldn't be able to make life altering decisions like that. And while I love my family close by here, I love my quality of life a lot too. For six months during the barren wasteland of a New York winter, I'd give anything for that 70 degree breeze and sunny Florida sky again to be able to just be outside and active.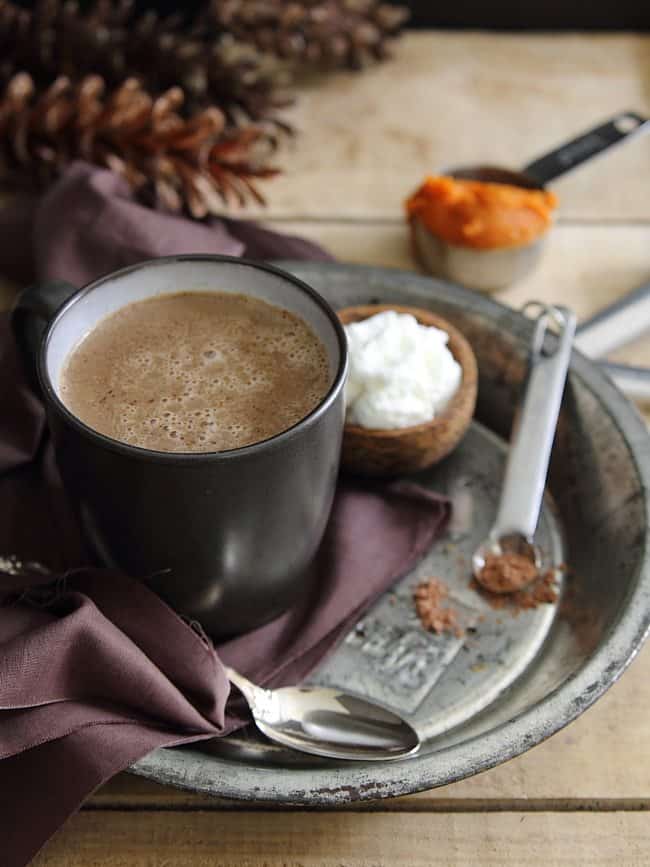 All that being said, the first few weeks of fall in the northeast are magical. It's still warm enough in the middle of the day where the heat has yet to kick on, but mornings and nights are filled with that deliciously fall crisp air. The trees are the most gorgeous display of colors, flickering through the windows as the leaves drop to the ground. And, of course, the arrival of cozy warm spice drinks becomes not only socially acceptable again, but your body craves them because it just "feels" right. It's hard to make a pumpkin spice latte feel appropriate in 80 degree weather with palm trees swaying about. I much prefer creating those cozy comforting drinks at home so I can customize them to my taste and easily create the coffeehouse flavors and sweet aromas I love at home, my way.
Even after trying to modify drinks in the coffee shops, they just never come out good enough to justify their inflated pricing. Hazelnut is my all-time favorite coffee flavor. Pumpkin is, well, pumpkin and of course a necessity this time of year. And chocolate just makes everything better. So with all three in this drink I can assure you, it's a brilliant addition to your fall routine and a great way to reward yourself with a cozy treat. Tate+Lyle® Gourmet Beverage Syrups (available in the sugars aisle at Walmart and other retailers) are made with 100% natural pure cane sugar, are Fairtrade certified, and are the perfect in-home solution to flavored drinks. No more suspect bottles of liquid "who knows what" being pumped into your drink by some hipster barista. I'll be enjoying quite a few of these as the days get shorter, the air colder, the tree branches more bare and the Florida blues start to set in. I'm thinking this drink might be just the thing to help me make it through this season.
Pumpkin Hazelnut Hot Chocolate
This pumpkin hazelnut hot chocolate is warm, comforting and the perfect thing to cozy up with as the weather gets colder.
Ingredients
2 cups milk (any kind)
2 tablespoons cocoa powder
1/4 cup pumpkin puree
2 tablespoons Tate + Lyle hazelnut pure cane syrup
pinch of kosher salt
whipped cream for topping
Instructions
Combine all ingredients in a small sauce pot over medium heat. Whisk and bring to a simmer.
Pour into mugs once hot and top with whipped cream.