A quick recipe for rich, creamy, and slightly spicy Mexican hot chocolate. One sip and you'll never go back to those packets again.
*This post was originally published on 12/8/2011. The pictures and recipe have been updated the post content below is original to 2011. This recipe for Mexican Hot Chocolate might take a few minutes longer than a pre-made hot chocolate mix but it's worth every second. A rich, creamy, perfectly spicy and fragrant mug will warm you up even on the coldest winter day. Don't forget the marshmallows or whipped cream topping!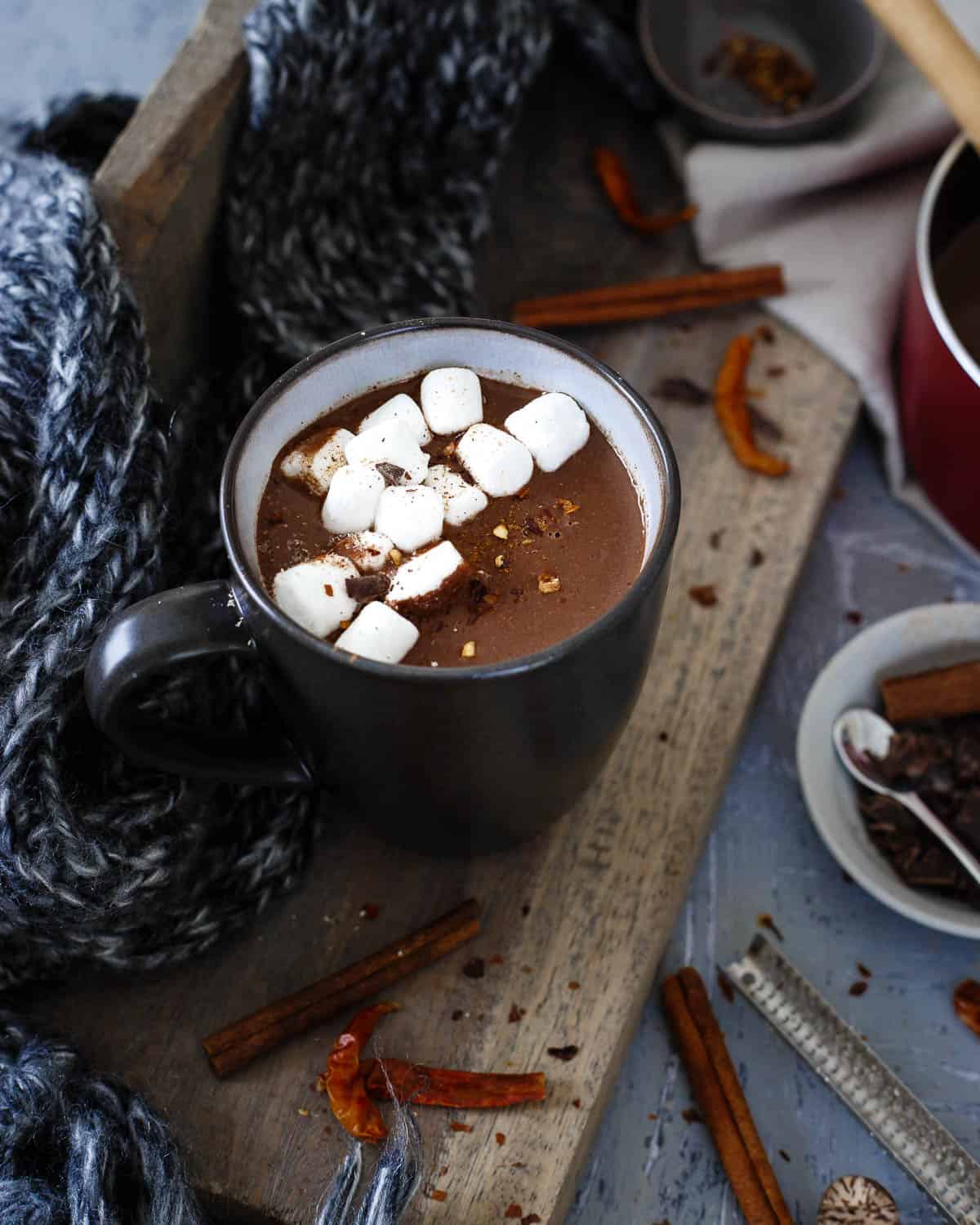 Last year I was in New York City meeting a friend for lunch in chelsea market. After stuffing our faces, we were walking around trying our best to resist the urge to buy all the amazing gourmet items from cheeses to every kind of olive oil you can imagine to spices and salts when we came face to face with a little shop selling hot chocolate. I can't for the life of me remember the name of the place but it really doesn't matter. All that matters is that they had Mexican hot chocolate on their menu and I was sold in about .3 seconds.
It was thick, dark, smooth and just slightly spicy. In other words, perfection.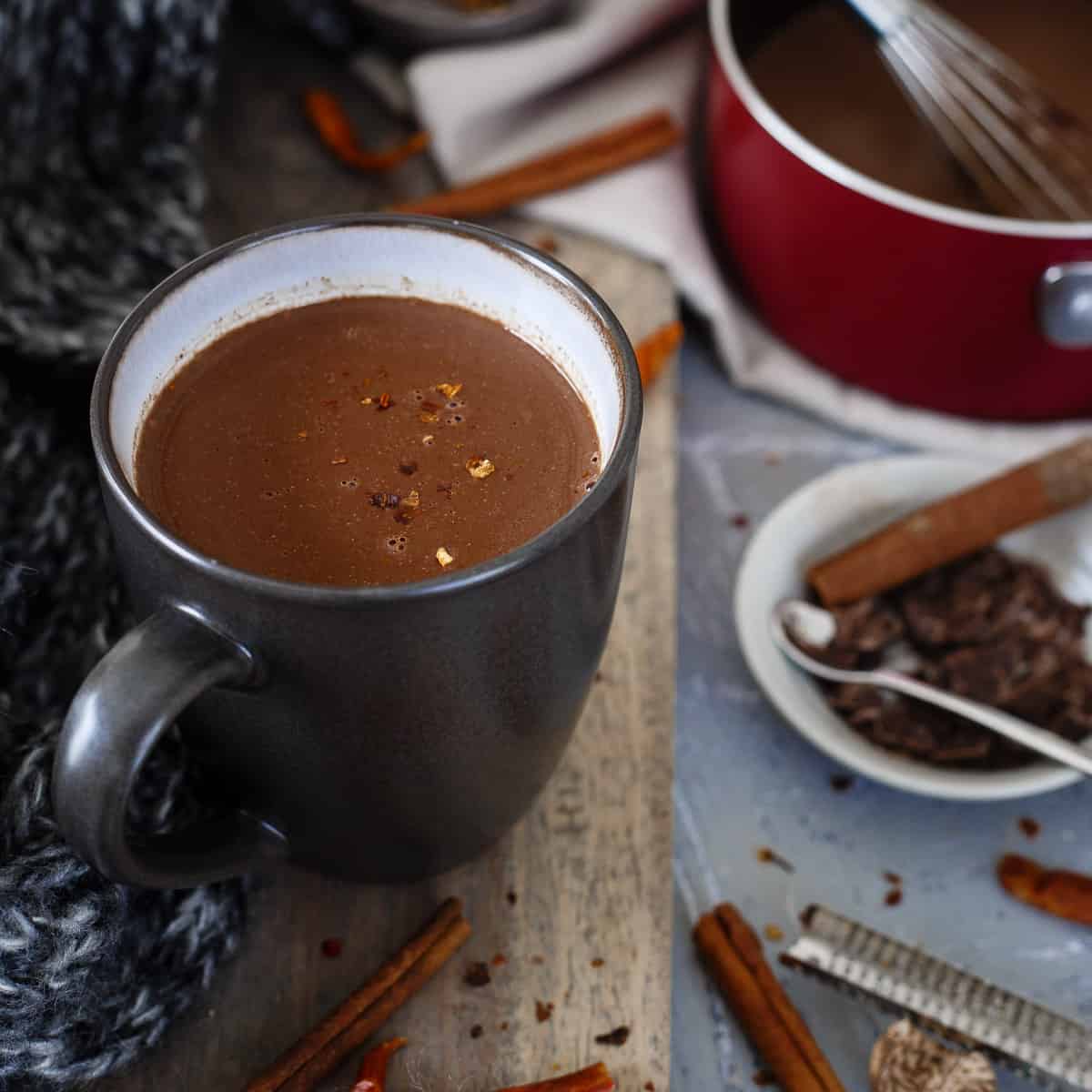 Lately, on nights when tea doesn't cut it, hot chocolate has been my go to treat. So, I took a stab at recreating that amazing chocolaty goodness since chelsea market is a bit too far of a hike when the craving strikes.
More cozy warm winter drinks –> Coconut chai hot toddy, Pumpkin hazelnut hot chocolate, Apple cinnamon tea latte.
Do you guys remember a few years back when Starbucks came out with that hot chocolate that was literally like drinking a chocolate bar? They had some fancy name for it which I can't remember and seems to be wiped off the face of the internet but it was probably the richest thing I've ever tasted. A tall would be about 10 times too much.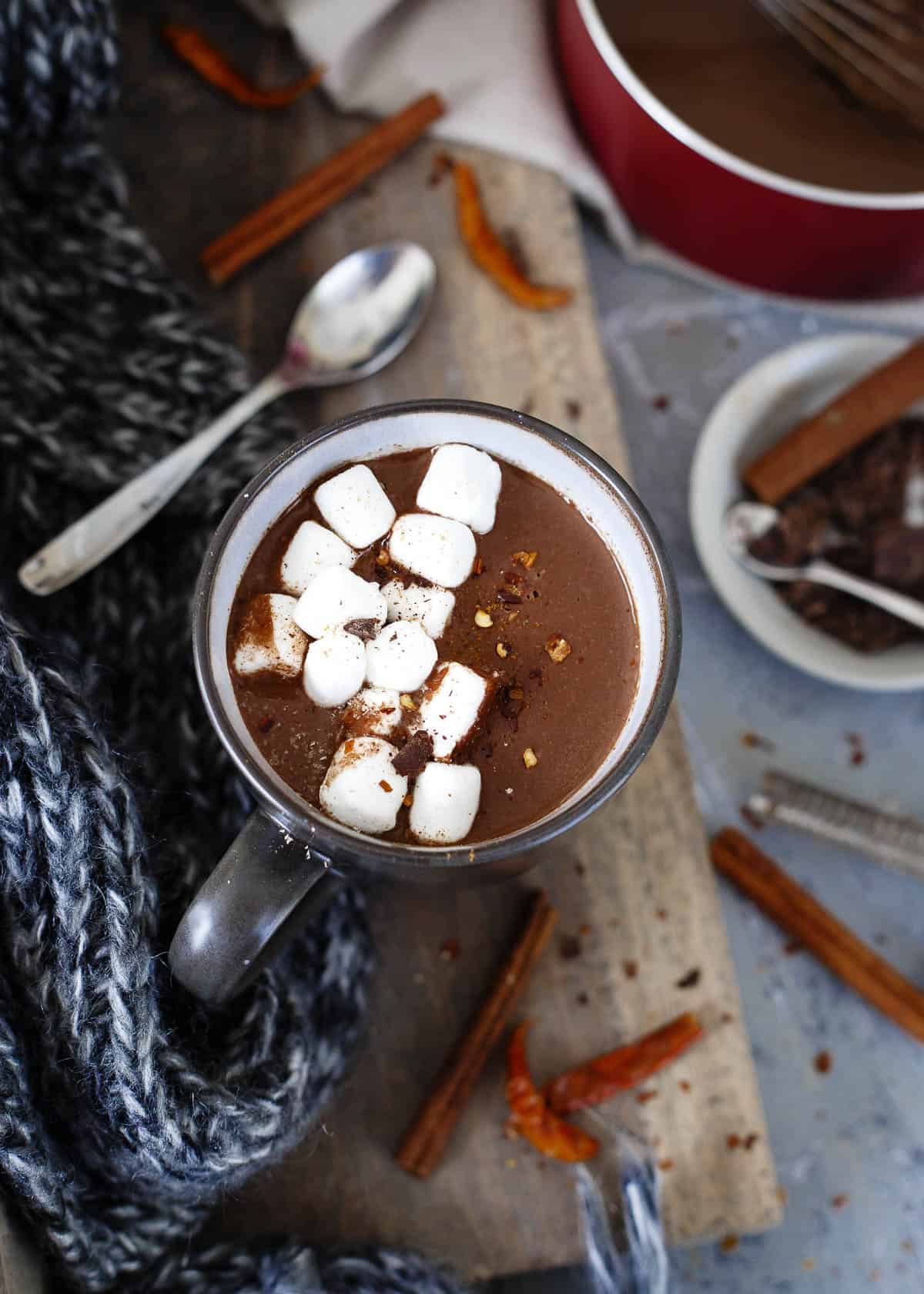 This Mexican hot chocolate kind of reminds me of that except I promise you'll have no trouble drinking a "tall."
So put down the instant Swiss Miss packets (do people seriously buy that crap these days still?!) and get the saucepan out. Hot chocolate Mexican style is where it's at.
Yield: 1 serving
Mexican Hot Chocolate
A quick recipe for rich, creamy, and slightly spicy Mexican hot chocolate. One sip and you'll never go back to those packets again.
Ingredients
1 1/2 cups of milk (*see note)
1 dried chile pepper
1 cinnamon stick
2 ounces chopped dark chocolate (70% or higher)
1 tablespoon coconut sugar
1/2 teaspoon vanilla extract
1/4 teaspoon cinnamon
1/8 teaspoon freshly ground nutmeg
1/8 teaspoon cayenne pepper
pinch of salt
Instructions
Combine milk, chile pepper and cinnamon stick in a small sauce pot over medium-low heat. Bring to a low simmer for about 10 minutes until cinnamon is fragrant, stirring occasionally so milk doesn't burn or boil.
Add chocolate, sugar, vanilla and spices and whisk until the chocolate is melted and the mixture is smooth, about 4-5 minutes. Remove cinnamon stick and chile pepper from the pot.
Pour into a mug and top with dash of cinnamon, cocoa powder, red pepper flakes, marshmallows and/or whipped cream.
Notes
*You can use any milk, nut milk or milk combination you'd like. For paleo use a nut milk. I like an unsweetened almond-coconut blend.