This peach burrata bacon quesadilla is served open faced and topped with crunchy pistachios and fresh basil.
Burrata may be my all time favorite cheese.
I thought I knew love when I tasted fresh (still warm!) mozzarella right out of the big pail it was made in at Eataly in Turin, Italy a couple of summers ago but no, burrata beats that.
You think it's like mozzarella from the outside but then the inside reveals this creamy, ricotta texture and you're done for with the first bite.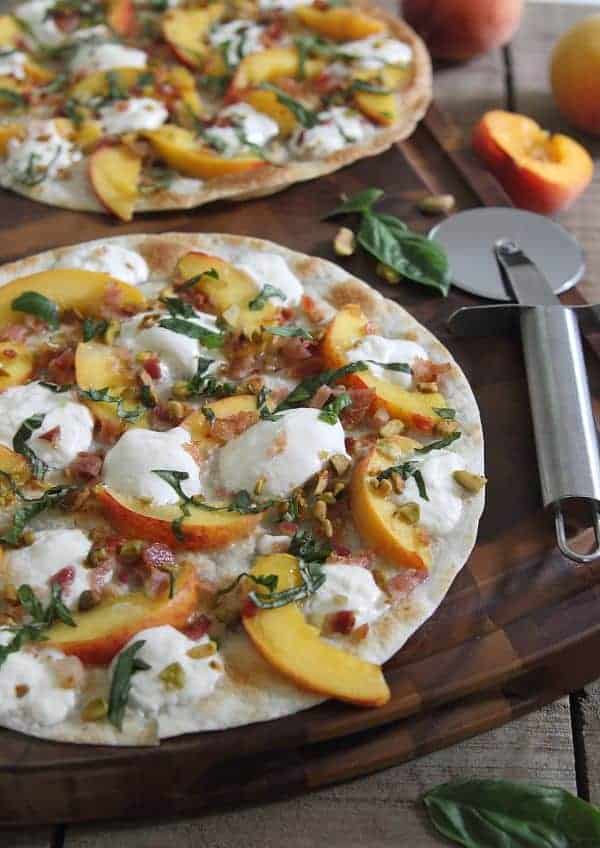 Last summer, Julie and I had this amazing speck, fried caper and burrata pizza overlooking the bay in San Francisco and after snatching up the last package of this cheese gold at the store the other day, I knew I wanted to make a lazy (wo)man's version of that except, you know, minus the speck, arugula and capers and with peaches, bacon, pistachios and basil instead.
So really, nothing at all like that pizza except for the burrata but, whatever.
My beloved peaches aren't safe from any recipe for the next couple of months, even quesadillas.
More quesadilla recipes to try:
Brisket Quesadilla
Summer Harvest Cheddar Quesadilla
Smashed White Bean and Kale Quesadillas with Creamy BBQ Dip
Peach Burrata Bacon Quesadilla
Yield: 4 servings
Prep Time: 10 minutes
Cook Time: 2 minutes
Total Time: 12 minutes
This peach burrata bacon quesadilla is served open faced and topped with crunchy pistachios and fresh basil
Ingredients
2 slices bacon
2 peaches, thinly sliced
6 ounces burrata
2 large flour tortillas
3 tablespoons unsalted pistachios, chopped
1/4 fresh basil, chiffonade
Instructions
Cook bacon in a large skillet over medium-high heat until crispy. Transfer to a paper towel to drain.
Leave the bacon grease and place 1 tortilla in the skillet over medium heat for about 30 seconds per side until slightly browned and bubbled. Repeat with the other tortilla and place both on a large baking sheet.
Preheat the oven to hi-broil.
Top the tortillas with the sliced peaches, then burrata. Crumble the bacon into small pieces and sprinkle on top of the tortillas.
Place under the broiler for about 2 minutes until the tortilla edges are browned and crispy and the burrata has melted.
Remove from the oven, top with the pistachios and basil.
Cut into wedges with a pizza cutter and serve.