This honey orange sesame chicken dish is an easy, healthy takeout fake-out recipe you can make in minutes at home. Sticky, sweet and delicious!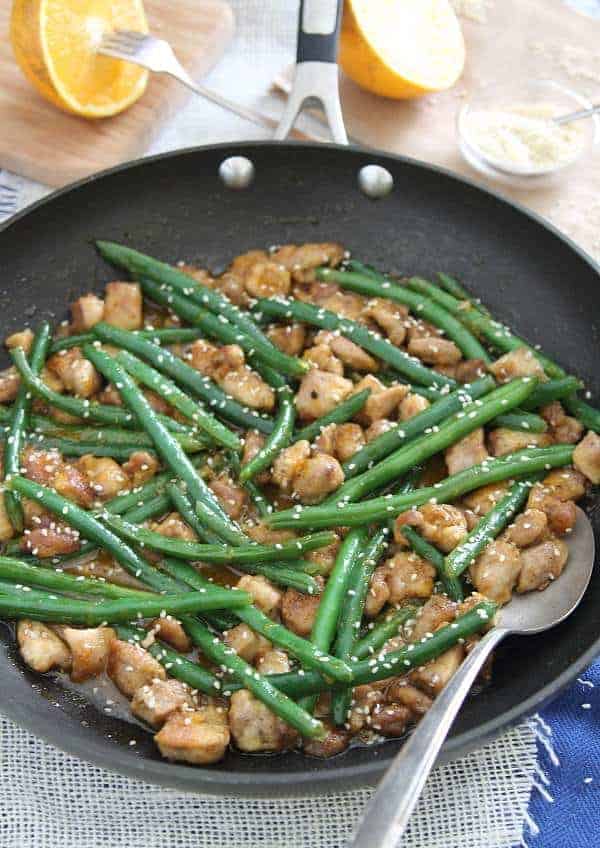 The amount of Chinese food + couch lounging + Netflix watching that goes on in our house in the winter is kinda embarrassing.
Let's just say that the Peking Court man knows my voice by now and starts our conversation with "you want large wonton soup, right?"
Yes, yes I do, kind sir.
I go on to order whatever else we're in the mood for at the time and then proceed to wake up no less than 2 times in the middle of the night completely parched from all the salt I consumed earlier.
I tell myself I should just make my own "takeout" (like sweet and sour tofu) and then forget about it until the next 3 am water wakeup.
Today, we're making that happen though.
You order Chinese and you want, sticky, sweet, saucy goodness, right?
This orange sesame chicken recipe made with honey is all those things, minus the truck load of salt (and god knows what else) and made in 20 minutes flat.
Sorry, Mr. Peking Court, it might be awhile until we meet again.
Looking for a slow cooker version of Chinese takeout?
Try this slow cooker honey garlic chicken recipe, it won't disappoint!
Love this honey orange sesame chicken recipe?
Try these other Chinese recipes: Chinese Chicken Zoodles, Hot and Sour Egg Drop Soup, and Spicy Beef and Red Pepper Rice Bowl.
Honey Orange Sesame Chicken
Yield: 4 servings
Prep Time: 5 minutes
Cook Time: 15 minutes
Total Time: 20 minutes
This honey orange sesame chicken dish is an easy, healthy takeout fake-out meal you can make in minutes at home. Sticky, sweet and delicious!
Ingredients
1 1/4 pounds boneless, skinless chicken breast or thighs cut into small chunks
salt & pepper to taste
2 tablespoons flour
juice of 2 oranges
2 tablespoons honey
1 tablespoon hoisin sauce
1 tablespoon sesame oil
1 small clove garlic, minced
1 teaspoon soy sauce
1 tablespoon coconut oil for cooking
1/2 pound green beans, trimmed
1 tablespoon sesame seeds
Instructions
Toss chicken with salt, pepper and flour in a large bowl until fully coated with the flour.
Add the coconut oil to a large skillet over medium-high heat.
Once hot, add the chicken to the skillet and brown on one side.
While chicken browns, whisk together the orange juice, honey, hoisin sauce, sesame oil, minced garlic and soy sauce in a small bowl.
When the chicken is browned on the one side (about 5 minutes), turn the pieces over and add the green beans. Cover with a lid and cook for about 5-7 minutes until the green beans are cooked but still crispy.
Remove the lid from the skillet, add the sauce, toss to combine and cook, uncovered over medium heat for another 3-5 minutes until the sauce reduces, thickens and coats the chicken and green beans.
Sprinkle the sesame seeds on top and serve with cooked rice.