This sriracha lime chicken skillet is an easy dinner that's spicy, refreshing and cooked in one pan! It's made with Spectrum Naturals® extra virgin olive oil who is sponsoring this post.
I first posted this sriracha lime chicken skillet in January of 2013. I was about 2 weeks into my month long paleo challenge at CrossFit and desperate to find meals interesting and tasty enough to make my brain forget about the fact that it wasn't eating dessert afterwards.
Some nights that worked, other nights I'd end up going to bed at 9pm to physically restrain my sweet-tooth from taking my body hostage in front of the chocolate in the pantry. And….that's why I haven't done any paleo challenges since.
I kinda like my dessert.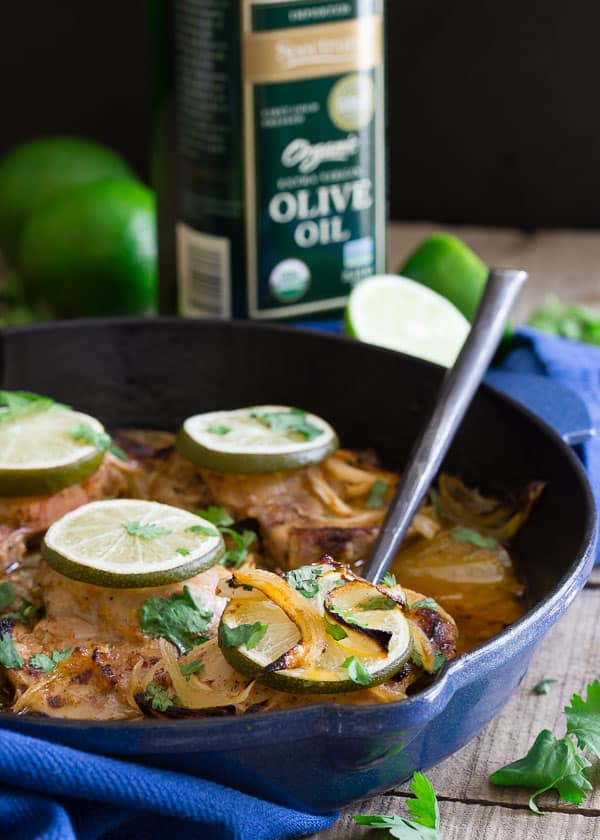 Considering the amount of times it's been made in the 2+ years since, I figured it was time to give this recipe a little refresh and remind you all of it.
Easy chicken dinners never really get old. Particularly, ones that are made in one skillet in 30 minutes or less (like this jalapeno mango chicken skillet), am I right?
This one happens to also combine two of my favorite things, lime and sriracha.
I'm having a love affair with all things limey lately. Tom Kha Gai soup (<- love Brandy's easy version) and I would be daily bffs solely because of it's limey-lemongrass deliciousness if it wasn't for the fact that the nearest Thai place is about 25 minutes away making takeout kind of impossible.
And sriracha?
Does that one even need explanation?
So this dinner is like refreshing and spicy get all hot and bubbly in the oven, all in one skillet while you do your thing with the side dishes.
Simple roasted asparagus is about all I'm eating these days.
My favorite oil to use in this dish is Spectrum Naturals® Expeller Pressed Extra Virgin Olive Oil. It's 100% organic and tastes just as amazing drizzled on salads as it does when cooking with it.
Yield: 4 servings
Sriracha Lime Chicken Skillet
This sriracha lime chicken skillet is an easy dinner that's spicy, refreshing and cooked in one pan!

Prep Time 1 hour

Cook Time 30 minutes

Total Time 1 hour 30 minutes
Ingredients
6 boneless chicken thighs
salt & pepper
1/4 cup extra virgin olive oil
juice of 1 lime
1/2 large onion, sliced
1 tablespoon sriracha (*see note)
cilantro for garnish
Instructions
Wash and pat chicken dry. Season with salt & pepper.
In a large bowl, combine olive oil, lime juice, sriracha, onion slices and chicken thighs. Toss to coat, cover and refrigerate for at least an hour.
Preheat oven to 400 degrees.
Place the chicken in a large oven proof skillet and pour the onion/marinade mixture on top.
Bake for 25 minutes, then broil for another 5 minutes until the tops brown and start to crisp.
Remove from oven, garnish with cilantro.
Notes
*sriracha from the store is usually not paleo. I made my own for this recipe but would normally use store bought when not doing the paleo/Whole30 challenge.


*This is a sponsored post written by me on behalf of Spectrum Naturals®. All opinions and content are my own.