These turkey Asian lettuce wraps are infused with a sticky, sweet, savory and slightly spicy orange sauce making them an irresistibly easy and tasty meal.
Do you guys remember those lettuce wraps from P.F. Changs? Remember is probably the wrong word, I'm sure they're still on the menu, I just haven't been to a P.F. Changs in probably about 10 years so I have no clue. I remember when that chain was all the rage though 10+ years ago and those lettuce wraps on their appetizer list were my go to. I just loved all those amazing Asian flavors and back then, thought the idea of eating them in cute little lettuce cups was culinary genius.
*Tropicana sponsored this post and the trip to visit the groves and plant in Florida. All content and opinions are my own.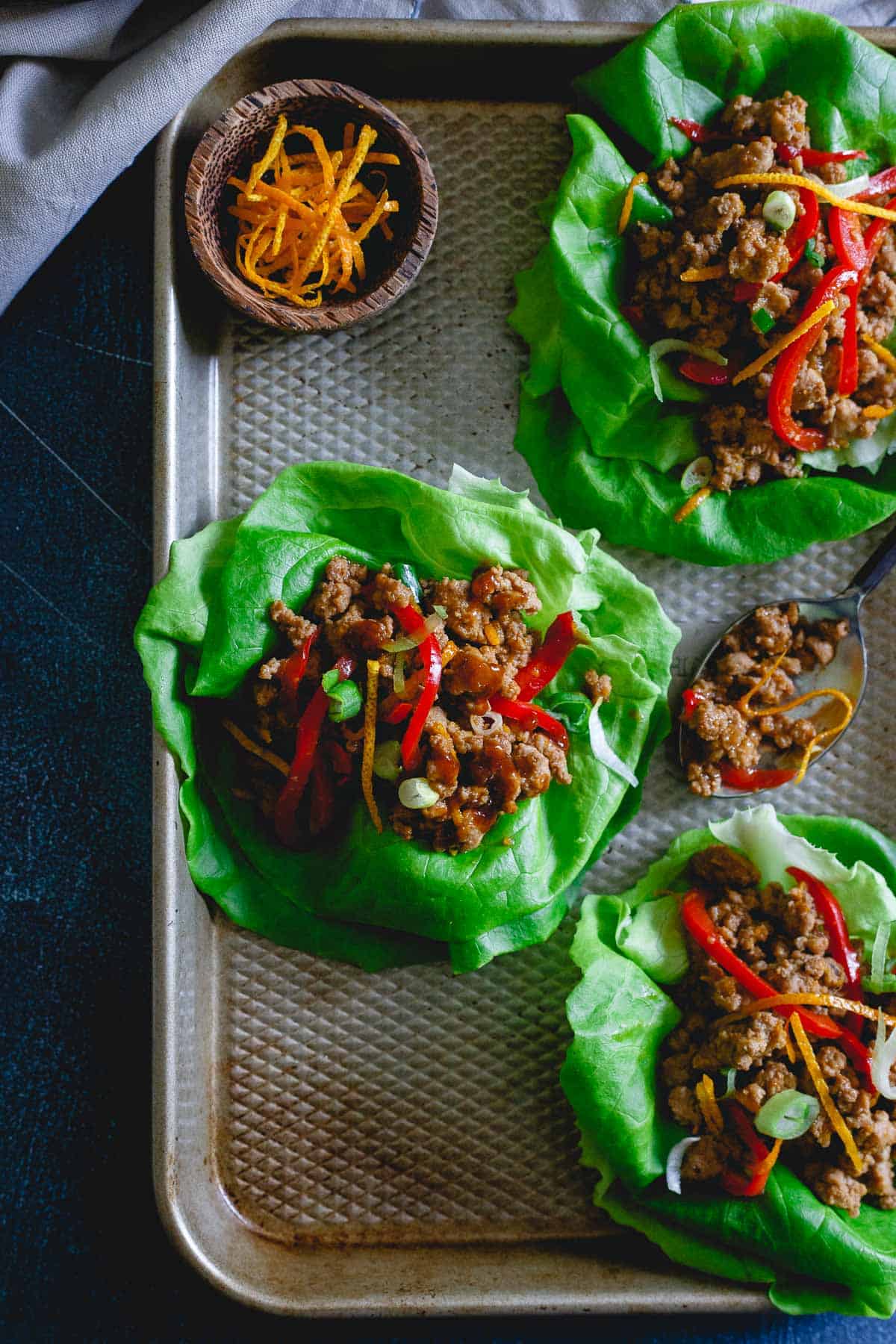 Ah, such a naive little foodie baby I was.
Last week, I spent a whirlwind 36 hours flying down to Florida with Tropicana to visit one of their orange groves, tour the processing facility in Bradenton and learn way more than I ever thought possible about that deliciously fresh, tasty stuff I've been pouring in my glass every single day for breakfast since I was a kid.
One thing you'd always find in our fridge growing up was a carton of Tropicana orange juice (no pulp – it's the devil). If we ran out and dad didn't have his morning glass, things weren't pretty in our household.
The man was and still is, obsessed. An obsession that somehow got passed down to my brother and I as we both can't start our day without it and have totally become the angry adult now if someone else in the house finishes the carton without replacing it.
We literally got to experience first hand the whole grove to glass process on our trip.
Being in the groves (and seeing a gator in the canal just chilling next to us!), smelling the orange blossoms (a smell so fragrant and wonderful, I wish I could've taken it home in bottles) as the trees were just a week or so away from harvest and learning all about how every single tree is handpicked (there's 400-500 oranges per tree!), trucked to the processing facility (where we got to see every step of the process from unloading off the truck to sorting, juicing and packaging) and juiced within 8 hours was truly fascinating.
There are 400 growers across the state of Florida and each day, Tropicana produces 2.5 million bottles of 100% pure-squeezed orange juice.
Yes, pure-squeezed. That means it's 100% orange juice.
Guys, I know there are misconceptions out there but there is literally nothing else added to the orange juice. No sugar, nothing.
The oranges bring all the delicious and natural sweetness you need to each glass as well as a good dose of Vitamin C and other nutrients.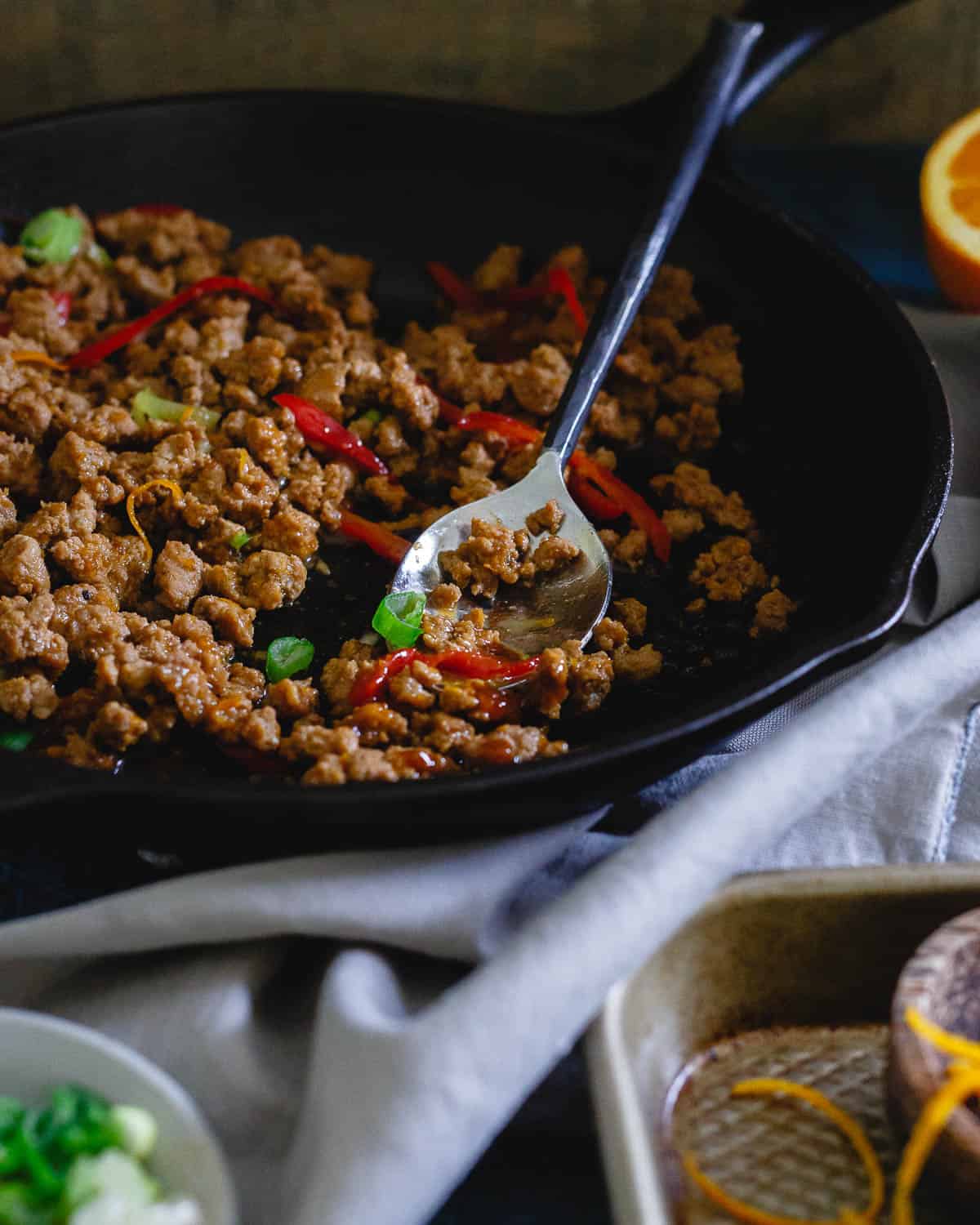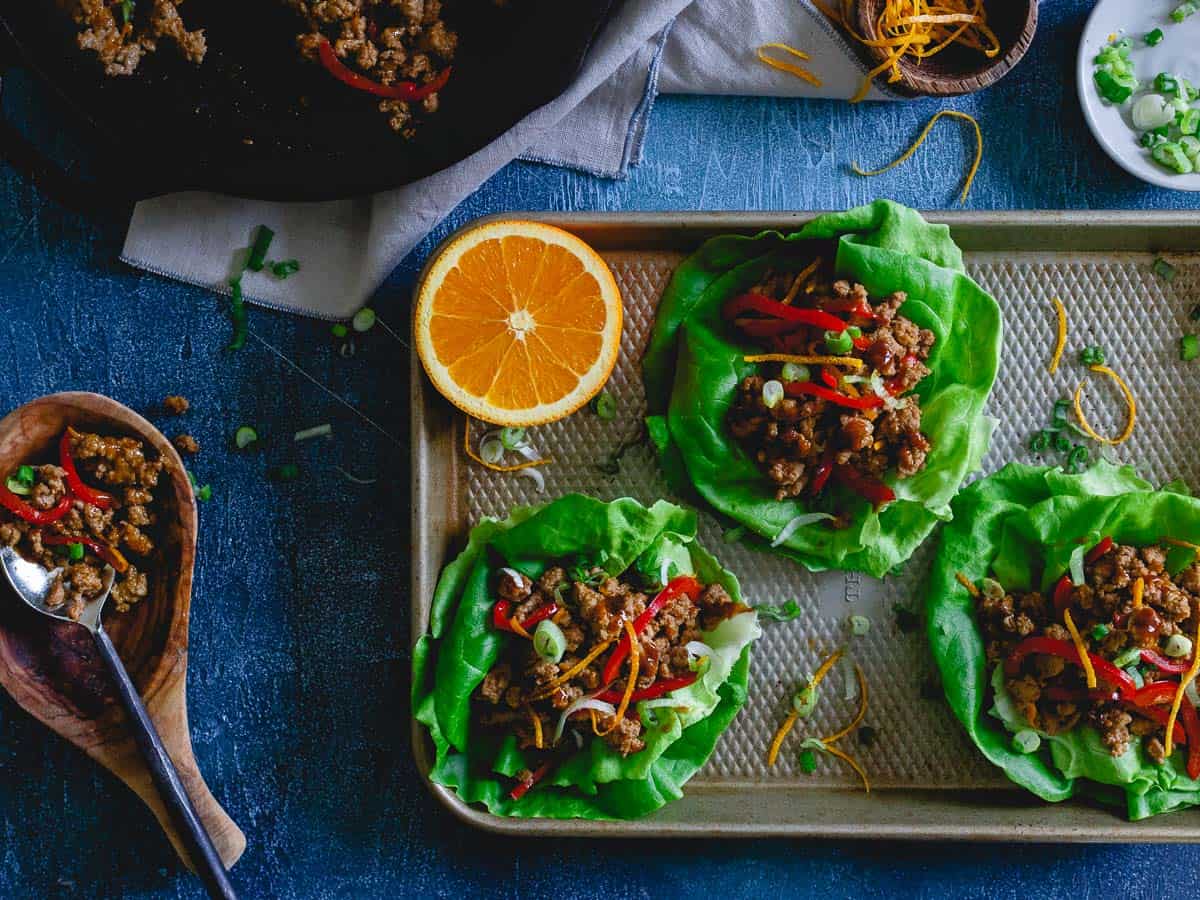 Coming home from such a wonderful (albeit very short!) trip, I was inspired to create a recipe that showcased the oranges using as much of the fruit as possible. That's when (who the heck knows how) my mind wandered back to the P.F Chang days and I thought about lettuce wraps.
These orange turkey Asian lettuce wraps are a seriously mouthwatering blend of both. The sticky, sweet, savory and slightly spicy orange sauce is bursting with citrus flavor from both the orange juice and zest while highlighted by traditional Asian flavors from the soy and fish sauce.
Tossed with lean ground turkey and even more orange zest, it makes a deliciously flavorful, quick 30 minute meal. Lettuce wraps are a perfect healthy vessel to shove it all in your mouth but the orange turkey would be equally as good over some rice for a more substantial meal too.
I remember those P.F. Changs lettuce wraps being almost addictive. Like, I just didn't want to stop eating them. At the time, I had no idea the word umami even existed but thinking back to it today, I now realize that's exactly what they were: a savory, sweet explosion of deliciousness that makes you never want to stop eating. And that's exactly how I'd describe these orange turkey Asian lettuce wraps. I could've eaten the entire skillet myself.
Try 'em, you'll see.
Love my Orange Turkey Asian Lettuce Wrap recipe?
Check out these other orange inspired recipes: glazed orange cardamom cake (<– literally one of my most favorite things I've ever baked) | orange basil ricotta pancakes | honey orange sesame chicken (<– 20 minute meal alert!)
Follow along with Tropicana on social: Facebook | Instagram | Twitter
Yield: 4 servings
Orange Turkey Asian Lettuce Wraps
These turkey Asian lettuce wraps are infused with a sticky, sweet, savory and slightly spicy orange sauce making them an irresistibly easy and tasty meal.
Ingredients
For the orange sauce:
1 cup orange juice, (fresh 100% juice or fresh squeezed)
1/4 cup low sodium soy sauce, (use gluten free if needed)
1 tablespoon fish sauce
1 tablespoon honey
1 teaspoon sriracha, (adjust amount for spice preference)
1/2 teaspoon minced garlic
1 inch piece fresh ginger, grated
zest of 1 orange
1/2 tablespoon cornstarch or arrowroot starch
1/2 tablespoon water
For the turkey:
1 pound lean ground turkey
1/2 teaspoon garlic powder
1/2 teaspoon kosher salt
1/4 teaspoon ground ginger
1/4 teaspoon freshly ground black pepper
1/2 tablespoon coconut oil
1/2 large red bell pepper, thinly sliced
zest from 1 orange, (I zested in thin strips )
1 head Boston or Bibb lettuce
chopped green onion for garnish
Instructions
For the orange sauce:
Whisk everything except the cornstarch and water together in a small bowl until combined. Add the mixture to a small sauce pot and bring to a boil. Once boiling, reduce heat to a simmer and let cook/reduce for about 15 minutes while you prepare the turkey.
Mix the cornstarch/arrowroot and water together in a small bowl right before you're ready to add the sauce to the turkey. Add the cornstarch mixture to the sauce, stir until thickened and remove from heat.
For the turkey:
Mix the turkey, garlic powder, ginger, salt and pepper together in a large bowl.
Add the coconut oil to a large skillet over medium-high heat. Once hot, add the turkey and cook until browned, breaking up with a spatula into small pieces as it cooks. Drain any excess liquid from the skillet once browned and return to the heat.
Add the red peppers and orange zest and cook until peppers are just slightly softened.
Add the orange sauce to the skillet, toss to coat all the turkey with the sauce and let cook for another 1-2 minutes until bubbly and thickened.
Serve turkey mixture in lettuce cups and garnish with green onions.