Make this sweet and sour tofu in minutes and forget about the takeout! The outside is super crispy and glazed in sweet and sour sauce. Perfect with some white rice.
It took me a long time to warm up to the idea of tofu.
I pretty much thought all versions of it were like the slimy disgusting stuff you find in the warmed up toilet water they call miso soup.
Once I realized Chinese takeout is probably not the best barometer for judging a food's potential, however, the world of crispy pan fried tofu squares opened up.
There were a few mishaps along the way to a decent tofu meal like buying the silken kind by accident instead of extra firm.
Although, if you make that mistake just make this healthy peanut butter cookie dough dip with it – that's what's called making lemonade out of lemons!
Or, being lazy and not spending a few extra minutes to press the water out of it before cubing, figuring it couldn't make that much of a difference.
But now I know.
And now, when I forget to take something out of the freezer to defrost for dinner, I almost always have a package of tofu in the fridge as a protein packed, vegetarian backup plan.
The super firm tofu from Wildwood I used for this sweet & sour tofu was one of the best I've tried.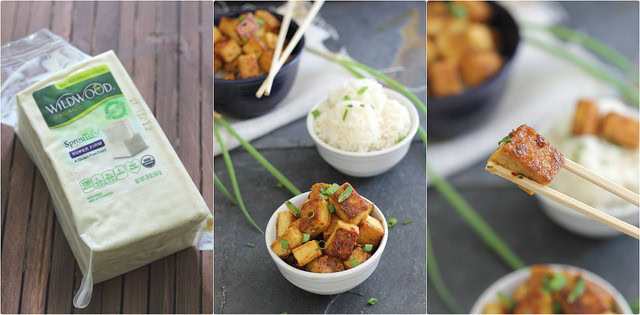 It's legitimately firm and almost needed no pressing, and I loved that it's made with sprouted soybeans. I'm somewhat conscious of the amount of soy and grains I eat and try to eat sprouted varieties whenever possible so this was a definite plus.
So while I stand firm in my distaste for miso soup (seriously, I'll never understand you people who slurp that stuff up) I do love a good sweet & sour Chinese takeout dish (evidenced in this hot & sour egg drop soup) which is exactly what I wanted to recreate with this pan fried tofu.
It's sweet from the honey, sour from the squeeze of lime juice, salty from the soy sauce and caramelizes into a delicious sticky coating on the tofu when it's all tossed together at the end.
The trick to the crispiness is to leave the tofu alone once you put it in the pan and the trick to the sticky sauce is a hot pan.
Simple enough, right?
Mapo tofu is another great tofu recipe to try out or this easy sheet pan roasted tofu that doubles as a great meal prep tofu option with roasted vegetables made right alongside in the same pan!
Serve it over some sticky white rice and you've got yourself a way better for you version of takeout.
More easy one-pan dinners like this sweet & sour crispy tofu:
Jalapeno Mango Chicken Skillet
Buffalo Turkey Cauliflower Skillet
Chinese Chicken Zoodles
Yield: 4
Crispy Sweet & Sour Tofu
Make this sweet and sour tofu in minutes and forget about the takeout! The outside is super crispy and glazed in sweet and sour sauce. Perfect with some white rice.
Ingredients
1 block extra firm tofu, pressed & cubed
2 tablespoons cornmeal
salt to taste
2 tablespoons extra virgin olive oil
1 clove of garlic
1 teaspoon fresh grated ginger
1 1/2 tablespoons soy sauce
1 teaspoon sesame oil
1 teaspoon red pepper flakes
juice of 1/2 a lime
1 1/2 tablespoon honey
1 tablespoon chopped mint
Instructions
Toss the cubed tofu with the corn meal and salt in a large bowl.
Heat the olive oil in a large skillet over medium high heat.
Add the tofu and let cook for about 5 minutes per side until golden brown.
Flip each cube over and cook again until the other side is browned.
While tofu cooks, make a paste out of the garlic and ginger, add to a small bowl.
Add the remaining ingredients to the bowl and whisk together.
Remove the tofu to a plate.
Add the sauce from the bowl to the hot skillet and let cook for about 30 seconds.
Add the tofu back to the skillet and toss until fully coated with the sauce.
Serve with white rice and garnish with scallions.