Let's back up a couple of weeks…I promised this recap when I got back from the CrossFit Games and then life got in the way. Oops!
Besides getting to watch all the elite athletes compete, we actually sweat through a couple wods ourselves at the games.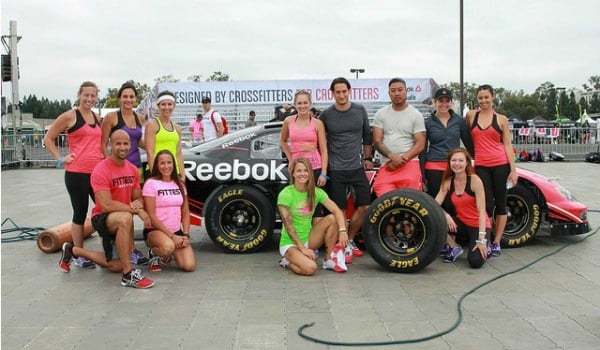 On Saturday morning, the Tina, Anne, Ericka and I as well as the rest of the media crew there on behalf of Reebok, got to workout with Yumi Lee, a celebrity trainer who co-owns Reebok CrossFit LAB in Los Angeles.
Yumi, PJ and Ron led us through a two-part wod:
Strength
3 rounds:
20 step ups (10 each leg)
10 pushups
10 squat jumps
Tabata (8 rounds 20 seconds on, 10 seconds off)
Kettlebell swings (35#)
Dumbbell thrusters (20#)
Sit-ups
It was not as easy as it sounds. Tabata is no joke. That is the quickest 10 seconds of your life.
We all wore our new Reebok Nano 3.0 shoes which I was super excited to test out. I'm pretty much the only one at my box without Nanos so I had to see what all the hype was about. I can see why people like them now. They're much more supportive than the CrossFit shoes I had been wearing and are great for wods involving running and box jumps. They're basically a very versatile shoe. And they're fun colored. Who doesn't love a bit of purple on their feet?
After the wod, Anne and I ate breakfast with Yumi, PJ and Don and got to ask them questions about training celebrities. Apparently Hugh Jackman likes to lift heavy and Jessica Alba prefers solo workouts to the group style of CrossFit.
Sunday's wod was a little more atypical. Christmas Abbott, a Reebok sponsored CrossFit athlete, is a Nascar pit crew member. So we learned how to take the tire off a racecar as part of the wod. Normal. Obviously.
The wod ended up being:
10 burpees
5 tire flips jumping through the tire each time
1 burpee in front of the car
take the tire off the car
Anne and I were teamed up against each other and rather than explaining how the whole thing went, here's a video.
The lug nut on the bottom (at 6 o'clock on the tire) got stuck and I didn't realize it because it was below my line of sight, that's why I tried pulling the tire off unsuccessfully so many times. I still beat Anne, but to her defense, she had an equipment malfunction with her air gun. Let's just say I'm glad we have no racecars outside of my box.
(photo courtesy of Anne)
Monday morning before we all flew back home, Anne, Ericka and I went for a 5 mile run along Manhattan Beach. It was the perfect ending to a fun, workout packed weekend and a great last training run before the Beach to Beacon 10k Anne would both be running the following weekend.
*Reebok paid for my trip and ticket to The CrossFit Games and I was given free Reebok product. This is not a compensated post though and opinions are my own.*