This easy pear smoothie recipe is flavored with banana and cinnamon. It's a healthy, high protein snack or breakfast you can make in minutes with just a handful of ingredients.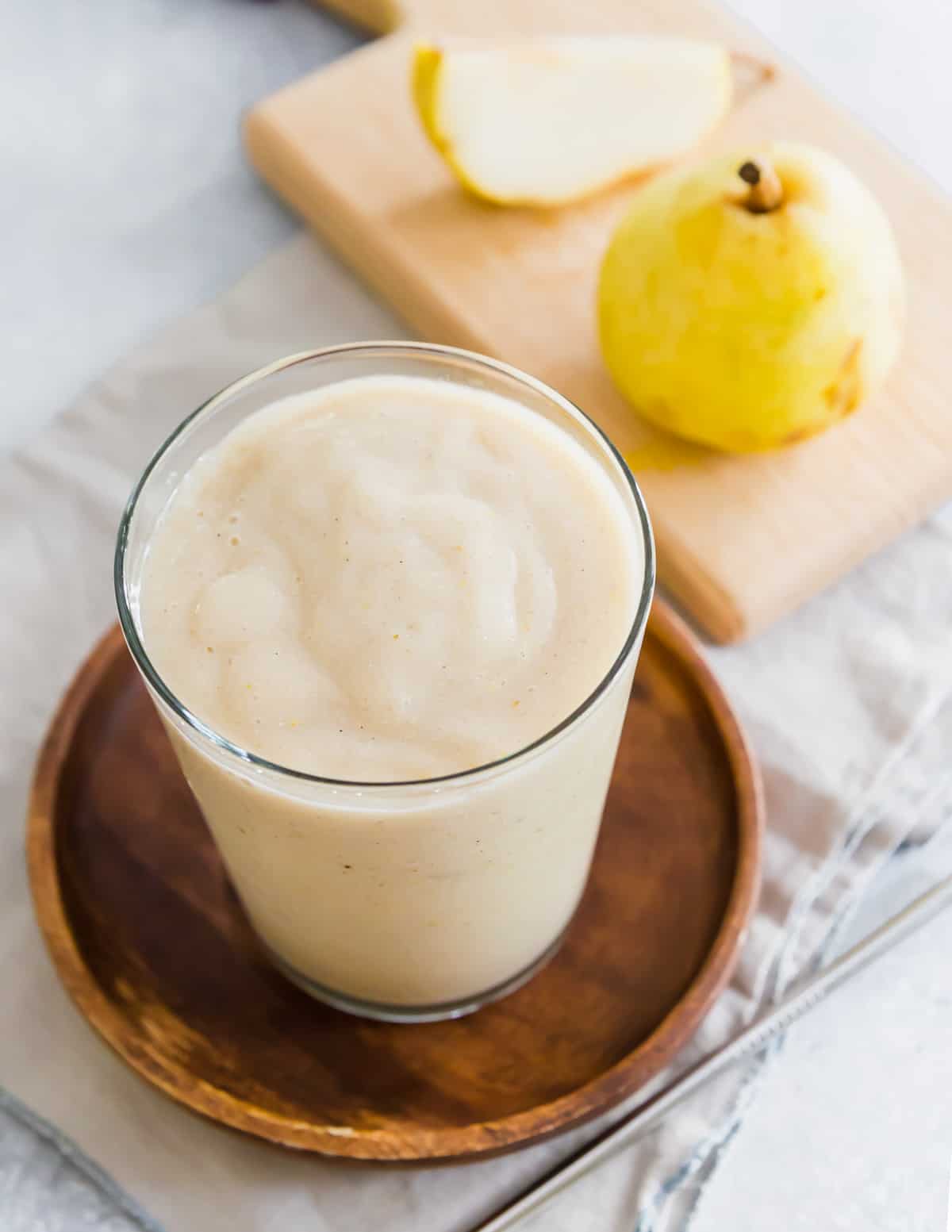 Am I the only one that was surprised yesterday to realize that we turn the clocks back this weekend?
I can't even begin to understand how the heck we're already to the point of 5pm darkness around here.
I hate this time of year.
Really, I do. I get in a funk. I'm pretty sure there's a name for that feeling.
Oh yeah, seasonal depression.
I seriously think I might have it.
As if that wasn't a rude enough awakening guess what else I discovered?
3 grey hairs. In the same spot. On the right side of my head.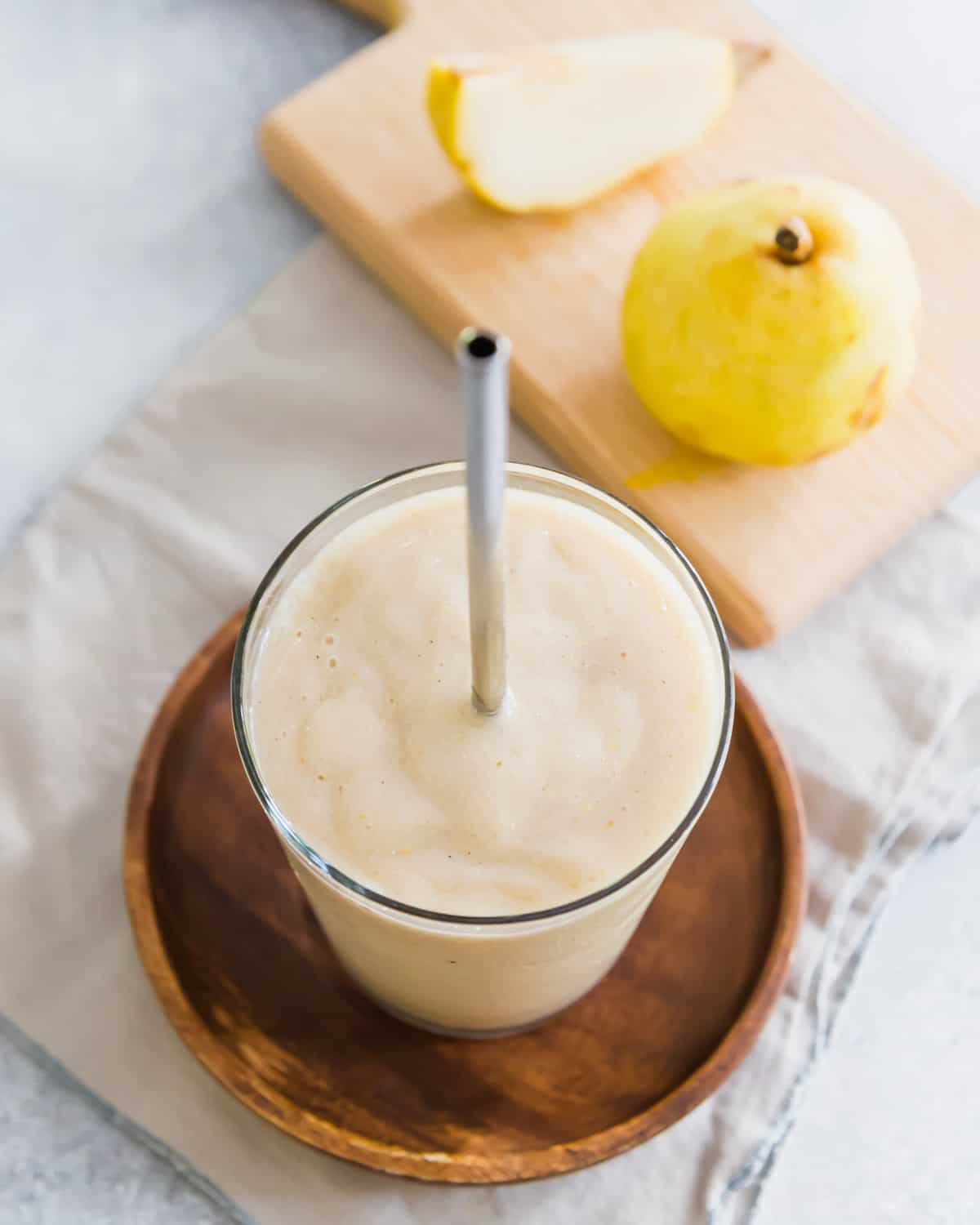 I've always secretly laughed at those people with the awkwardly placed grey patches on their head wondering why the heck they don't do something about it.
Hair dye is cheap enough, you know?
I fear I may be becoming one of them and will soon elicit weird stares of my own.
What does any of this have to do with this deliciously easy pear smoothie?
Nothing.
Except that I needed something to cheer me up after those two incidents and the grilled cheese + pickle sandwich (no, I'm not pregnant) I ate for lunch wasn't as photogenic.
How To Make This Simple Pear Smoothie
You know all those healthy smoothies out there with a laundry list of ingredients, half of which you've never even heard of?
This isn't one of them. The ingredients are as basic as it gets for this healthy pear smoothie:
frozen banana (or not frozen, just add more ice in that case)
cinnamon
cardamom (optional but I love the flavor!)
milk (I used almond milk but any kind will work)
vanilla protein powder/collagen peptides
Combine all the ingredients in a blender and blend until smooth and thick!
Xanthan gum isn't listed above but it's an optional ingredient that helps thicken up the smoothie if you prefer.
The vanilla protein powder can be any kind you like. If you want to keep things dairy free, use a plant based one. My favorite is Nuzest. It's plant-based, one ingredient and third party tested for heavy metals. Highly recommend.
For an animal based protein powder, in the past when I ate cow's milk dairy, I used and loved SFH vanilla whey. It's 100% grass fed, tastes delicious and doesn't result in a weird chalky texture when you bake with it or use it in oatmeal like many other protein powders do.
They also have a churro flavor and it's outrageous. Just sayin'.
Collagen peptides are another option instead of protein powder. If you use an un-flavored version like those linked, add 1/2 teaspoon of vanilla extract to the pear smoothie for the vanilla flavor.
If you don't want to use a protein powder at all, try an ultra-filtered milk like Fairlife.
The protein content is higher since the milk is ultra-filtered and I find it to be super creamy which is always delicious.
It won't be quite as much protein as protein powder but still pretty good for a small glass/snack in this smoothie with pears.
And as a last alternative to milk and or protein powder, you can always use a plain Greek yogurt.
But, I have to say I enjoy the consistency of this pear smoothie without yogurt just a little bit more.
Check out my tutorial for more tips and tricks on how to make a healthy smoothie – it teaches you all about each layer of the perfect healthy smoothie in 3 easy steps.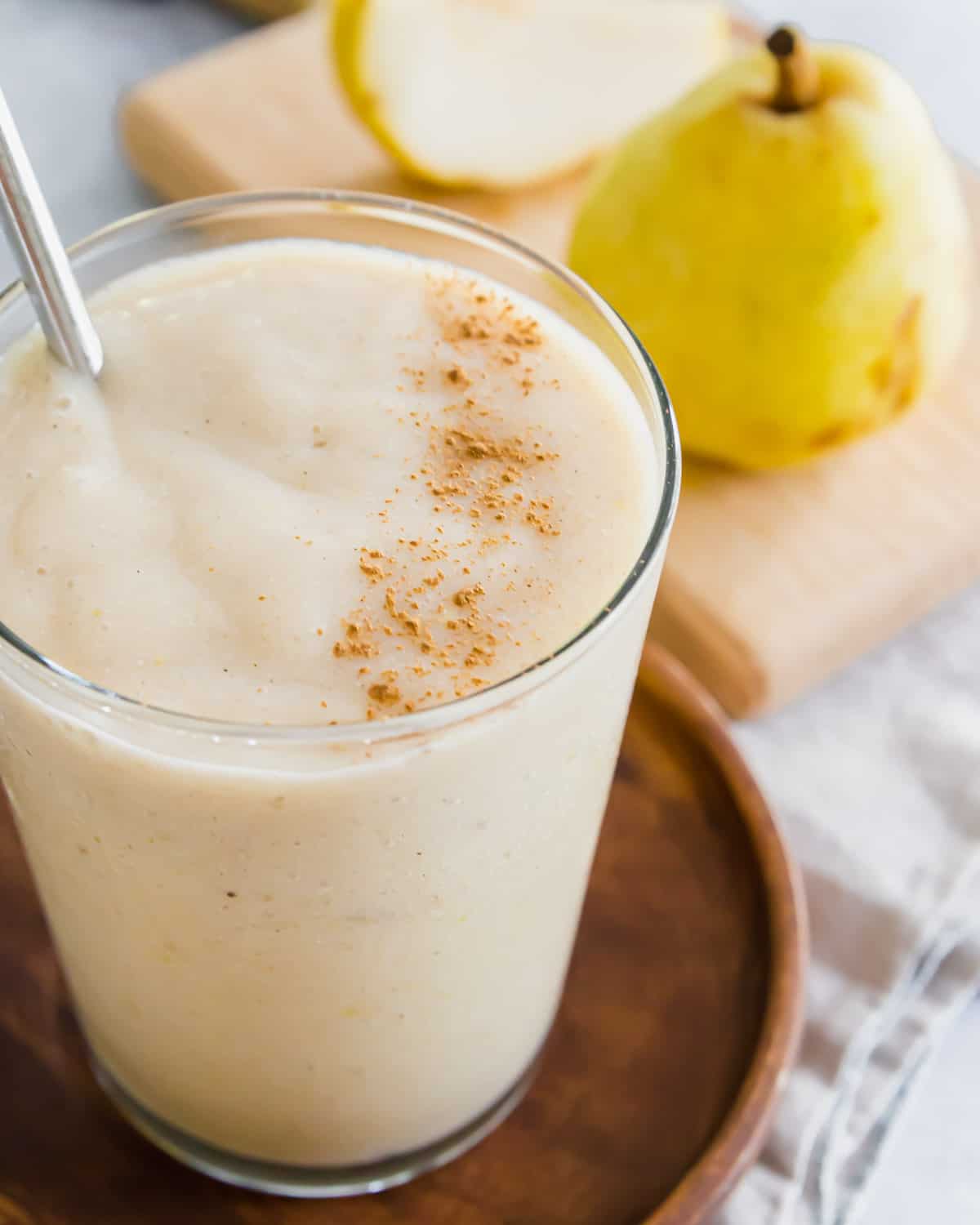 WHAT KIND OF PEARS TO USE
Honestly, pick your favorite variety of pear. Whatever's ripe will work.
Personally, I'm always partial to D'Anjou pears (pictured here) versus Bosc. I find them to be juicier, sweeter and less often mealy. I use them in this pear oatmeal too and they make the most delicious caramelized spiced pear topping!
I also like the red version of these too.
This smoothie is creamy and dreamy. It reminds me of a creamsicle but with a subtle pear flavor instead of orange.
It's borderline dessert tasting, almost like a pear milkshake to be honest which is why I love it so much. Crazy how just a few simple ingredients can result in such a delicious healthy smoothie!
If pear smoothies aren't your thing, try these other smoothie recipes:
Pineapple kiwi mint smoothie
Persimmon vanilla bean smoothie
Blood orange smoothie
Almond butter and jelly smoothie
Pear Smoothie
This easy pear smoothie is flavored with banana and cinnamon. It's a healthy, high protein drink you can make in minutes with just a handful of ingredients.
Ingredients
1 small ripe pear
1/2 frozen banana
1 scoop vanilla protein powder of choice or collagen peptides
1/2 teaspoon cinnamon
1/4 teaspoon cardamom
1/2 cup almond milk
1/2 cup ice
1/8 teaspoon xanthan gum (*optional)
Instructions
Combine all ingredients in a blender and process until smooth.
Notes
*Xanthan gum will help thicken up the smoothie if desired.
Nutrition Information:
Yield:

1
Serving Size:

1
Amount Per Serving:
Calories:

272
Total Fat:

2g
Saturated Fat:

0g
Trans Fat:

0g
Unsaturated Fat:

1g
Cholesterol:

5mg
Sodium:

71mg
Carbohydrates:

34g
Fiber:

6g
Sugar:

20g
Protein:

33g
This website provides approximate nutrition information for convenience and as a courtesy only. Nutrition information can vary for a variety of reasons. For the most precise nutritional data use your preferred nutrition calculator based on the actual ingredients you used in the recipe.