This loaded cheddar bacon bread with peppers, scallions and beer as the secret ingredient requires no yeast, no rising and no fuss.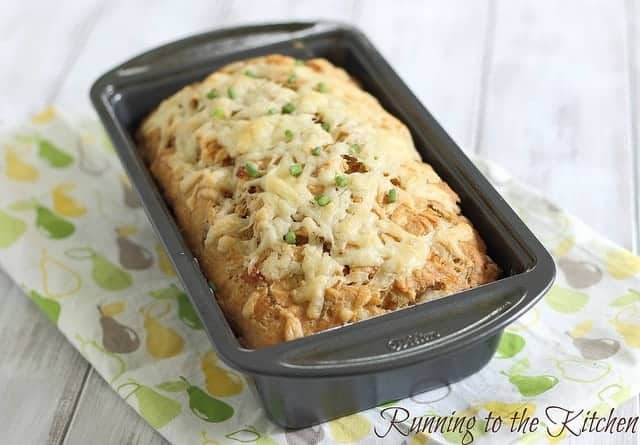 Each year summer comes, the temps rise and the grocery stores put on their A-game trying to get you to buy beer with their end of the aisle displays of all the fun summertime brews. And each year, I'm a total sucker for it.
This wouldn't necessarily be a bad thing if there were two of us who actually drank beer in the house to tackle the 24 summery bottles but as I've discussed before, Ulysses won't touch the stuff. I think I've seen him with a bud light lime (which barely even deserves to be classified as beer) once or twice in the heat of the summer. I try to get him to like it by buying things with names like "blackberry wheat" but one sip in and he just looks at me like "really? this shit does not taste like blackberries, Gina". My response is usually an eye roll and some backhanded insult about his lack of manliness while grabbing the bottle and taking a nice long chug.
I'll start off strong and usually have 3-4 bottles of the case a week after bringing it home but then it loses its appeal and weeks/months go by before I remember to drink another and before I know it, it's the following May and there's one lonely beer bottle left on the bottom shelf of the fridge.
I don't really know the shelf life for beer, but I'm going to assume 8-9 months is expecting a bit much. So instead of drinking it, I baked with it.
If you think regular fresh baked bread is good, add bacon, peppers, scallions, sun dried tomatoes, a huge pile of cheddar cheese and beer to it and then tell me your thoughts.
Un-freakin real.
It's like a very moist cornbread loaded with everything savory and good and with a hint of beer. No yeast, no rising, no kneading, no fuss.
And now that the last bottle is gone, I can go buy this year's case.
Cheddar Bacon Bread
This loaded cheddar bacon bread with peppers, scallions and beer as the secret ingredient requires no yeast, no rising and no fuss.
Ingredients
1 1/2 cups whole wheat pastry flour
2 cups all purpose flour
3 strips bacon
3 tablespoons scallions, chopped
1/2 small yellow pepper, finely chopped (1/3 cup)
1 tablespoon rosemary, minced
2 tablespoons sun dried tomatoes, chopped
1 1/2 cups sharp cheddar, grated and divided
1 teaspoon salt
2 1/2 teaspoons baking powder
1/2 teaspoon baking soda
12 oz. beer
1/2 cup buttermilk
2 tablespoons agave
1/2 teaspoon hot chili powder
1/2 teaspoon smoked paprika
Instructions
Preheat oven to 350 degrees. Grease a loaf pan with baking spray.
In a skillet over medium-high heat, cook bacon until crispy. Set aside to drain on a paper towel, leaving the bacon grease in the skillet.
Saute peppers and scallions in bacon grease until softened, about 2 minutes. Set aside.
In a large bowl combine flours, baking powder, baking soda, salt, chili powder and smoked paprika and whisk together.
In a small bowl combine beer, buttermilk and agave and whisk together.
Pour wet ingredients into large bowl with dry ingredients and fold together with a spatula until just incorporated.
Chop up bacon now that it's cooled.
Add bacon, pepper & scallion mixture with the leftover bacon grease from the pan, sun dried tomatoes, rosemary and 1 cup of the cheddar cheese and fold into dough until just incorporated.
Spread dough into loaf pan and bake for 20 minutes.
Remove from oven, sprinkle remaining 1/2 cup of cheese on top and bake again for another 20-25 minutes until cheese is golden and bread is cooked through.
Let cool in loaf pan for 20 minutes before removing and cooling on a wire rack.
Notes
Buttermilk can be made using 1/2 cup milk and 1 tablespoon lemon juice.