This easy salmon salad is a protein packed, nutritious and flavorful lunch made with fresh dill, lemon, dijon mustard, salty capers, smoky roasted chickpeas and cottage cheese. Serve it on some toasted bread or in lettuce wraps.
*This dijon dill salmon salad is made in partnership with Muuna cottage cheese.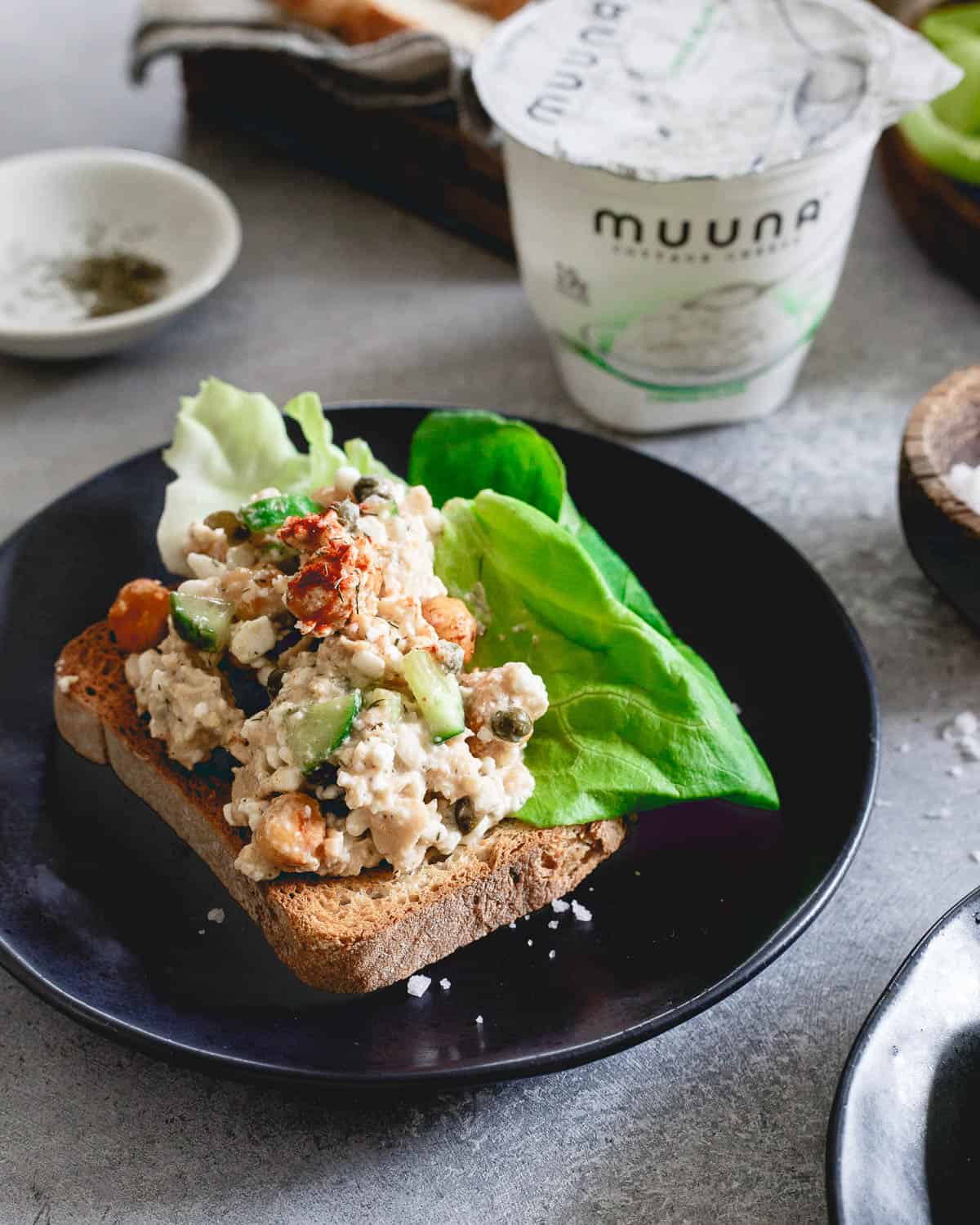 My dad used to make tuna melts in the toaster oven all the time growing up. It was absolutely revolting to me. That tuna smell just permeated the air in the house and would literally make me gag.
I was such a dramatic kid when it came to foods. It's kind of funny now considering I eat almost any and everything but as a kid, eggs, oatmeal and ALL fish disgusted me. Canned tuna hanging out at the very top of that list.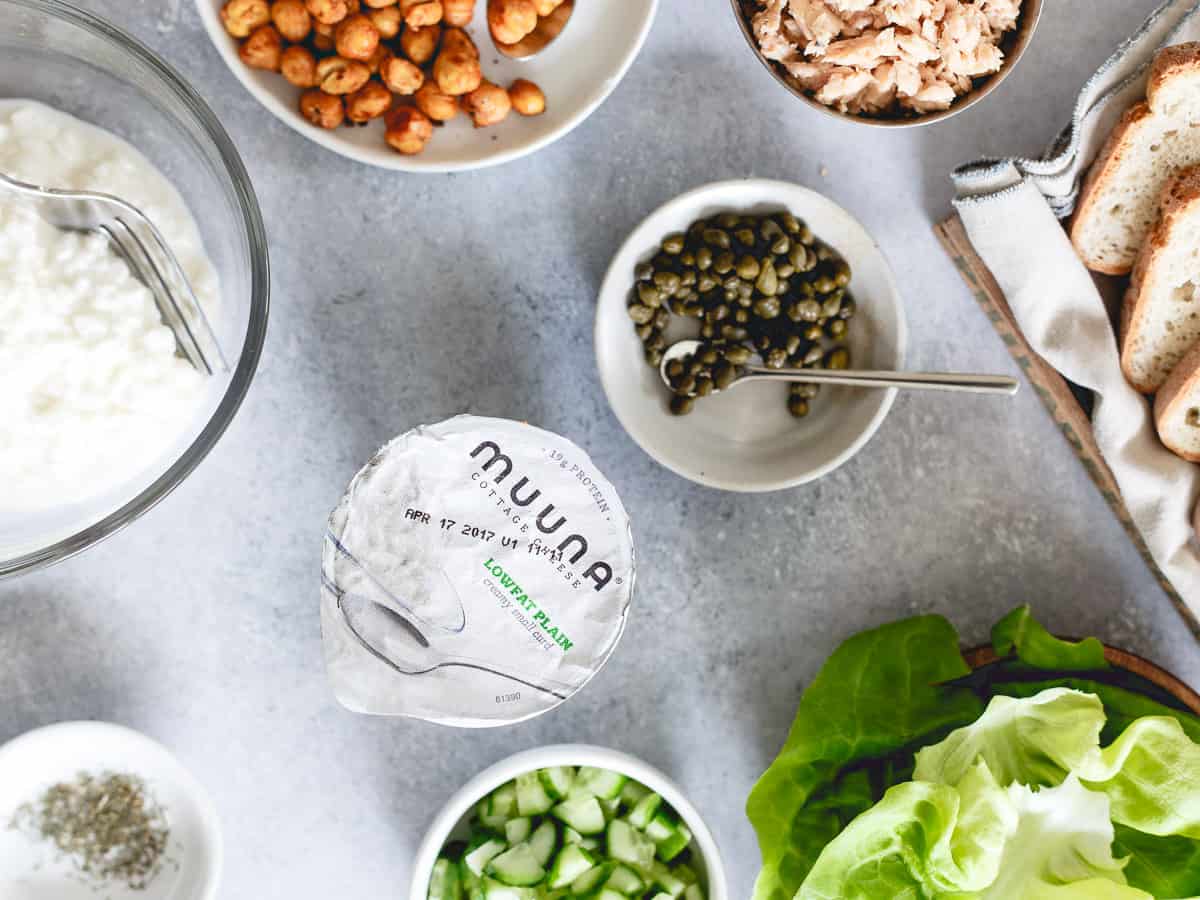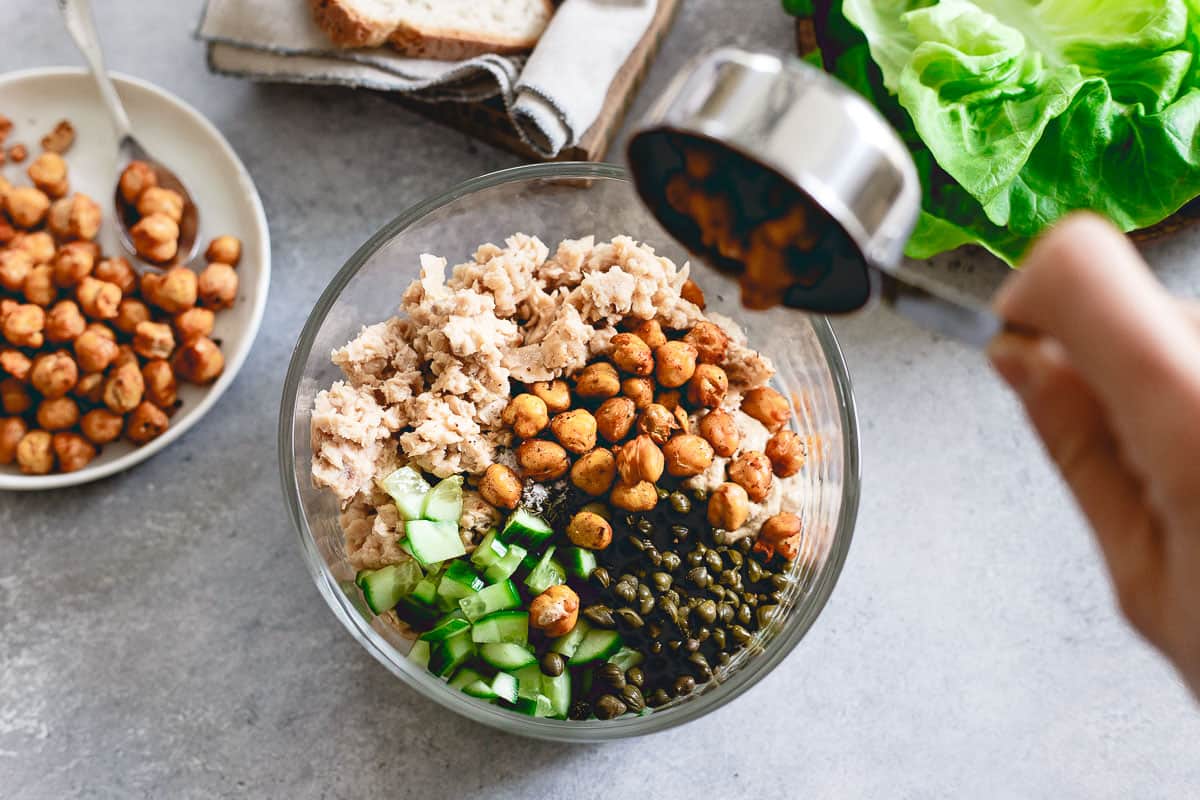 Fast forward to today and I hoard those single serve tuna packets in my pantry as if running out would be a crisis of massive proportions.
When I went to Alaska a couple summers ago with Copper River Salmon, I learned something about salmon I never knew; canned salmon and salmon packets in the store are actually wild salmon.
In my head, I had (wrongly) assumed anything that made its way into a can or packet had to be either farmed or of suspect origins so I stayed away. Turns out, pink salmon (the most prevalent type of wild salmon) is what's used for that and it's a great, inexpensive way to get all the nutritious benefits of wild salmon in your diet.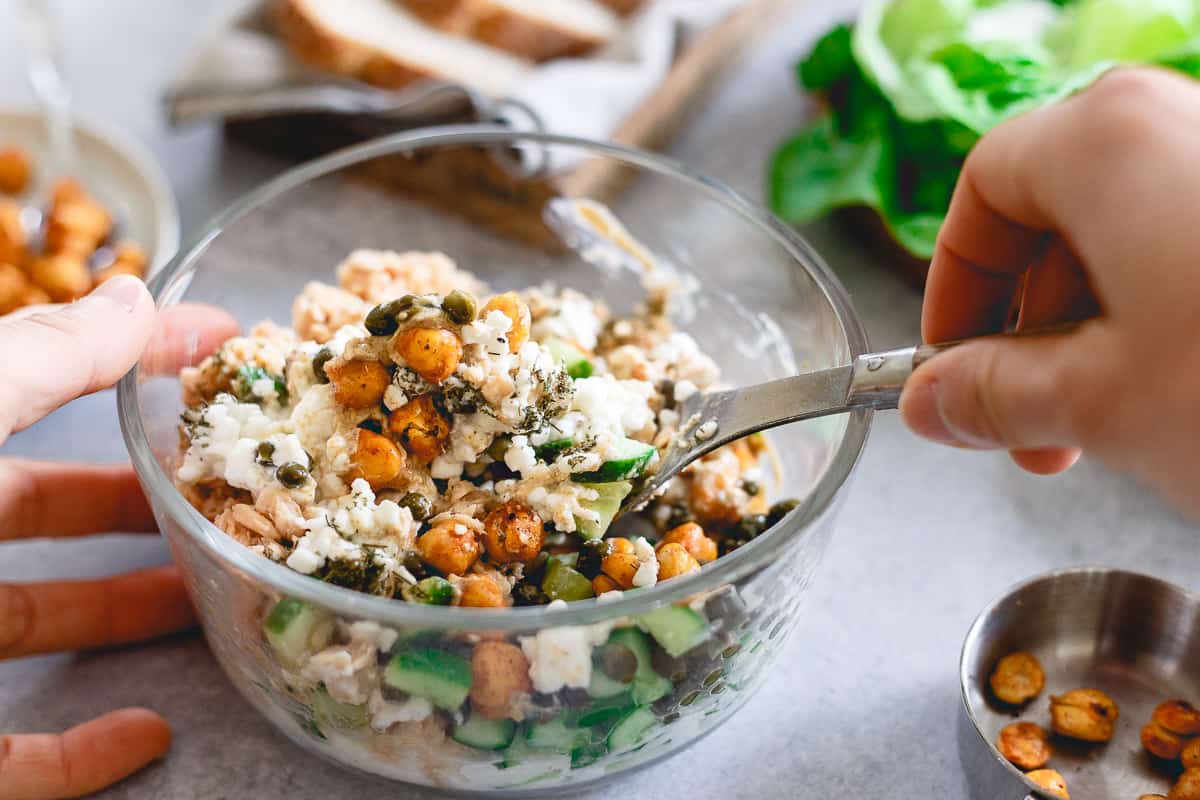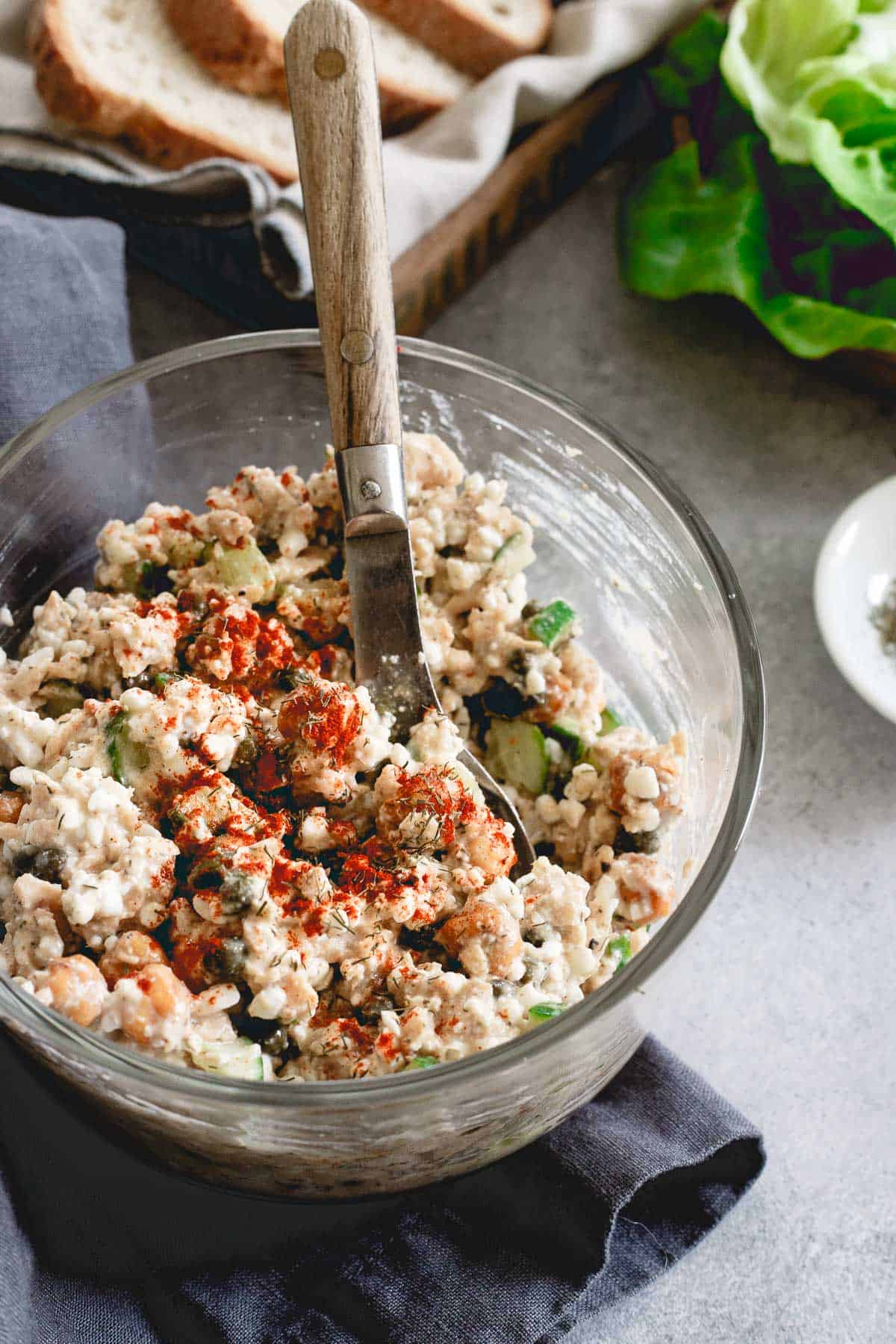 So in addition to the tuna packet hoarding, I started hoarding salmon packets in a nice neat stack in the pantry as well and now I have two protein packed lunch options in a pinch.
It feels like salmon gets no love though in comparison to tuna (or chicken/eggs for that matter) in the salad/lunch world. It's the step child lunch salad of the bunch and this dijon dill salmon salad is here to hopefully change that.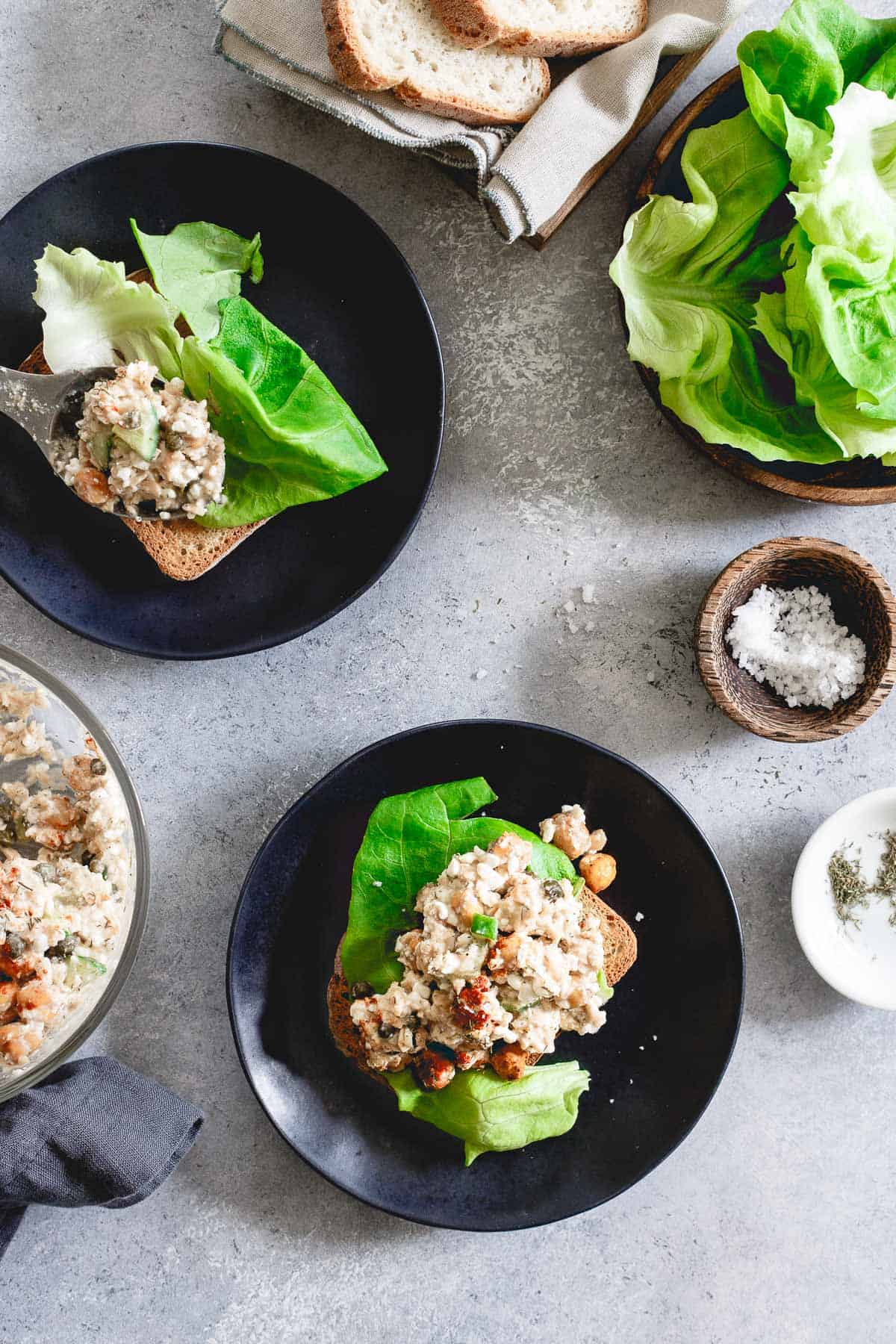 When I say this is a protein powerhouse of a lunch, I'm not kidding in the least. Between the salmon, the roasted chickpeas (love their pop of crunchy texture in this!) and the cottage cheese, this lunch has some serious staying power.
Yep, cottage cheese. You heard me. No mayo here. I used Muuna 2% plain cottage cheese for this salad and I may never go back to any other way when it comes to lunch salads. As a person that 90% of the time goes the sweet route with cottage cheese (their flavored singles are some of my favorite pre and post workout eats), I surprised myself at how much I loved it in this savory way. I've found Muuna cottage cheese to be super creamy, an almost melt-in-your-mouth like texture which makes it the perfect protein-packed binder for a salad like this. It also really ups the satiety of the meal compared to the normal mayo route.
Combined with tons of flavor from the dill, lemon, dijon mustard, salty capers and the crunch from the cucumbers and roasted chickpeas it's a lunch I could happily eat all week long and never tire of. It's also great to make ahead (who said meal prep is just for dinner?!), just keep the roasted chickpeas separate from the salad until serving so they don't get too mushy.
Connect on Facebook, Twitter, Pinterest and Instagram with #Muuna.
Yield: 2 servings
Dijon Dill Salmon Salad
This salmon salad is a protein packed, nutritious and flavorful lunch with fresh dill, dijon mustard, salty capers, roasted chickpeas and cottage cheese.
Ingredients
15 ounces canned chickpeas, drained and rinsed
1/2 tablespoon extra virgin olive oil
1 teaspoon smoked paprika, divided
salt and pepper
5 ounces wild canned/packaged salmon
5.3 ounces Muuna 2% plain cottage cheese
1/2 cup diced cucumber
2 tablespoons capers
1 1/2 tablespoon dijon mustard
1 tablespoon lemon juice
1/2 teaspoon dried dill (or 2 tablespoons chopped fresh dill)
Instructions
Preheat oven to 425 degrees. Toss chickpeas with olive oil, 1/2 teaspoon smoked paprika, salt and pepper and spread out on a lined baking sheet. Roast for 15 minutes, stirring occasionally until golden and crispy.
While chickpeas roast, prepare the salmon salad by combining the salmon, cottage cheese, cucumbers, capers, dijon, lemon juice, dill, remaining 1/2 teaspoon smoked paprika, salt and pepper to taste in a large bowl. Mix until well combined.
Add chickpeas to the mixture before serving and gently stir to combine.
Serve with lettuce wraps or toasted bread.