These vegetarian cauliflower burgers are stuffed with cheddar cheese and topped with pickled red cabbage and a zesty, refreshing cilantro pesto. 
Let's be real, most veggie burgers are either full of anything but veggies (hello, processed soy weird unpronounceable ingredient lists) or nasty tasting AF. I'm not one of those carnivores that writes veggie burgers off (I love me some veggies!), but when the majority fall into one of those two categories, it's pretty hard to choose them over a good ol' beef burger.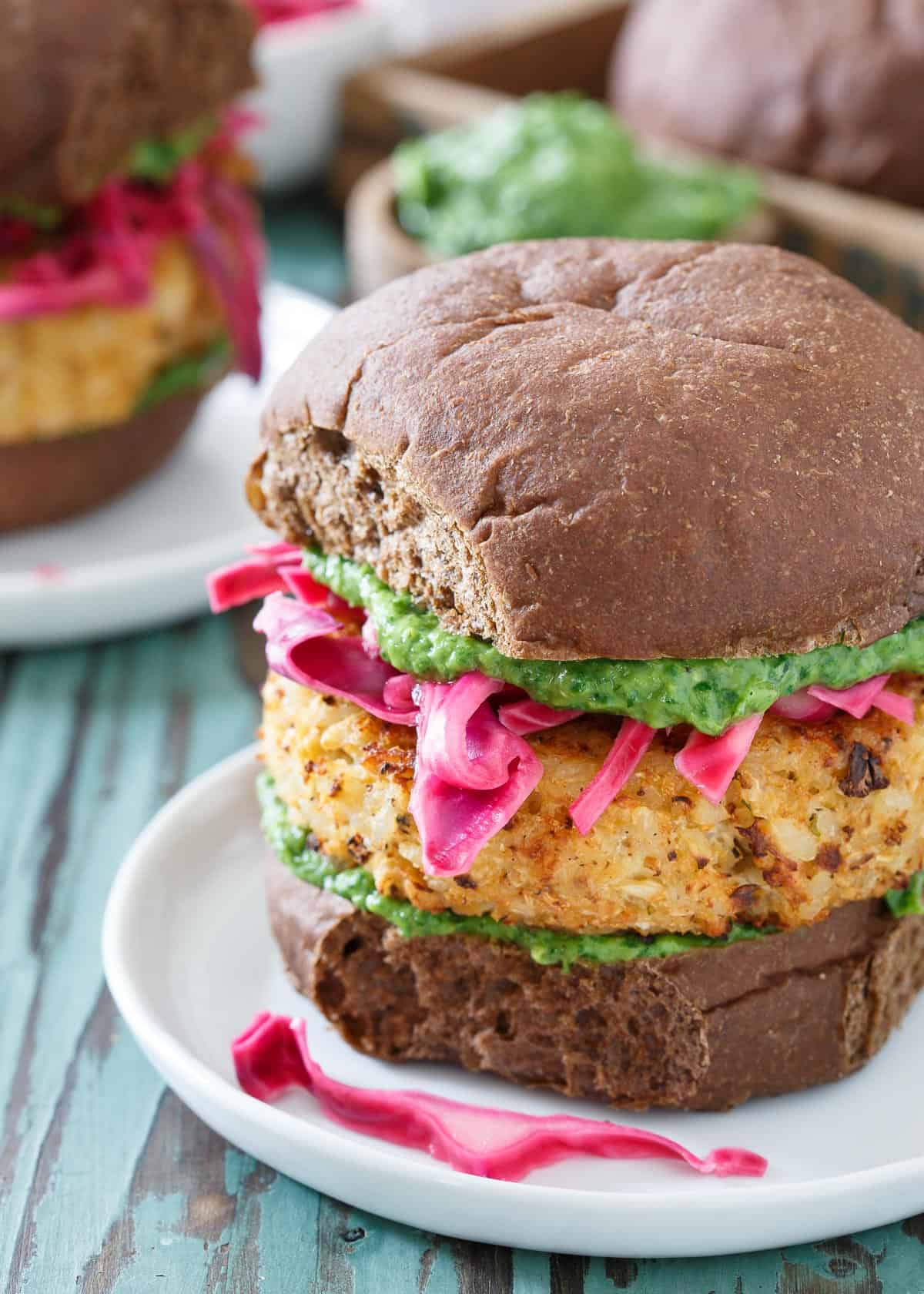 To make a decent veggie burger you have to be pretty dedicated to the cause. It's a lot easier and much quicker to slap together some meat in your hands and form a hamburger than it is to get a bunch of (good) tasting real vegetables to stick together in patty form.

(not ready to go all out veggie burger? give this hybrid bbq beef beet burger a try!)
This cheddar cauliflower burger was a 45 minute labor of love. While roasting the cauliflower first adds another 15-20 minutes to the whole ordeal, it's worth it 10 times over in the flavor department. That roasted taste is what sets this cauliflower burger apart and goes so well with the sharp cheddar and spices. And since every burger is only as good as its toppings, the quick pickled red cabbage and cilantro pesto are musts. Their bright and tangy bite are the perfect offset to the savory roasted cauliflower, rice and cheese in the burger.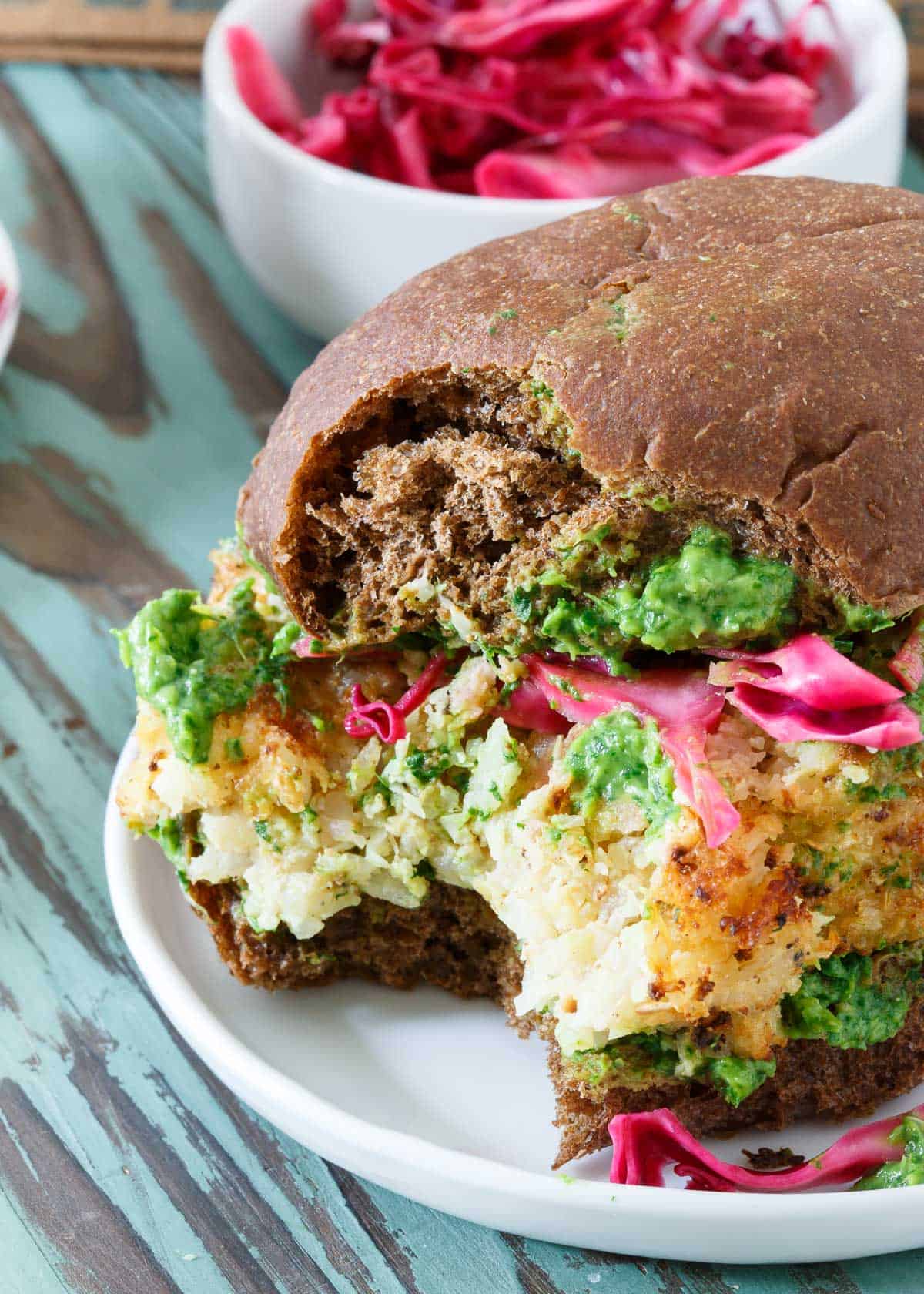 I promise it's a recipe even the staunchest of meat eaters will appreciate.
That said, there's always a time and a place for a true to form, quality beef burger in my life (cooked medium rare of course, otherwise, no, just no) and I'm happy to be partnering up with Laura's Lean Beef this month and their #60DayChallenge, a health and wellness initiative that's motivating people across the country to keep track of things like daily steps, water intake, sleep and nutrition. Join the fun (there are weekly prizes like Fit Bits and Laura's Lean Beef swag as well as a Big Green Egg smoker grand prize) by signing up to be a part of the challenge here.
Good news! Laura's Lean Beef is also sponsoring a great giveaway below including product coupons, apron, cutting board and a grilling kit just in time for summer! Enter using the widget below the recipe. 18+ and U.S. only please. Giveaway ends Sunday, April 10th 11:59 EDT. GIVEAWAY ENDED 
4
adjust servings
Cheddar Cauliflower Burgers
These vegetarian cauliflower burgers are stuffed with cheddar cheese and topped with pickled red cabbage and a zesty, refreshing cilantro pesto.
Ingredients
For the burger
1/2

large head cauliflower, broken into florets

1

tablespoon extra virgin olive oil

salt & pepper

1

cup cooked white rice

1/2

cup grated cheddar cheese

1/4

cup panko breadcrumbs

1

egg

1/2

teaspoon chili powder

1/4

teaspoon cayenne pepper

4

buns
For the pickled cabbage
1/2

cup shredded red cabbage

distilled white vinegar
For the pesto
1/2

cup cilantro

1/4

cup parsley

1/2

avocado

1

clove garlic

juice of 1 lime

salt and pepper

water to thin
Instructions
For the burger
Preheat oven to 400 degrees. Spread cauliflower florets out on a baking sheet, drizzle with olive oil, season with salt and pepper and roast for about 15 minutes until just starting to turn golden brown around edges. Remove from oven and let cool.
Add the cooled cauliflower to a food processor and pulse a few times until "riced". You don't want the cauliflower to turn mushy, just enough to be finely chopped. Transfer to a large bowl.
Add the rice, cheddar, breadcrumbs, egg, spices, salt and pepper to taste and stir until well combined.
Form the mixture into 4 patties and place back on baking sheet. Return to oven and bake for about 20 minutes, flipping burgers half way through.
Assemble the burgers on a bun by spreading pesto on the top and bottom of the bun and placing pickled cabbage on top of the burger.
For the pickled cabbage
Add the cabbage to a bowl, pour enough vinegar into bowl to just cover the top of the cabbage and let sit while you make the burgers.
For the pesto
Add all the ingredients except the water to a food processor and process until smooth, scraping down sides as needed. Add water to the processor while running to thin out to desired consistency.