These BBQ beef beet burgers are topped with smashed avocado and goat cheese.
A couple of months ago, we went out to dinner for my dad's birthday at this brewery type place that had a fun kind of hip pub vibe. There was this beet and grain burger on the menu that caught my eye but seriously confused me at the same time. The few sips of the beer I had ordered must've gone straight to my head because for some reason I couldn't figure out what they meant by "grain". I was thoroughly convinced it really meant the beets were mixed with beef that had been "grain finished" instead of the logical explanation…a bunch of grains like oats, barley, wheatberries and bulgar. I somehow even convinced my sister in law this MUST be what they meant and then the two of us proceeded to make fools of ourselves when we asked the waiter about it and simultaneous "ohhhhhhs" came out of our mouths like complete ditzes.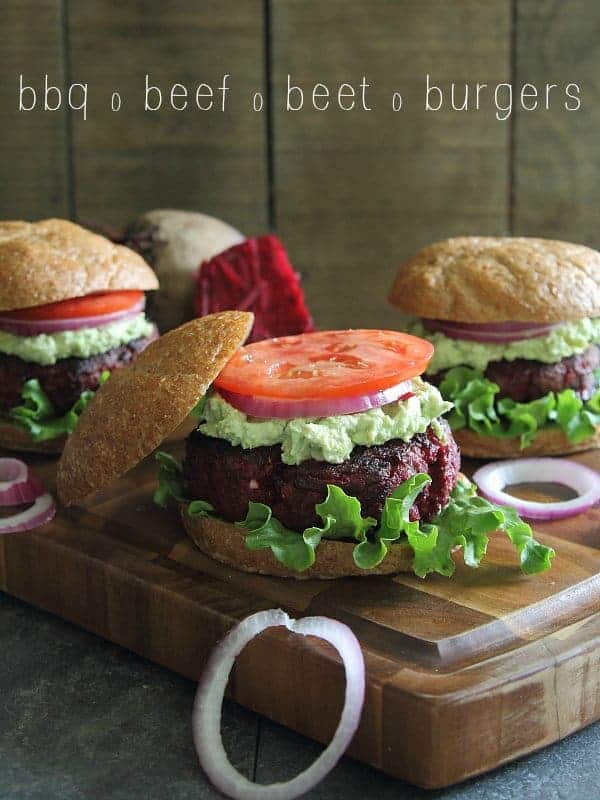 Turns out it was just beets + grains. No beef. Well, duh.
I ordered it anyway and it was pretty fantastic but haven't let go of the idea that beets + beef would make a pretty kick ass burger.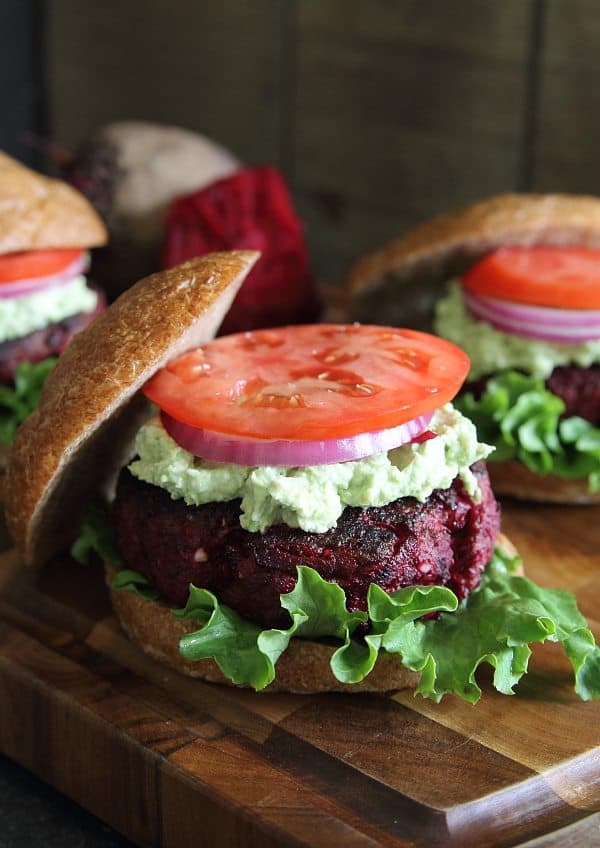 So I made it. Turns out while my mind was in stupid land that night, beef beet burgers are still a damn good idea. It's basically like marrying the best veggie burger out there with a real one and then topping it with a creamy avocado goat cheese mixture for good measure.
BBQ Beef Beet Burgers with Avocado Goat Cheese Smash
Yield: 4 servings
Prep Time: 15 minutes
Cook Time: 10 minutes
Total Time: 25 minutes
These BBQ beef beet burgers are topped with smashed avocado and goat cheese.
Ingredients
1 pound ground beef
1 1/2 cups grated beets, squeezed of excess liquid
1 teaspoon herbs de provence
2 cloves garlic, minced
2 tablespoons BBQ sauce
2 tablespoons ground flax seed
salt & pepper to taste
oil for cooking
1 avocado
2 tablespoons goat cheese
juice from 1/2 a lemon
lettuce, sliced tomatoes, sliced red onion for topping
4 rolls
Instructions
Combine beef, beets, herbs de provence, garlic, bbq sauce, flax seed and salt & pepper in a large bowl.
Bring the mixture together with your hands and form into 4 patties.
Heat the cooking oil in a large skillet over medium heat.
Add the patties to the skillet and cook for about 5 minutes per side until cooked through. The timing will depend on how thick your patties are.
While the burgers cook, smash the avocado, goat cheese and lemon juice together in a small bowl.
Place the burgers on the rolls, top with the avocado goat cheese mixture, add your other garnishes and serve.