This air fryer Cornish hen recipe is incredibly simple with stunning results. Whole roasted with crispy golden brown skin and tender juicy meat, these Cornish hens are the very definition of delicious comfort food.
Using the air fryer makes this recipe easy enough to make for a weeknight dinner yet impressive enough for a small scale holiday meal!
Have you ever made Cornish hens? They're seriously the cutest little things.
My mom bought them every once and awhile when we were kids and I loved how we each got our own on our plate to devour. I think that was probably how I learned the actual anatomy of a chicken now that I think about it.
Cornish hens are great because like a roast chicken, they can be dressed up or down.
For example, there's these apple and cranberry stuffed cornish hens that make a wonderful holiday meal with their festive stuffing or, there's this easy sheet pan cornish hen recipe perfect for a weeknight meal.
Both of those recipes are made in the oven but today, we're going to walk through how to make cornish hens in the air fryer.
Since I didn't have this lovely kitchen appliance back when I made those recipes, the oven worked fine.
But, now that the air fryer exists and mine has a lovely rotisserie feature, I couldn't resist making them once more to show you just how easy it is with a few simple spices and some lemon!
Read all about air fryers in this "what is an air fryer" article. You'll get the full scoop on the magic of this new kitchen toy.
WHAT ARE CORNISH HENS?
Cornish hens, also called Cornish game hens are just a USDA given name to a type of broiler chicken.
They're a cross between two breeds and are harvested when younger than typical chickens weighing only between 1-2 pounds.
If left to grow to full size, Cornish hens would be the same as any other broiler chicken so their smaller size is purely due to their age when slaughtered. Cornish hens are to chicken what veal is to beef.
Their name can cause a bit of confusion as well.
Despite the word "hen", Cornish hens are both male and female. They're also not a game bird as one might think.
They're really just small chickens when it comes down to it and you can also always choose to roast a small whole chicken in the air fryer as well.
WHERE TO FIND CORNISH HENS
Look for Cornish hens in the poultry section of your grocery store. While some stores carry them year round, others seem to limit their availability to the holiday season.
Oftentimes they're sold frozen versus fresh.
They're a bit pricier per pound than regular chicken but if making for a special occasion, they can be worth the extra money.
Because they cook quicker than a whole chicken, they're also quite a bit more convenient and convenience always costs more!
INGREDIENTS TO MAKE AIR FRYER CORNISH HENS
Most air fryers will be able to fit two Cornish hens whether it's a basket type air fryer or oven model with a rotisserie attachment like shown.
This recipe therefore calls for two birds but feel free to halve it or double it (and make them in batches) if needed.
2 Cornish game hens (3 pounds total)
avocado oil
poultry seasoning
dried sage
dried rosemary
salt
pepper
lemon
HOW TO COOK CORNISH GAME HENS IN THE AIR FRYER
For rotisserie capable oven air fryers start by placing the Cornish hens on the rotisserie skewer. If your air fryer doesn't have this feature or you have a basket model, skip this step.
Chicken leg quarters in the air fryer are another option if you're without a rotisserie attachment too.
Brush the entire surface of both Cornish hens with the avocado oil.
Combine the spices in a small bowl and rub the mixture all over the hens making sure to get into all the crevices!
Cut the lemon into quarters and fill each cavity of the birds with the lemon pieces squeezing them a bit as you stuff them inside.
For rotisserie model air fryers, place the rod with the Cornish hens into the air fryer and secure onto the hooks.
For other model air fryers, either place the Cornish hens into the oven directly on the trays or into the basket.
For recipes like this where there will be a decent amount of grease/drippings involved, I like to line the bottom tray of my air fryer oven with foil to make clean-up easier.
Great Present Ideas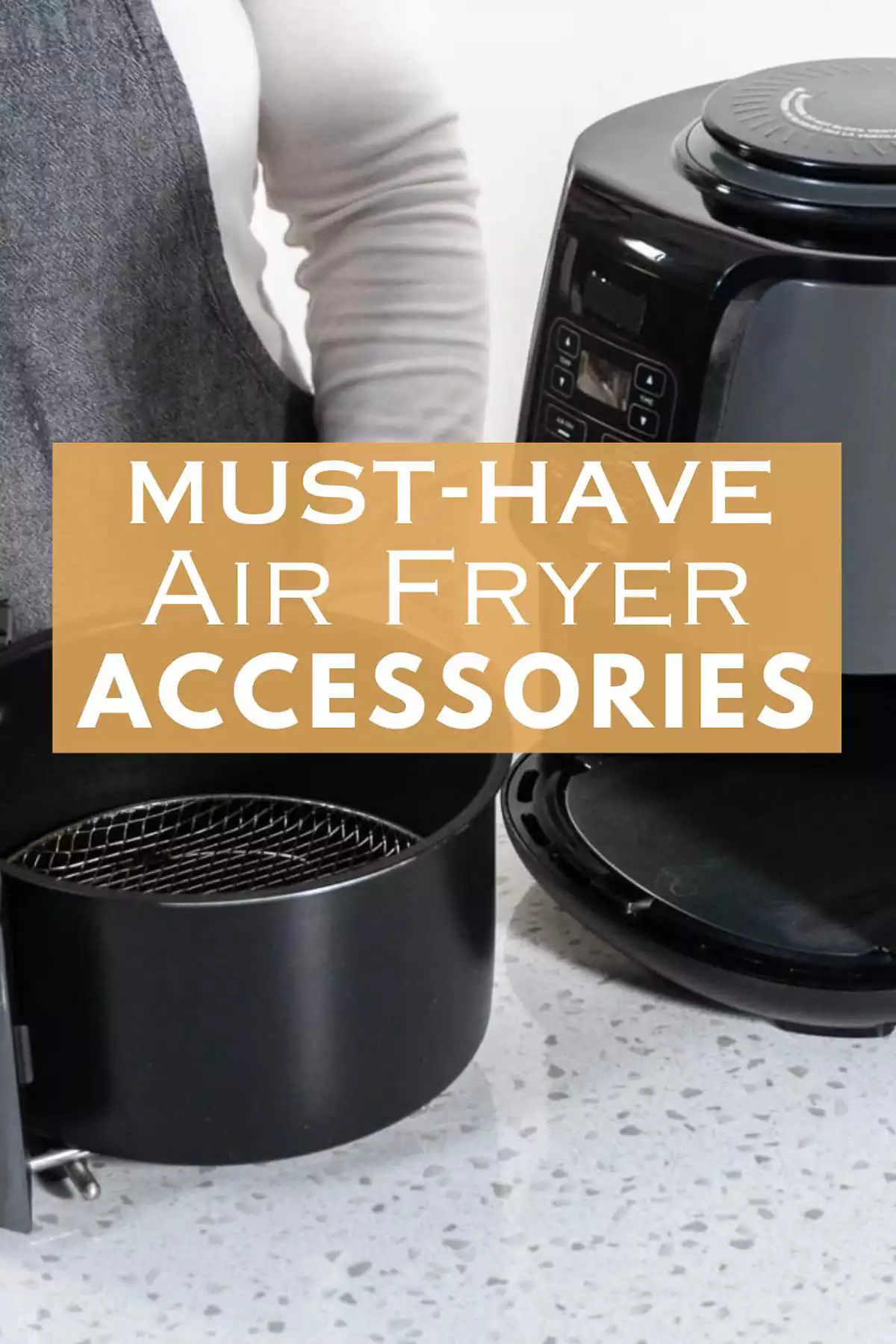 HOW LONG DOES IT TAKE TO AIR FRY CORNISH HENS?
Set the air fryer to 400°F and roast for 35 minutes.
When the internal temperature reaches 165°F with an instant read thermometer, the Cornish hens are done.
Using a thermometer is really the best approach versus a set time since all air fryers will cook slightly differently and each Cornish hen will weigh different amounts.
I recommend this ThermoPro for an affordable and accurate option.
If you don't have a thermometer you can go with visual cues such as the wing pulling away from the body and a golden brown crispy skin. Juices should also run clear when cut into.
RESTING TIME
Remove the cooked birds from the air fryer and set them down on a cutting board.
Cover with foil and let rest for 10-15 minutes so the juices settle and redistribute back into the meat.
This resting period is essential for juicy, tender meat just like when making air fryer skirt steak or air fryer lamb chops.
CAN YOU COOK A FROZEN CORNISH HEN IN THE AIR FRYER?
This is a good question since the birds are often sold frozen in store.
The answer is yes, you can cook a frozen Cornish hen in the air fryer with some modifications.
First, you'll need to increase the cooking time if using frozen hens. Start with a minimum of 20 extra minutes but use a thermometer and your eye to assess after the cooking time is up.
Seasoning the birds prior to cooking is also harder when using frozen poultry as the spices won't stick to the meat.
Just like in this air fryer cod recipe, if you start from frozen, you'll have to air fry the Cornish hens enough to thaw a bit, then remove them, rub the seasoning onto the bird and return to the air fryer to finish cooking.
I find it easier to quick thaw meat and poultry instead of cooking from frozen when using the air fryer by placing the frozen item in a bowl of warm water and letting it sit for 20-30 minutes.
If the meat isn't in packaging conducive to this, just put it in a large plastic ziplock type bag before submerging in the water.
EASY TIP FOR CLEAN UP
That cherished crispy golden brown skin on the Cornish hen is definitely delicious but it also creates a bit of a mess in the air fryer.
To make clean up easier, you can line the bottom tray of the air fryer (for oven models) with aluminum foil to catch the grease drippings as the Cornish hens cook.
For basket models, line the basket itself with the foil.
Note that foil isn't always recommended for use while cooking in air fryers. Certain acidic foods like tomatoes and citrus can create a reaction with the aluminum. It's best to stick to parchment paper with those types of foods.
But, for these Cornish hens or other recipes that might create drippings like air fryer scallops and air fryer brats, foil is fine.
WHAT TO SERVE WITH CORNISH HENS IN THE AIR FRYER
Treat roasted air fryer Cornish hens like you would a roasted chicken. The side dishes you'd serve with that meal are perfectly appropriate here.
This time of year, I love some easy roasted (on the stalk) Brussels sprouts and maybe a spoonful of bourbon cranberry sauce to bring it all together. It's like a mini Thanksgiving meal!
Potatoes or root vegetables are always a great side with roasted chicken too.
Roasted purple sweet potatoes, mashed rutabaga or roasted pesto potatoes can all be made while the Cornish hens are in the air fryer.
For vegetables outside of Brussels sprouts, Instant Pot asparagus is super easy, brown sugar candied carrots are comforting and delicious and, you can never go wrong with some simple sautéed greens.
If these air fryer Cornish hens are your main dish for a holiday, then don't forget the stuffing!
I love this cornbread chestnut stuffing or these individual apple cranberry sausage stuffing muffins.
HOW MANY PEOPLE DOES A CORNISH GAME HEN SERVE?
Most Cornish hens are between 1.5-2 pounds each and will serve about 2 people per hen.
There are two ways to serve them.
You can carve each hen and place the breasts, thighs, legs and wings on a serving platter for people to select their preference.
Or, you can cut the Cornish hen down the middle using a sharp meat cleaver and serve a half to each person.
If the Cornish hens are being served as a holiday meal with lots of other sides (it's a great alternative to turkey for a smaller-scale Thanksgiving!), two hens can potentially serve up to 6 people.
MORE RECIPES LIKE THESE ROASTED CORNISH HENS:
Apple Butter Roasted Chicken
Pan Seared Duck Breast with Cranberry Maple Sauce
Sheet Pan Piri Piri (Peri Peri) Chicken
Maple Miso Chicken
Tart Cherry Cranberry Glazed Turkey
Air Fryer Cornish Hens
Air fryer Cornish hens come out golden brown and crispy with juicy, tender meat. The air fryer makes this recipe super easy with just a handful of spices and lemon needed for flavor. Just as perfect for a small holiday celebration as it is for a weeknight dinner.
Ingredients
2

Cornish hens

about 3 pounds total

1

tablespoon

avocado oil

1 1/2

teaspoons

Kosher salt

1

teaspoon

poultry seasoning

1/2

teaspoon

garlic powder

1/2

teaspoon

dried sage

1/2

teaspoon

dried rosemary

1/2

teaspoon

black pepper

1

lemon

cut into quarters
Instructions
If using an air fryer with a rotisserie function, place the Cornish hens onto the metal skewer otherwise skip to step #2.

Brush all sides of the Cornish hens with the avocado oil. Combine the seasonings in a small bowl and rub onto the Cornish hens coating all surfaces.

Place the lemon quarters into the cavity of each hen, squeezing the juice out of the lemon a bit as you do it.

Affix the rotisserie skewer into the air fryer. Or, place Cornish hens into the basket of the air fryer.

Air fry at 400°F for 35 minutes or until the internal temperature reads 165°F using an instant read thermometer.

Remove the Cornish hens from the air fryer. Cover with aluminum foil and let rest for 10-15 minutes before carving and serving.
Nutrition Facts
Serving:
1
SERVING
|
Calories:
373
kcal
|
Carbohydrates:
3
g
|
Protein:
29
g
|
Fat:
27
g
|
Saturated Fat:
7
g
|
Polyunsaturated Fat:
18
g
|
Cholesterol:
168
mg
|
Sodium:
555
mg
|
Fiber:
1
g
|
Sugar:
1
g
This website provides approximate nutrition information for convenience and as a courtesy only. Nutrition information can vary for a variety of reasons. For the most precise nutritional data use your preferred nutrition calculator based on the actual ingredients you used in the recipe.
TRIED THIS RECIPE?
COMMENT + RATE BELOW!
Gina Matsoukas is the writer, founder, photographer and recipe developer of Running to the Kitchen — a food website focused on providing healthy, wholesome recipes using fresh and seasonal ingredients as much as possible. Her work has been featured in numerous media outlets both digital and print, including MSN, Huffington post, Buzzfeed, Women's Health and Food Network.