This 4 ingredient slow cooker pulled chicken is made with beans and cheese and perfect for stuffing inside a tortilla.
If spices don't count (and they don't in my mind because who doesn't have an unorganized, overflowing spice cabinet in their house with bottles that fall out and hit you in the head every time you open it?) that whole 4 ingredient thing is true.
If they do count in your mind then consider that my disclaimer before you question whether or not I passed 1st grade math.
I have a weird relationship with the slow cooker.
First of all, I never use it in the winter. I have no good reasoning for why, it totally doesn't make sense so don't even bother trying to figure it out.
Secondly, my track record with it sucks. I can wing a stove-top dish with no problem, but there's something about having to throw all the ingredients in at once with the slow cooker that just doesn't work for me.
I usually try to go complex with the flavors, throw a million things in there and somehow I get one nasty end result. And my last issue with it is that any recipe that looks worth making out there always seems to have a "before" step.
The only reason I drag this thing out from it's hiding place in the bottom corner cabinet is because I don't want to clean 10 different pots and pans that day.
Multiple step slow cooker recipes should just be banned for being completely counter-intuitive to the slow cooker cause.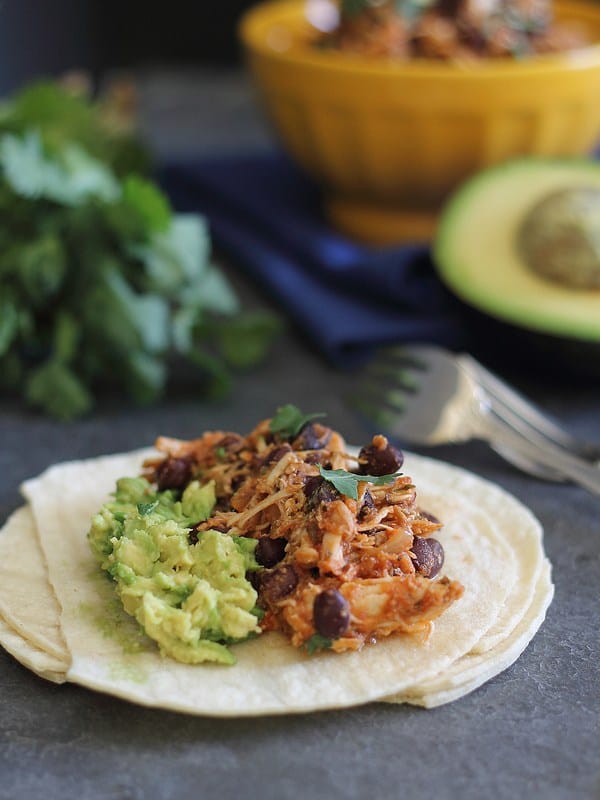 They say you forget about the pain of childbirth after a few months (and apparently that's true since plenty of people purposely get knocked up again a year or so later), well I can't relate to that one…but apparently, I forget about the sucktasticness of my slow cooker attempts after awhile and give it another shot.
And then recipes like this 4 ingredient slow cooker pulled chicken happen.
Hard to go wrong when all you need is:
chicken
jar of salsa
black beans
feta
and some spices
And amen for short term memory because we've finally got a winner with this easy slow cooker pulled chicken recipe.
I'm also pretty sure this chicken gives me way more joy than a kid ever would. So maybe I'll stick with the slow cooker a little longer.
Looking for more slow cooker ideas? Try one of these recipes:
Slow Cooker Honey Garlic Chicken
Slow Cooker Shredded Mexican Beef Bowls
Slow Cooker BBQ Peach Pulled Chicken
Slow Cooker Balsamic Pulled Pork with Polenta and Avocado Crema
Slow Cooker Short Rib Ragu
4-Ingredient Slow Cooker Pulled Chicken
Yield: 4 servings
Prep Time: 2 minutes
Cook Time: 3 hours
Total Time: 3 hours 2 minutes
A simple slow cooker chicken, beans & cheese recipe. Perfect for stuffing into a tortilla.
Ingredients
1 lb. chicken breasts/boneless thighs (I used a combination of the two)
1 16oz. jar of salsa
1 15oz. can of black beans, rinsed & drained
1/3 cup crumbled feta (or grated cheddar)
red pepper flakes to taste
1/2 teaspoon cumin
1/2 teaspoon smoked paprika
salt & pepper to taste
Instructions
Pour salsa into slow cooker then layer beans and chicken in that order.
Cook on high for 3 hours.
After 3 hours, remove chicken from slow cooker and shred with two forks. It should come apart easily.
Return chicken to the slow cooker.
Add the spices and cheese and mix to combine.
Serve with garnish of cilantro and avocado.