The best part of Thanksgiving is definitely the leftovers. Use up some turkey, mashed potatoes and cranberry sauce in these leftover waffle breakfast sandwiches.
Earlier yesterday I was getting all sentimental about missing Thanksgiving this year. Not that I really want to put in the actual work that goes into it like planning for days, shopping, prepping, waking up at dawn to put a turkey in the oven because you only have one oven and need it for everything else that has to get made and then of course the dreaded clean up of it all.
But, I'll miss the 30 glorious minutes or so when all that stops and everyone is shoving it all into their mouths like they'll never see another morsel of food again in their lives.
That and the leftovers.
Man, will I miss the leftovers. Particularly when you can smash them in between pumpkin waffles, top them with a runny egg and call it breakfast.
Because when mashed potatoes can be breakfast food, all is right in the world.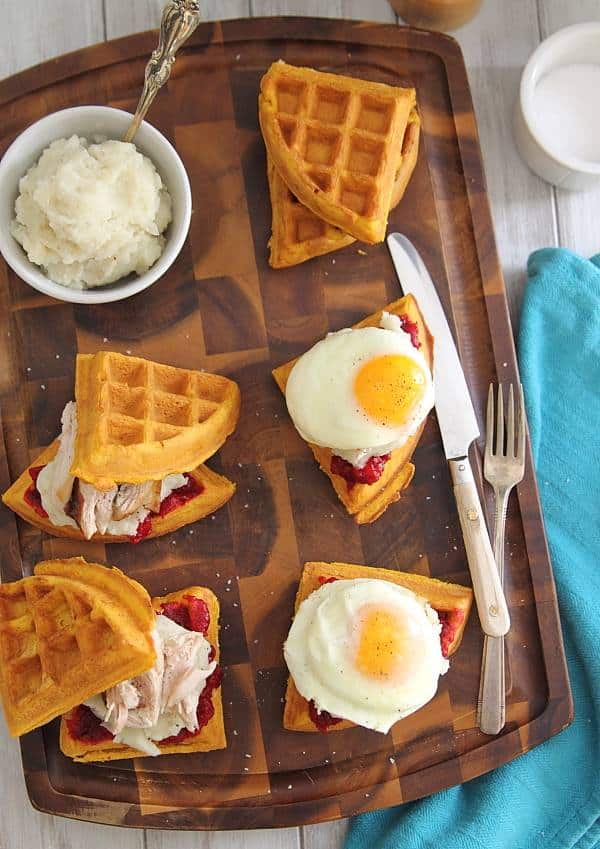 Get the recipe for these Thanksgiving Leftover Waffle Breakfast Sandwiches on the Safest Choice Eggs site today!