You could call this dessert, you could call it breakfast, you could call it healthy, high protein (a high protein meal on here recently?! Shocking, I know) or a midday snack.
It's whatever you need it to be. It's chocolate and it's freakin cute as can be with it's little lopsided top, isn't it?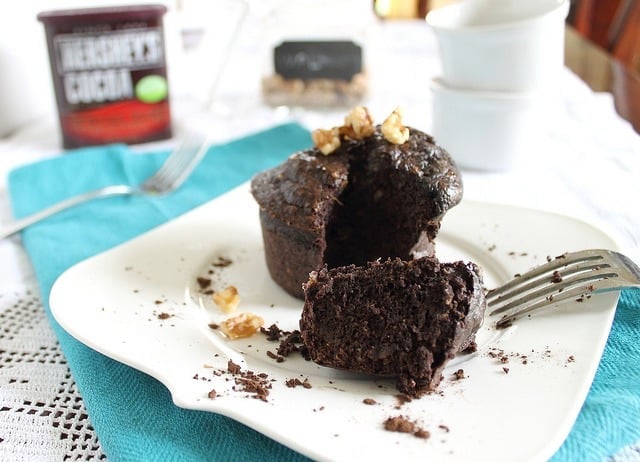 Between this and the pb cookie dough dip, I've had two incredibly successful high protein treats that have completely taken me by surprise.
Obviously, this means I'm sure to have some major fail very soon but I'll take my wins when I can get them.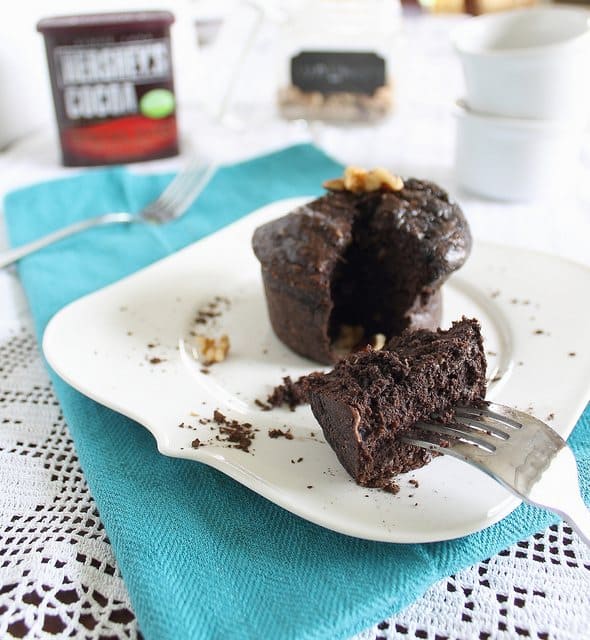 Smearing this with cookie butter might slightly lessen the health benefits of the recipe but it's highly recommended nonetheless. I just pretend it's a nut butter and has protein in it, no need to look at the label and discover the truth. Although, at the rate Ulysses is consuming my 4 jar stash, I might actually have to use real nut butter soon.
If this can be considered part of a clean eating diet, I'm really not sure why it took me so long to jump on this bandwagon. I finish phase 1 of the Livefit Trainer tomorrow and I can honestly say I've eaten some of the best tasting foods in the past 4 weeks while trying to "clean up" my meals and yet all the ingredients have just been so simple. From basic stuff like roasted sweet potato wedges in olive oil, salt & pepper to a crunchy, bursting with flavor raw bok choy salad to chocolate cake.
I now understand that whole saying about how it takes 3 weeks to form a habit because I honestly crave veggies and other clean foods 95% of the time now.
This is for that other 5%.
Not a bad way to feed that craving.
Single Serving Chocolate Cake
This single serving chocolate cake for one is high in protein and sugar free, although you'd never know it!
Ingredients
3 tablespoons chocolate whey protein powder
1 tablespoon coconut flour
11/2 tablespoon unsweetened cocoa powder
1/4 teaspoon baking soda
pinch of salt
1 egg
1 egg white (or 11/2 tablespoons liquid egg whites)
1/2 teaspoon vanilla extract
1 teaspoon coconut oil, melted
1/2 banana, mashed
21/2 tablespoons milk
Instructions
Preheat oven to 350 degrees and grease an oven safe ramekin.
Combine dry ingredients in a small bowl and mix together.
Add wet ingredients and stir together until incorporated.
Pour batter into ramekin and bake for about 30 minutes until cooked through.
Let cool for a couple of minutes before removing from ramekin.