These pumpkin popovers are easily made in the blender and topped with a tart and tangy cranberry relish also made in the blender. Perfect for Thanksgiving!
Thanksgiving 2010 was the first and only time I had previously made popovers. I had ambitiously agreed to host Thanksgiving for about 15 people, had my menu all set and instead of making life easy for myself and buying some rolls to go with the feast we had planned, I decided to make popovers.
Pumpkin popovers actually. Not these pumpkin popovers, a very different recipe from a very large site and unfortunately, the results were anything but what you see here.
A flat, deflated, undercooked (raw) in the middle, burnt on the outside, horrible waste of flour, eggs and milk.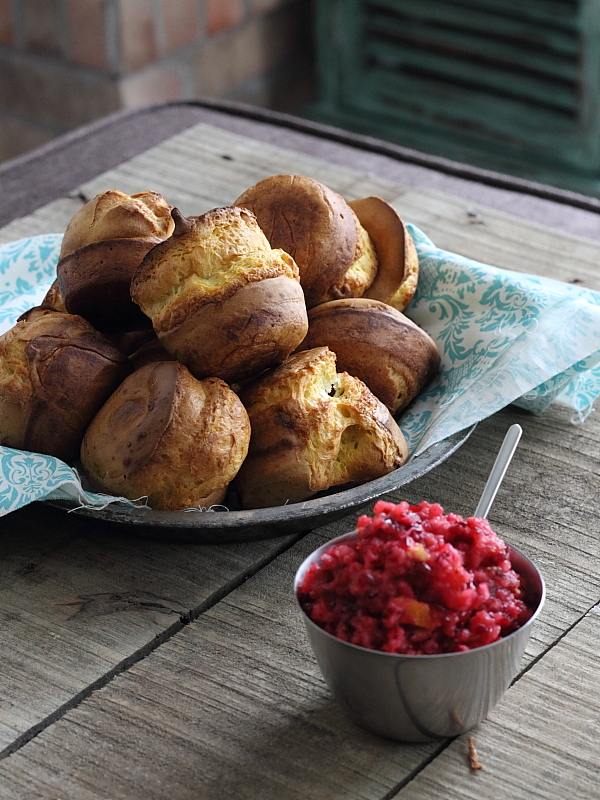 I'll accept half blame for their failure as Thanksgiving is probably the worst time to experiment with popovers as a host when your attention is on 50 other things (the turkey, the sides, what's in the microwave, what's on the stovetop, is the table set, are there enough chairs, is the silver polished…) and considering Ulysses decided to herniate a disc in his neck that very morning and was laid out on our bed upstairs moaning in pain (we ended the night in the ER).
But, looking back at that recipe, I'm pretty sure it's just not right.
Popovers should be easy. In fact, they really are.
There are only two small tricks: resisting the urge to open the oven door (you may not do this under any circumstances!) and preheating the popover (or muffin) tin. That's it.
I have faith in you, I think you can handle that.
Making this recipe even easier is the fact that they're prepped completely in the blender.
No bowls and no whisks dripping batter all over your countertop, just the blender.
I used the new Blendtec blender for these popovers and the accompanying cranberry relish. To say that the machine is amazing is an understatement.
First of all, it's gorgeous (yay for superficiality) in all its stainless steel glory and touch screen interface, but the best part is how powerful it is.
It also tells you which speed to use for certain things like chopping, mixing, blending or pureeing.
The chopping one was perfect for the relish!
There's also a great "multi-speed pulse" that'll give you a burst of power no matter what speed you're on.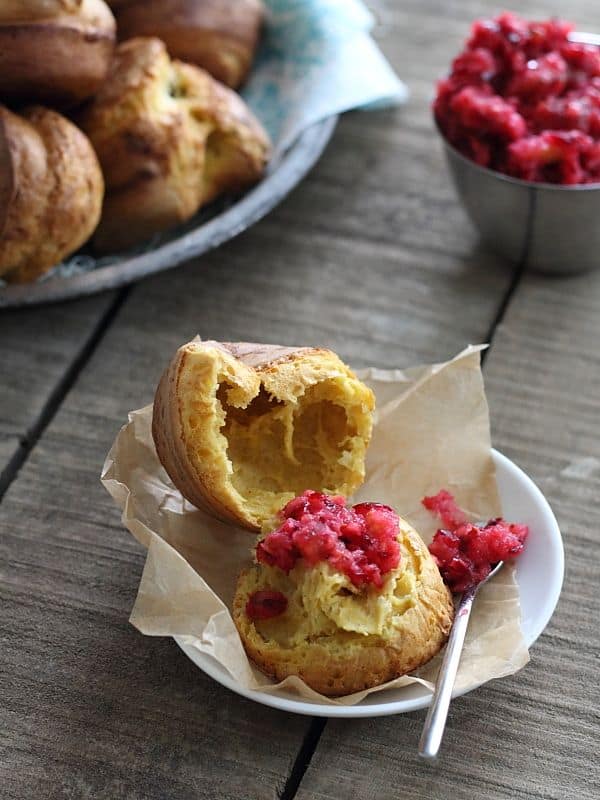 Now that I have a recipe that works (and a delicious spread to go with it) of course I'm not even going to be around for Thanksgiving to make it.
But, I'm begging you all to make these popovers. They're fluffy, crispy on the outside, perfectly moist on the inside and put any dinner roll to shame.
Plus, they just kinda look cool all popped up and quirky.
Oh, and this relish? Made completely in the blender too. A serious contender if you're not down with making a traditional cranberry sauce this year and want convenient, quick and healthy.
It's tangy, fresh and just slightly sweet without any refined sugar thanks to a few dates thrown in. And best of all, it's delicious slathered all over a pumpkin popover or two.
Try these parmesan pumpkin scones or this vegan gluten-free cornbread for the holiday season too – they beat out any packaged roll or muffin by a landslide!
Pumpkin Popovers with Cranberry Relish
These pumpkin popovers are easily made in the blender and topped with a tart and tangy cranberry relish also made in the blender. Perfect for Thanksgiving!
Ingredients
Pumpkin Popovers
3/4 cup plus 2 tablespoons whole milk
2 tablespoons pumpkin puree
2 eggs
1 tablespoon melted butter
1 cup all purpose flour
1/2 teaspoon pumpkin pie spice
1/4 teaspoon kosher salt
coconut oil for greasing
Cranberry Relish
1 cup fresh cranberries
1 small apple, peeled and roughly chopped
1/2 lemon, peel on
4 medjool dates, pitted
1 tablespoon fresh orange juice
Instructions
Pumpkin Popovers
Preheat oven to 450 degrees.
Add milk, pumpkin, eggs and butter to the blender and blend for about 30-45 seconds until thoroughly combined and smooth.
Add the flour, pumpkin pie spice and salt and blend again until smooth and bubbly.
Place a muffin tin in the preheated oven for 2-3 minutes until hot.
Remove the tin from the oven and grease each mold with coconut oil on the bottom and up the sides. Use a paper towel to help spread it around and not burn your hands.
Turn the blender back on for 10 seconds to re-mix the batter.
Pour the batter 3/4 of the way up each muffin tin.
Place in the oven and bake for 15 minutes.
Lower the temperature to 350 degrees and bake for another 15 minutes. Do not open the oven at all during baking otherwise the popovers will deflate.
Remove from oven, popovers should be puffy and sound hollow when you tap on them.
Let sit for 1-2 minutes to cool then remove from tin, poke a small hole in the bottom or side of each popover with a sharp knife to let the steam escape and serve warm.
Cranberry Relish
Combine all the ingredients in the blender.
Blend together until everything is finely chopped and a "relish" consistency.
Serve with warm popovers
This post is sponsored by FitFluential LLC on behalf of Blendtec.