These pineapple orange muffins are tropical tasting and topped with toasted pecans and an orange glaze.
Want to know how to drive yourself crazy?
Go to the mall on a weekend, one week before Christmas.
Granted, I kind of did this to myself by procrastinating for this long but when the chaos begins before even parking the car because there's not a single spot to be found in the Target parking lot, you know you're in for a doozy. And by doozy I mean 2 hours of mumbling every curse word under the sun as you weave in and out of people who decide to just STOP IN THE MIDDLE OF THE AISLE without bothering to realize they're in everyone's way. NBD, it's fine. Just don't look at me like I'm the rude one when I hit you in the side with my bags full of Christmas cheer. By accident of course.
If I actually had real liquor in the house and not just apricot brandy, grand marnier, and orange citroen for those random baking episodes once a year, I would've been throwing back a shot or two when I came home.
Instead, I ate a muffin.
Or three.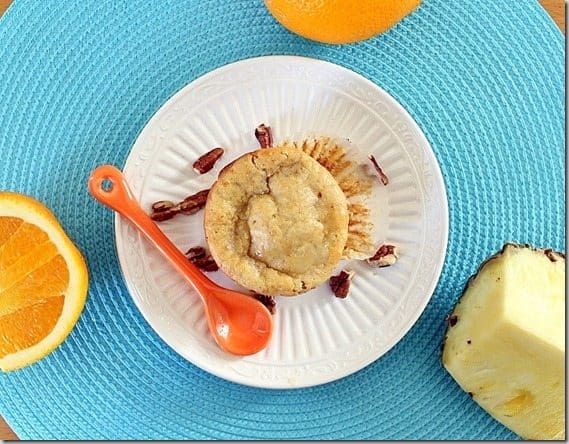 These are the result of that impulsive pineapple purchase the other day and not a bad way to use up the extra fruit if I do say so myself.
They're moist, full of fruit and orange flavor with some toasted pecans for texture and an orange glaze on top. The only way to make them even better would be eating one with a tropical smoothie.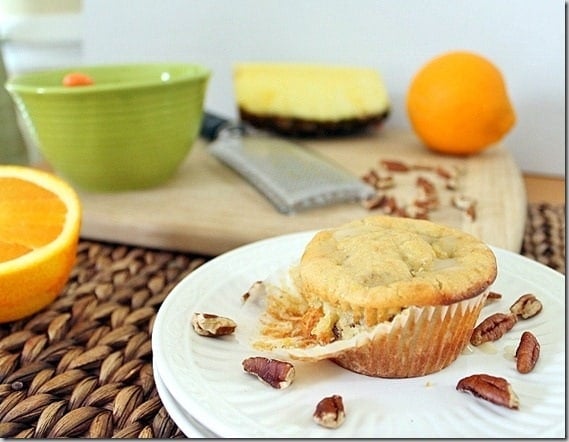 These are good but the rest of my shopping is getting done online.

Pineapple Orange Muffins
These pineapple orange muffins are tropical tasting and topped with toasted pecans and an orange glaze.
Ingredients
For the Muffins
1 cup whole wheat pastry flour
1 cup all purpose flour
1/4 teaspoon salt
3/4 teaspoon baking soda
1/2 teaspoon baking powder
1/4 stick of butter, room temperature
1/3 cup sugar
1 egg
1/2 cup unsweetened applesauce
1/3 cup plain yogurt
1 tablespoon orange zest
1 teaspoon vanilla extract
1/4 cup milk
1 cup diced pineapple
1/2 cup toasted pecans, chopped
For the Orange Glaze
2 tablespoons fresh orange juice
1/2 cup confectionary sugar
Instructions
Preheat oven to 350 degrees and grease a muffin tin or lin with paper cups
Combine flours, salt, baking powder and baking soda together in large bowl.
In a medium bowl cream sugar and butter together with handheld mixer (or stand mixer) until fluffy.
Add in egg and beat until combined.
Add applesauce, yogurt, orange zest, vanilla and milk and beat lightly just to combine.
Pour wet ingredients into dry and mix together.
Fold in pineapple and pecans.
Spoon mixture evenly into muffin tins and bake for 20-25 minutes until golden brown on the edges and completely cooked in the middle.
While muffins cool on a rack, whisk together glaze ingredients. Drizzle on top of muffins before serving.