Ever have a week where you're itching to get through it because you keep thinking there's something exciting waiting for you come the weekend but then you realize there's not and you actually have no plans besides maybe starting your Christmas shopping. No? Just me? I've woken up three mornings in a row now "excited" only to realize there's really nothing to be excited about. Weird and depressing.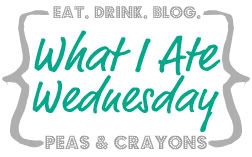 Something that was exciting though was yesterday's food.
Guess who has a new breakfast bake this week? This girl. Guess who tried it already? Me. It's been well documented on many WIAW posts that I'm some what obsessed with Ashley's breakfast bakes. So, when I saw her newest blueberry chai oat bake on Monday, it was immediately bookmarked. I didn't actually make the chai spice because I don't have any cardamom or ground allspice (I had whole allspice but was too lazy to grind it) so I just used generous amounts of cinnamon, ginger, nutmeg and cloves in the batter. It still came out great. Cakey, full of blueberries and very "chai-like." Only improved by the TJ's cookie butter topping I've now had on each of my breakfasts since buying it last Friday. That stuff is no joke.
Lunch was leftovers of the broccoli rabe pasta bake. In typical fashion, I spent my entire lunch break making stuff other than lunch so I grabbed this from the fridge, reheated it and went back to my desk. I <3 leftovers.
You'll get a taste of the tropics in this orange pineapple smoothie with coconut milk.

I know this looks like baby food but hear me out. It was delicious! I seriously felt like I was drinking something that could only be served on a tropical island. I had a craving for citrus a couple hours after lunch and came up with this:
1 orange
1/2 an avocado
1/2 cup pineapple
1/2 cup almond milk
3/4 cup coconut milk
dash of almond extract
handful of ice
You can blame the avocado for the nasty color, but the flavor was spot on. It was a great afternoon treat!
I'm sure the cold smoothie didn't help things, but I could not get warm yesterday. I cranked the heat up to 70 and I was still freezing for the entire afternoon. I had plans for something completely different for dinner but then I saw Amanda's lentil soup post and changed my mind instantly. This pretty much epitomizes simple soup. Hearty, brothy, delicious and most importantly, warm. I'm not sure which is better, the squeeze of lemon at the end that brings out all the flavors or the fact that it was ready in 25 minutes. We ate it on the couch while someone sucked me into watching Season of the Witches with Nicholas Cage. 1. I can't stand Nicholas Cage 2. I hate witch movies. Hour and a half of my life…wasted. At least the soup was good.
What was the best thing you ate yesterday?
Do you have any exciting weekend plans?