Celebrate the end of summer with this simple tomato gratin topped with parmesan cheese and rosemary.
While everyone's buying apples by the bushel and (prematurely) breaking out the pumpkin, I'm digging myself out of probably 20 pounds of tomatoes. It started with my trip to Del Monte's farms and the delicious roma tomatoes the Pereira family let us take home and then things just got out of hand when my parents left for a 10 day vacation right in the middle of their garden literally exploding with tomatoes. At one point I had an entire paper grocery bag filled to the brim with them.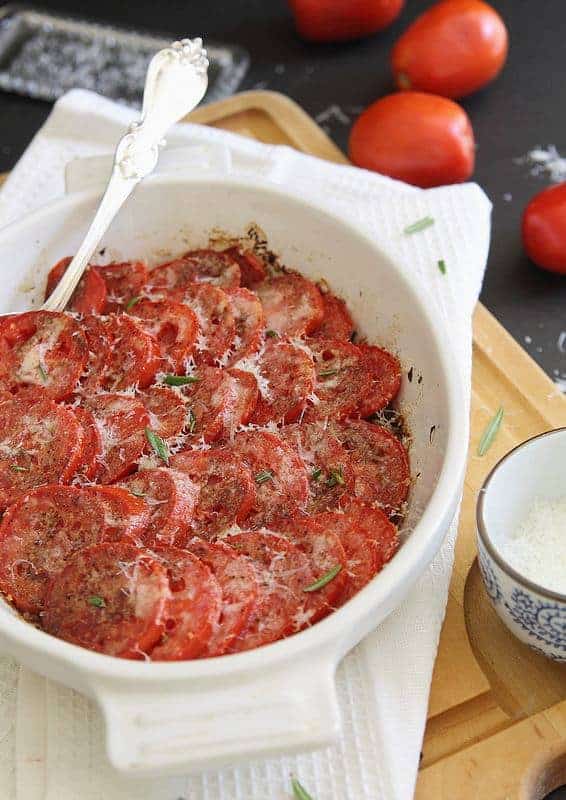 Besides eating them straight up with some olive oil and kosher salt and an uncountable amount of simple tomato/basil salads, I've made 20 minute tomato sauce, a zucchini ricotta bake and now this.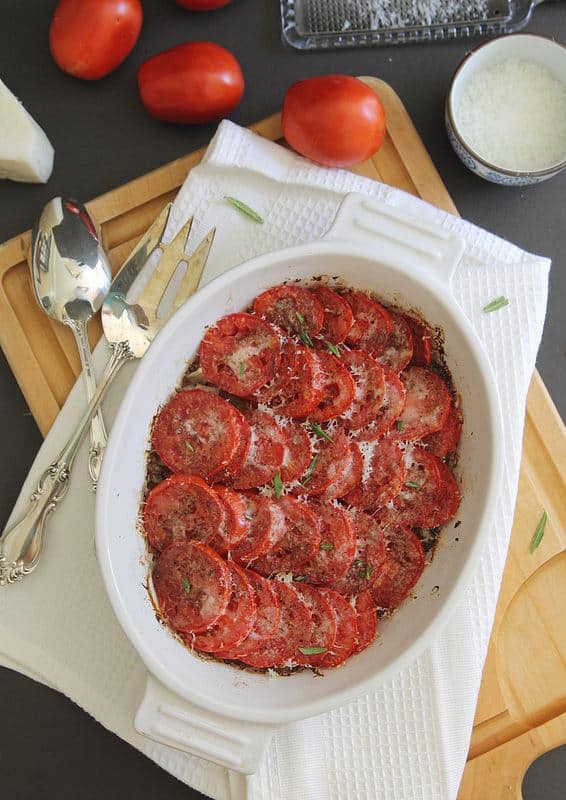 This is me embracing my inner Paula Deen. End of summer garden fresh tomatoes don't need much to taste delicious, but I can't say butter doesn't help. Paula knows what she's talking about with that.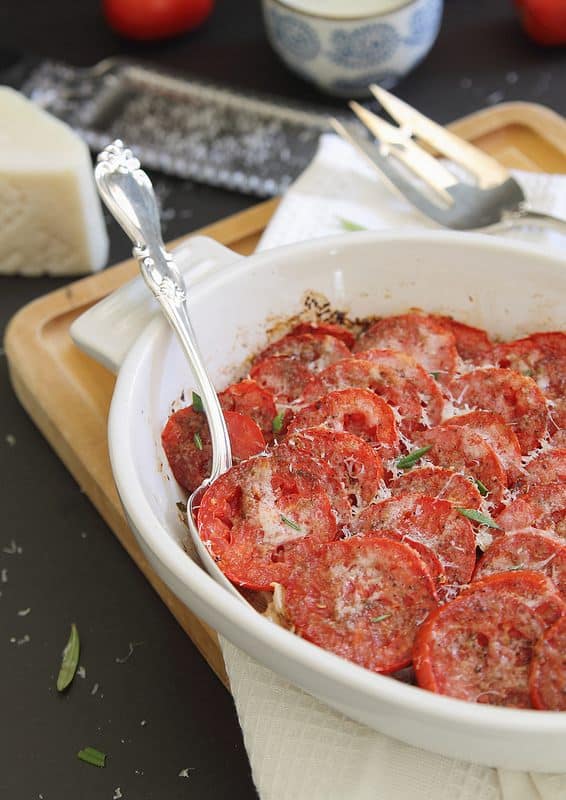 We're not using any type 2 diabetes inducing amounts or anything, but just a bit dotted on top creates such flavor as it melts down into the tomatoes and seeps into the onion base while baking. And of course, topping with cheese is good. Always good.
I'm making this recipe my final plea to you all to soak up the last bit of summer and enjoy the end of these tomatoes, peaches and squash you'll be yearning for again come February when the lull of the holidays is over and it's still frigid outside. That can of pumpkin isn't going anywhere but these tomatoes are almost on borrowed time waiting around for that first frost.
Check out the tomato ricotta tart Julie made with her surplus of roma tomatoes from our Del Monte trip.
Parmesan Tomato Gratin
Celebrate the end of summer with this simple tomato gratin topped with parmesan cheese and rosemary.
Ingredients
4 plum tomatoes, sliced (or any variety of ripe tomato)
1 medium yellow onion, chopped
1 tablespoon fresh rosemary, chopped
1 tablespoon extra virgin olive oil
salt & pepper to taste
1 tablespoon balsamic vinegar
1 tablespoon butter, softened
1/2 cup freshly grated parmesan cheese
Instructions
Preheat the oven to 425 degrees.
Heat a large skillet over medium heat and saute onion, rosemary and olive oil for about 3-5 minutes just until softened.
Transfer the onion mixture into a baking dish.
Layer the tomato slices on top of the onions.
Dot the tomatoes with the softened butter, drizzle with the balsamic vinegar and season with salt & pepper.
Layer the parmesan on top and bake for 15 minutes.
Let cool for 5 minutes before serving.