These paleo blueberry thumbprints combine a soft chewy cookie and a slightly sweet fruity blueberry filling for a healthy grain free dessert you'll love.
You know the question "if you had to pick one food to eat on a deserted island, what would it be?" or some derivation thereof that people like to ask all the time in those random hypothetical situations that will never actually happen?
Yeah, I hate that question.
I literally just cannot answer it.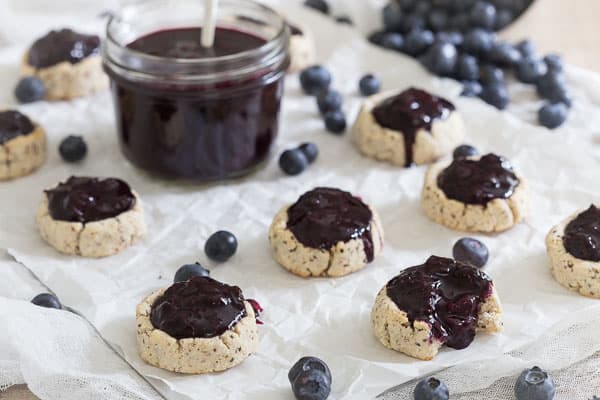 I mean there's pizza, pasta, rare steak (omg how could I give that up?), cheese… I could go on and on and on.
I've stopped even trying to think about it when that question arises anymore and just say "I don't know, stop asking dumb questions like that" and move on.
Ask me to pick one kind of cookie to eat for the rest of my life though, and hands down, without hesitation, it'd be a thumbprint.
And if not these blueberry thumbprints, then these cranberry orange thumbprint cookies made with almond pulp or these classic vegan thumbprint cookies.
Thumbprints are like the king of the dessert world because they're basically a cookie-pie love child and how can you go wrong with that?
I know some people might be all "but you're not picking something with chocolate?!" in an outraged state, but as much as I love a good piece of dark chocolate, thumbprints still win the stupid hypothetical food question award.
Of course, there's always these almond chocolate thumbprints for that situation too.
There's just something about the combination of a sweet fruit filling and a chewy cookie crust that puts them out in front.
Granted, you could always do a chocolate thumbprint cookie base like in these tart cherry fudge thumbprints and then boom, best of both worlds.
These paleo blueberry thumbprints happen to be pretty good for you too considering they're grain, gluten and dairy free so no worries about how you'd look in your eternal bathing suit attire when you're stranded on that deserted island eating them 24/7 either.
Just lookin' out for ya.
I also shared this paleo blueberry thumbprints recipe over on Food Fanatic, so be sure to check it out there!