This orange date smoothie is the perfect breakfast smoothie. Part creamy, part juicy, and a great way to start the day.
I have a slight obsession with orange juice. As in, if I don't have it (no pulp Tropicana preferably) every morning, I get seriously bitchy. It's one of the few times I deem liquid calories worth it. I hoard half gallons of it when they go on sale and stock them in the freezer, keeping a mental inventory so that when we're down to 2, I replenish because a morning without my oj is just miserable. The only problem with that little scheme is that you have to remember to defrost one the night before if you've run out. Guess who forgot to do that the other day? The most annoying part is I can't even blame Ulysses for finishing it and not taking one out afterwards since he's not here anymore. That's how this little smoothie concoction was born. I had 1 orange which isn't nearly enough for a full glass of juice so I experimented. Some dates, coconut cream and almond milk later, I had this. It may look like baby food, but it tasted delicious. Sort of creamy, sort of juicy and perfectly sweet. I drank it and then took a half gallon out of the freezer.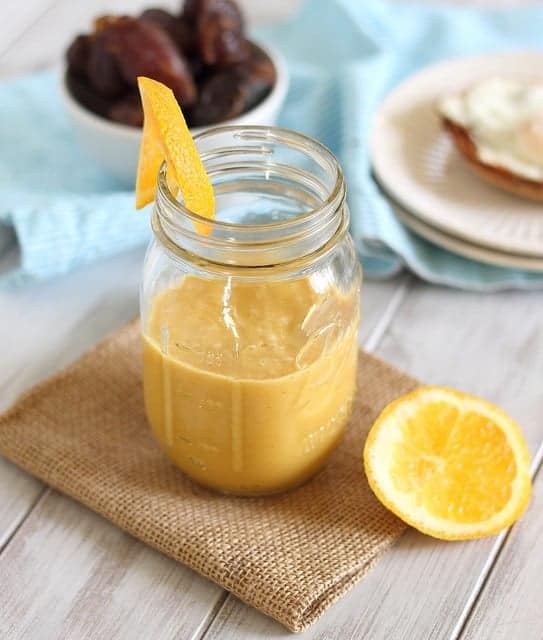 In other news, this week has been kind of crappy. The whole reality of not having a spouse for 6 months is starting to set in. Last week, it was new. A novelty of sorts. Only a week. I cleaned the entire house during the week so we could "enjoy" the weekend together, had dinner waiting for him upon his arrival Friday night, cooked a big send off meal Sunday afternoon before he left, happily did his laundry and ironed and starched his shirts while he studied. This week, I'm realizing that while this 6 months definitely sucks for him way more than me, I'm the one stuck with every single responsibility of owning a home, having a dog and just plain being an adult for 6 freaking months. This includes trivial things like remembering to take the garbage cans out (and back) every Wednesday and being responsible for all the grocery shopping without someone to just "pick up some milk on the way home" to slightly more important things like pay every bill and manage every rental property (we have a few). And then there's things like bathing the damn dog that rolls in shit twice this week by yourself with one hand because you effed up your wrist last Friday cleaning a barbell and you can't bend it forward without serious sharp pain. I might've lost my shit yesterday when she trotted back into the house all nonchalantly covered in some other animal's feces. The other part is that even though he comes home on weekends, he's not really home. He's studying. And obviously I want to (and will) be supportive of that, this is his career, but is there a part of me that's annoyed he can't/won't come to our CrossFit holiday party this weekend? Yes. And I feel like a selfish bitch admitting it. So yeah, the reality of all that being my life until May is starting to sink in and it sucks. It's going to be a long 6 months for both of us, for very different reasons.
On a completely different note, these are all other people's recipes I've made recently and I keep meaning to tell you about. I haven't had the time to make them into Bookmark to Blog posts but they all deserve a shout out because they rocked. So with absolutely no context, here you go.
1. Double Chocolate Energy Bites You know I love a good ball.
2. Roasted Butternut Baked Penne
3. Oktoberfest Stew Yum. Seriously, yum.
4. Apple Cider Baked Chicken Thighs (–> site no longer around, no link, sorry) When people say paleo is boring, I wish I could shove this dish in their face. The flavors are outstanding.
And lastly, who the hell thought WebMD was ever a good idea? Clearly, I'm going to die from sharp wrist pain.
Happy Friday, peeps.
Orange Date Smoothie
This orange date smoothie is the perfect breakfast smoothie. Part creamy, part juicy, and a great way to start the day.
Ingredients
Flesh of 1 large orange
2 tablespoons coconut cream from a can
1/4-1/2 cup vanilla almond milk
2 medjool dates, pitted
Instructions
Combine all ingredients in a blender and blend until smooth.