This lemon lavender potato salad is a refreshing twist on a classic and perfect for enjoying at summer BBQs.
Can we be real for a hot second? I'm staring at this picture of potato salad with pretty little purple flowers in it, my dog is snoring next to me after a very tiring day at the lake jumping from boat to dock and back to boat again and I kind of just wish life was that easy. Filled with flowers and snoring puppies.
But real life can suck. It's been a sucktastic week actually. From small things to big things, from stuff that affects me to stuff that affects friends and family. I just don't get it and I feel extremely clouded on many levels. There's no point to this little rant other than telling that pretty purple flower that was mocking my thoughts to shut the hell up.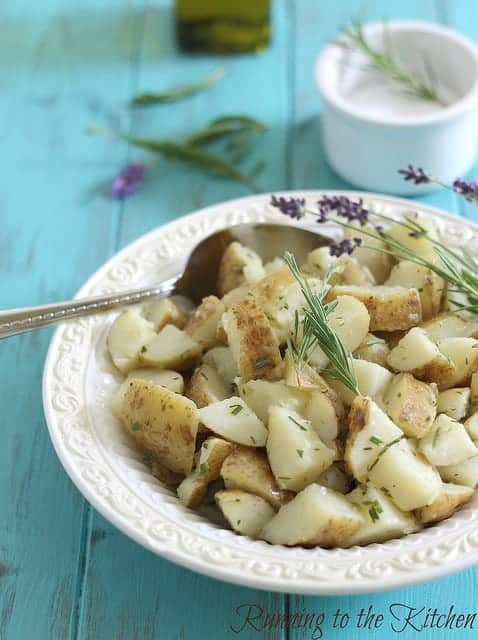 And…we're done with that. No one wants to read about suckiness.
So, potatoes.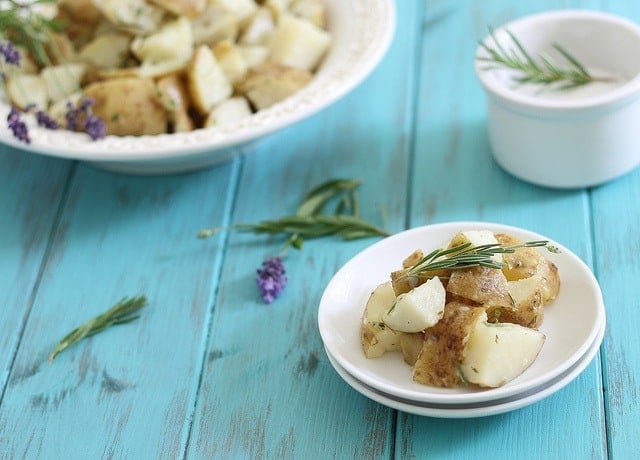 Lavendar and lemon ones.
Sounds like a Yankee candle not a side dish, right? I hear ya.
For the three summers we've been in this house I've planted herbs on the front steps. There are three steps and so to keep my ocd in check, there have been 6 pots, 3 on each side of the steps. The first 5 were no brainer decisions. Basil, parsley, cilantro, mint and rosemary. Easy, done, use them all the time. But then there was the 6th pot. I really had no need for a whole plant's worth of another herb because the other 5 are my go-to ones. But, I just couldn't handle the empty space on the step, it would've made me twitch every time I walked inside.
Year 1 it was thyme. I hate thyme. I continuously try to like it but I just don't. That was a bad idea.
Year 2 was tarragon. Lovely, but I think I used it twice. Just what do you actually use tarragon for?!
Year 3 was sage. Had this one been around in the fall, it would've gotten a lot more use, but summertime recipes for sage? Yeah, they don't exist.
And so that brings us to this year and the almost throw down at Lowes for herbs. Lavender became the 6th pot guinea pig this time around and up until now it's fate was similar to the tarragon and sage. It just smelled too pretty to actually eat. Faced with 6 potatoes that needed to be used asap though, I figured I'd give the candle scented herb a try and it just so happened to turn out glorious.
This is not your typical potato salad. There's no mayo, no eggs and no other crunchy vegetables. Just the potatoes themselves, some lemon, olive oil and florally herbs. And somehow, it turned out to be everything I wanted it to be. Light, summery, quick, easy, and refreshing. I don't think I'd ever have labeled a potato salad as refreshing before this but that's exactly what the lavender makes it.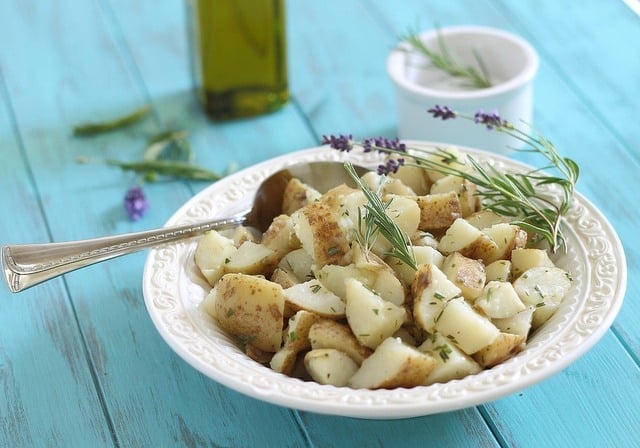 One recipe alone is not grounds for permanent 6th pot placement, but things are looking up for the lavender's fate.
Lemon Lavender Potato Salad
This lemon lavender potato salad is a refreshing twist on a classic and perfect for enjoying at summer BBQs.
Ingredients
4 cups russet potatoes, cubed
water
3 tablespoons extra virgin olive oil
2 tablespoons white wine vinegar
1 tablespoon lemon juice
1 tablespoon lavender, minced
1/2 tablespoon rosemary, minced
salt & pepper
Instructions
Add potatoes to a medium pot, cover with water and bring to a boil.
Once boiling, reduce to a simmer and cook until fork tender, about 20 minutes.
While potatoes cook, whisk together oil, vinegar and lemon juice in a medium bowl.
Add herbs and salt & pepper.
Once potatoes are cooked, drain and add them while hot to the dressing.
Toss to combine and fully coat all the potatoes and season with more salt & pepper to taste.
Serve room temperature.