These ginger almond biscotti have a hint of ginger and chocolate in them and are paleo, grain & gluten free.
These pictures are what I want my mornings to be.
Biscotti for breakfast, cute little white mugs, pretty fabric napkins, a leisurely gander through the newspaper and musings in a spiral notebook.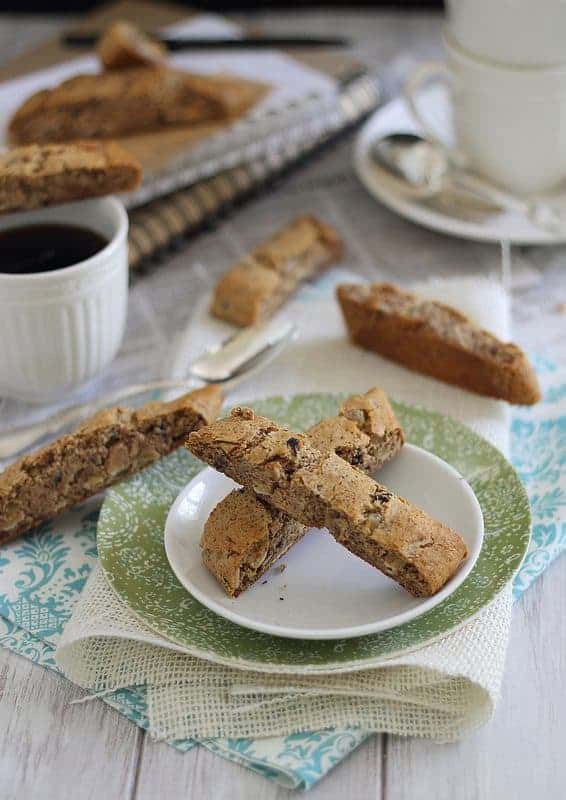 In reality, I eat eggs & bacon for breakfast in front of my computer with coffee in the biggest mug I can find (which also happens to be the ugliest one), read things on the internet and jot down notes on blue post-its all over my desk.
The only reason I even own those spiral notebooks are for keeping track of CrossFit wods (look closely at that writing), I don't think I've thumbed through a real newspaper in over a year and can't even remember the last time I wrote something for the sake of writing on actual paper instead of on a keyboard. In fact, sometimes when I'm writing in real life, I find myself saying "ctrl-z" in my head when I want to undo or erase something. If only that worked…
So this picturesque morning may be a bit like wishing for the obsolete, but the one thing I can make happen is the breakfast part.
Nothing wrong with cookies for breakfast.
Especially these as they're practically begging to be dipped into your morning cup of coffee. They're just barely sweet with the perfect crunchy exterior biscotti shell and studded with ginger, almonds & cacao nibs to keep your mouth intrigued with each bite.
And I promise they taste just as good laying on top of a ginormous 10+ year old snowman mug too.
Ginger Almond Biscotti
Cook Time:
1 hour
5 minutes
Total Time:
1 hour
10 minutes
Paleo, gluten & grain free almond biscotti with ginger & cacao nibs.
Ingredients
1 1/2 cups almond flour
1/2 tablespoon cornstarch (substitute arrowroot powder for paleo)
1/4 teaspoon salt
1/2 teaspoon baking soda
2 tablespoons orange juice
1/4 cup honey
1/2 teaspoon vanilla extract
1/4 teaspoon almond extract
1/4 cup crystalized ginger, chopped
1/4 cup sliced almonds
2 tablespoon cacao nibs
Instructions
Preheat oven to 350 degrees and line a baking sheet with a silpat or parchment paper.
Combine flour, cornstarch, salt & baking soda in food processor. Pulse a few times until combined.
Add in orange juice, honey and extracts and pulse until a ball of dough forms.
Add in ginger and pulse a few more times to chop up a bit.
Transfer dough to a large bowl.
Fold in almonds and cacao nibs.
Turn dough out onto baking sheet and form into a log of about 10-12 inches long and 2-3 inches wide.
Bake for about 15 minutes until edges start to turn light brown.
Remove from oven and let cool for about 30-45 minutes.
Carefully slice log into diagonal slices (you'll get about 10-12), turn them on their side and bake again at 275 degrees for 10 minutes.
Flip onto other side and bake for another 10 minutes until lightly browned and crispy on the outside.
Remove from oven and let cool.