This coconut lime ice smoothie is a refreshing icy drink perfect for summer. Enjoy with or without rum.
How's that for a redundant title? Yes, I know smoothies have ice in them but hear me out. This is like half smoothie, half Italian ice and a whole lotta pina colada going on. Mmmk? The "ice" part felt necessary to convey the texture and feel of the drink. So before the sassy comments come rolling in or before you think the sassy comment in your head, that's the story I'm sticking to.
These were made around 3pm on a day that I woke up to a half broken blog and proceeded to spend an inordinate amount of hours (still in my pajamas) glued to the computer, on the phone with my server tech support and deleting, reinstalling and configuring new plugins. If you have a blog, I know you can sympathize. If you don't, just imagine pure stress and a feeling of utter hopelessness. Here's the thing about blogging, it doesn't come with a manual or any (free) tech support. Shit breaks and it's all on you. When "you" has learned everything through trial and error or past experience it can be kind of fun. And by fun I mean completely infuriating. So yeah, that was a "fun" day.
Want to know what I could really have used after that? Some alcohol. But, since 5pm was still two hours away, I behaved and resorted to the next best thing. Coconut, lime, ginger, mint and teeny tiny bit of kefir for a tangy kick all mixed up with a ton of ice.
It instantly took me to a tropical beach somewhere and my head desperately needed that. My body wouldn't have minded it either but I haven't figured out a food or drink that has that ability yet.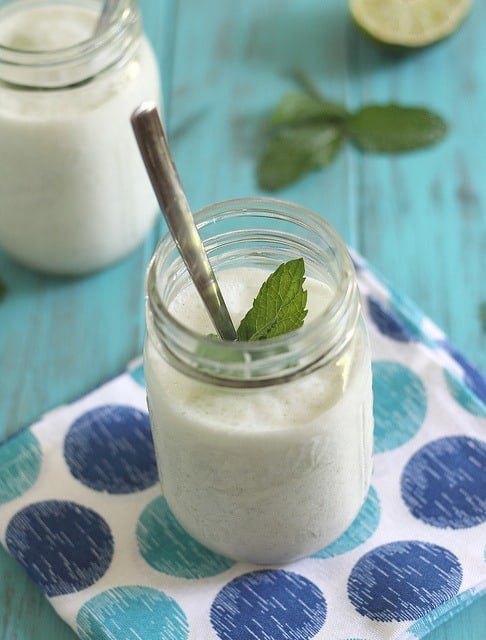 So in conclusion, we've learned that blogging leads you to drink and when that isn't possible it makes you hallucinate. Obviously, I'll be continuing with it.

Coconut Lime Ice Smoothie
This coconut lime ice smoothie is a refreshing icy drink perfect for summer. Enjoy with or without rum.
Ingredients
8-10

oz. coconut milk from a can

5

leaves of mint, plus more for garnish

1

tablespoon honey

1/4

inch nub of fresh ginger

juice of 1/2 a lime

1/4

cup kefir

3/4-1

cup ice
Instructions
Combine all ingredients in a blender and blend until smooth but still icy.
Add additional crushed ice to two glasses, pour in drink and garnish with more mint leaves.
Recipe Notes
This would be delicious with the addition of some rum.