These fig preserves are infused with real vanilla bean for a sweet jam that has endless uses. Try slathering on bread, serving alongside a cheese tray or even dolloping into your morning bowl of oatmeal.
Two summers ago, I took a girls trip to Maine with Brandy, Carrie and Rebecca. Our mission? Eat and drink our way through Portland.
From duck fat fries to brewery visits and everything in between, I'd give us an A+ on accomplishing that. I had never met Rebecca in real life prior to the trip but when we all arrived at the Mercury Inn and she came bearing little gift bags of Wegman's honey mustard (no honey mustard out there comes close), a hand made bowl from a local potter and homemade candied jalapeños for each of us, I knew she was good people.
Those candied jalapeños lasted about 2 days when I got home. I hate comparing food to drugs but while some call it 'cowboy candy', I'd say 'cowboy crack' would be more appropriate. Girl's canning game is strong.
So when I heard the great news about her book, Not Your Mama's Canning Book, I was psyched!
Here's the thing: I've never canned a damn thing in my life.
This weirdly feels like I'm back in Catholic school forced into the confessional with the priest (bless me, internet for I have sinned…)
I mean, I've made jams, jellies and pickled things and put them in cans but I've never done the whole legit canning thing with pressure and water and the whole shebang.
It scares the bejesus out of me and honestly, I've never really had the need. I just eat all the things quick enough after making them!
However, Rebecca's book is FILLED with amazing canning recipes. From fruits to jams to pickled things to sauces and syrups, it's literally a mecca for modern day canning.
And it doesn't stop there, half the book is then equal awesome recipes of what to do with these amazing canned goodies once you make them.
I poured through this book multiple times but just couldn't get past one of the first recipes I saw, these vanilla fig preserves. I'm sure it being the height of summer and seeing fresh figs just pop into the market recently had something to do with the draw but it totally pulled me in.
What I love best about fig preserves is the versatility. From a simple slather on some bread to being paired with cheese (I need to buy a chunk of manchego stat!) on an appetizer spread to dolloping in some yogurt or oatmeal, there are just so many amazing ways to use this.
Rebecca gives two recipes for the fig preserves in the book, an antipasto plate like none other and this fig and pig open-faced sandwich that Brandy made.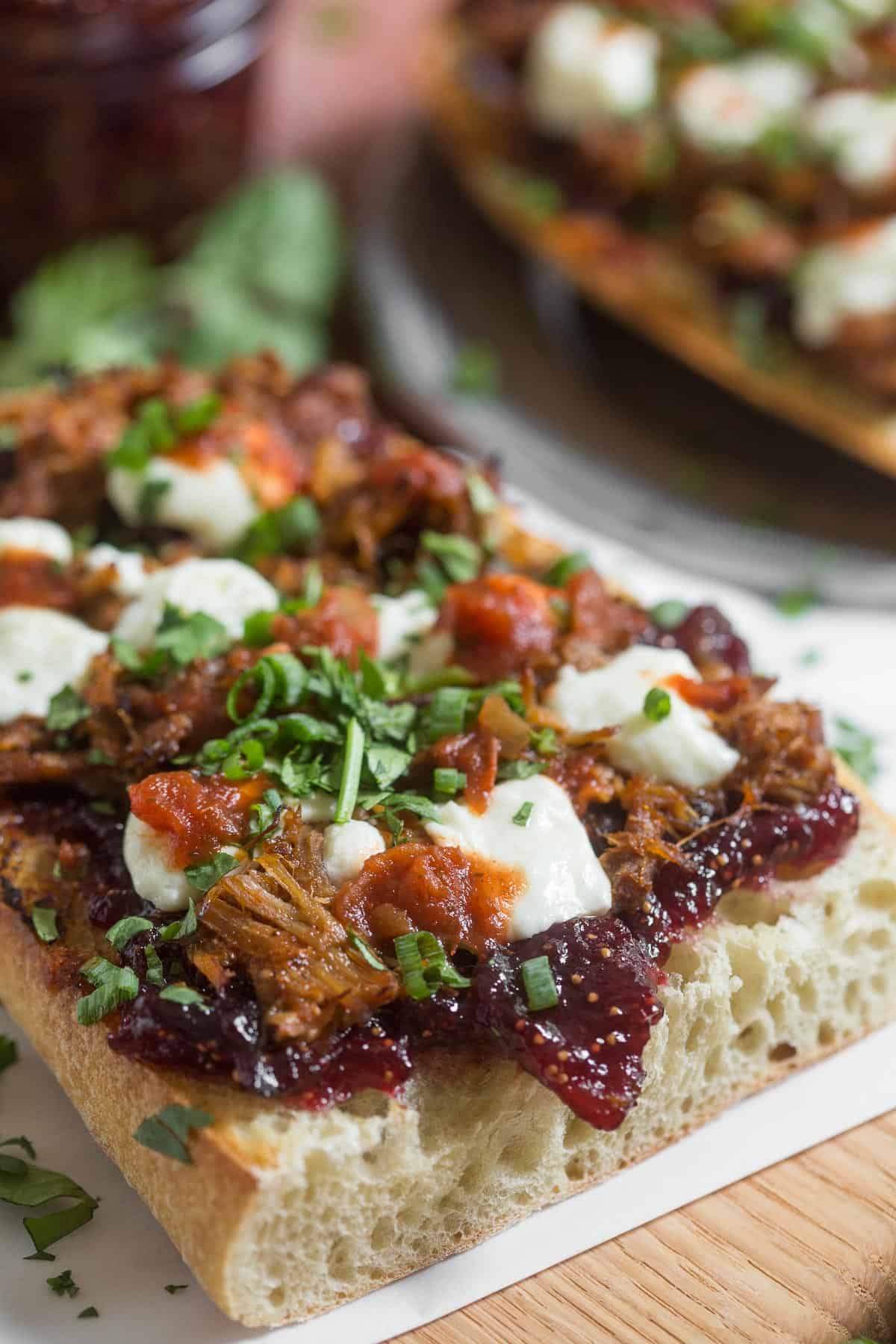 With all those great uses, I didn't even bother going through the actual canning steps for the fig preserves.
I just cooked the mixture down in the pot (I omitted the pectin and calcium water and reduced sugar by half) until jam like and thickened because I knew this would be gobbled up in days. If I work up the actual courage though, it would be a great recipe to break my canning virginity with because being able to open a jar of these fig preserves come January might actually make me forget how much I hate life in the middle of a New York winter.
Grab your own copy of Not Your Mama's Canning Book!
Yield: 4-5 cups (950 ml to 1.2 L)
Vanilla Fig Preserves
This fig preserve is infused with real vanilla bean for a sweet jam spread. Try slathering on bread or serving alongside a cheese tray.
Ingredients
4 cups (662 grams) chopped figs
1/2 cup (120 ml) water
1 vanilla bean, split lengthwise and scraped to release the seeds
4 teaspoons (20 ml) calcium water, mixed according to Pomona's Universal Pectin Instructions
1/4 cup (60 ml) lemon juice
2 cups (383 grams) sugar
1 tablespoon (9 grams) Pomona's Universal Pectin
Instructions
Add the chopped figs, water, vanilla bean and its seeds to a large, non-reactive saucepan over medium-high heat. Bring to a boil and simmer for 5 minutes or slightly longer depending on how ripe your figs are, stirring occasionally to soften the fruit. Add the calcium water and lemon juice, stir thoroughly.
Measure the sugar into a mixing bowl and whisk in the pectin powder until it is completely incorporated and even in color.
Bring the fig mixture back to a boil. Add the sugar mixture and stir vigorously for 1 to 2 minutes, or until the sugar and pectin are fully dissolved. Return to a full boil and remove from heat immediately. Remove and discard the vanilla bean.
Fill the jars to within 1/4 inch (6 mm) of headspace. Wipe rims clean. Center a lid in place and screw a ring to fingertip tightness or fix clamps in place. Put filled jars in a canner filled with boiling water to cover the jars by 2 inches (5 cm). Boil for 10 minutes, then, using a jar lifter, transfer the jars from the water to a clean dish towel or wire rack. Let cool completely. Remove the rings, wipe clean, label the jars and store in a cool, dark place for up to 1 year. Once a jar is opened, it is good for about 3 weeks in the refrigerator.
Nutrition Information:
Yield:
16
Serving Size:
1
Amount Per Serving:
Calories:

11
Total Fat:

0g
Saturated Fat:

0g
Trans Fat:

0g
Unsaturated Fat:

0g
Cholesterol:

0mg
Sodium:

5mg
Carbohydrates:

3g
Fiber:

0g
Sugar:

2g
Protein:

0g
This website provides approximate nutrition information for convenience and as a courtesy only. Nutrition information can vary for a variety of reasons. For the most precise nutritional data use your preferred nutrition calculator based on the actual ingredients you used in the recipe.