This homemade compound butter is filled with fresh blueberries, lavender and honey and made from scratch in a stand mixer.
Ages ago (ok, probably like 17 years to be exact) we took a family trip through New England on our way to one of my soccer tournaments in Canada (family vacations from the age of 5-18 seemed to revolve around soccer tournaments, looking back at how much time my parents spent at soccer games/tournaments for the two of us is high on the list of why I don't want kids. I'm way too selfish to be happy calling a field of grass in the middle of bumble town USA a vacation when I could be off gallivanting around Europe or something). Sturbridge, Massachusetts was one of the stops and if I had to explain what Old Sturbridge Village is like the best I can do is liken it to a Williamsburg, VA kind of thing. A old town with horse draw carriages and old mills, people dressed up like it's the late 1800s doing everything by hand.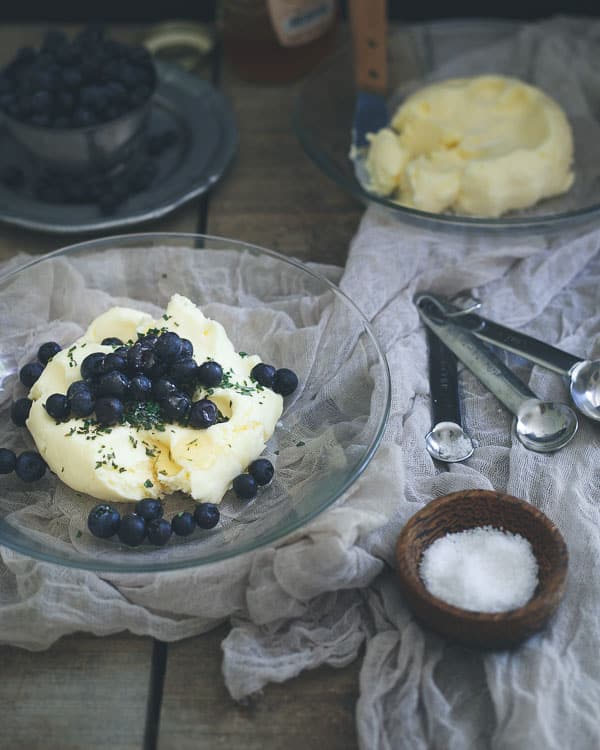 I don't remember much from that trip, but the one thing that sticks out in my head (besides my dad making me run around the hotel to stay in shape for the tournament) is a lady churning butter. Like the old school way in a barrel, by hand.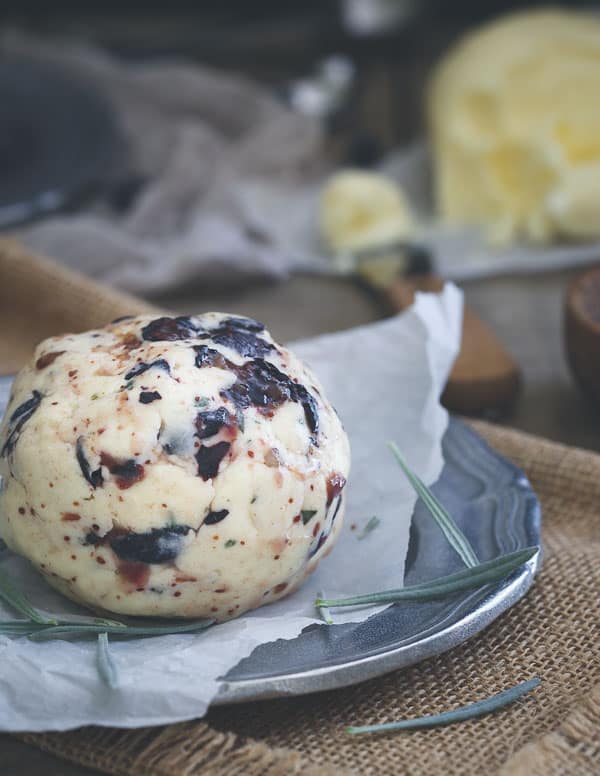 In the 17 years or so since that day, I've always had this impression that making butter took hours, required a ton of arm strength and patience, the latter of which I do not have.
Fast forward to 2014 and I started a kitchen bucket list pinterest board. I haven't made a ton of progress on it since (except for these homemade pretzels!) but one of the first things to get pinned was homemade butter. Not like making flavored butter by bringing a store bought stick to room temperature and mashing it up with stuff, but like churning cream to get butter from scratch in my house minus the 1800s dress attire.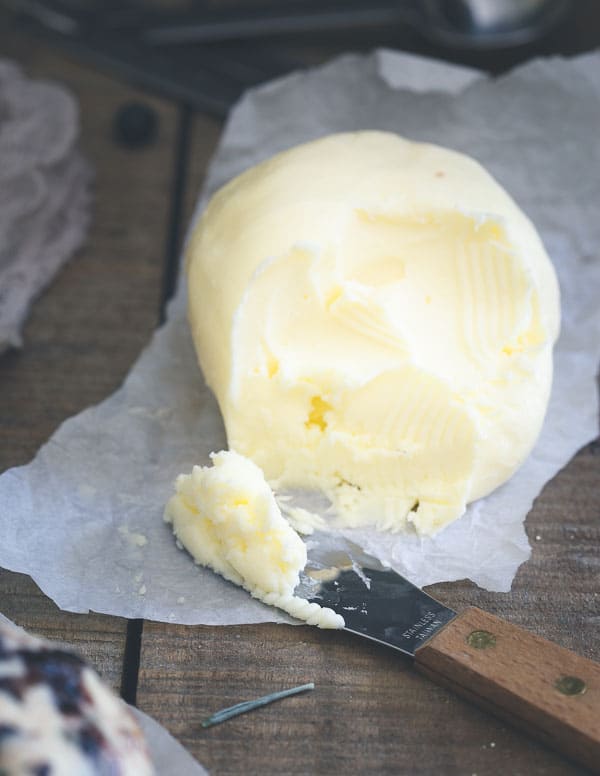 So in the spirit of switching things up and not grabbing the 4 sticks from the refrigerated section of the grocery store this time around, I grabbed a quart of heavy cream and decided to make my own butter. A quart makes a decent amount of butter so I split it in two and did half with just some plain sea salt and made a homemade compound butter with fresh blueberries, lavender and honey with the other half. Not only is the blueberry compound butter amazing (you'll want to slather it on everything. I literally put it on these road trip cookies as a snack because…why not?), but the whole process was just so fun to watch. In just about 15 minutes, cream goes from soft peaks, to a heavy whipped consistency to breaking down, turning yellow and separating from the buttermilk to form butter. All you need is a stand mixer (and some plastic wrap because this process gets quite messy at the end!) and you're ready to churn!
To get you inspired to step outside of your comfort zone and try something new in the kitchen, I'm sharing this YouTube series sponsored by Ford called Switch It Up! In this cooking episode, Merrill Stubbs of Food 52 challenges Joanna Hawley of Jojotastic to take on shrimp biryani. The episode is fun to watch (especially around 2:20 if you want a laugh) and if she can successfully put together a traditional Indian dish as a style/fashion blogger, you can totally rock whatever your kitchen bucket list thing may be.
I'd love to hear what your Switch It Up goal is!
Homemade Blueberry Lavender Honey Butter
This homemade compound butter is filled with fresh blueberries, lavender and honey and made from scratch in a stand mixer.
Ingredients
For the blueberry lavender honey butter
1/4 cup blueberries
1 tablespoon chopped lavender
1 tablespoon honey
1/8 teaspoon sea salt
For the salted butter
1/4-1/2 teaspoon sea salt
Instructions
Place the heavy cream in the bowl of a stand mixer fitted with the whisk attachment.
If you have a splash guard, place it on the bowl and cover the opening with plastic wrap. If you don't, you'll want to cover from the top of the bowl to the upper part of the mixer with plastic wrap.
Whisk on medium-high for about 15 minutes. You'll see soft peaks, then whipped cream, then eventually after 10-13 minutes, the cream should start to break down, turn yellow and separate from the buttermilk. The butter is ready when there is a substantial amount of liquid (buttermilk) in the bowl and the butter pieces have started to come together.
Drain the contents of the bowl in a colander. Press the butter into the colander to get rid of any excess buttermilk.
Form the butter into a ball with your hands and rinse off with cold water to get rid of any buttermilk on the exterior of the butter.
Split the butter in two even chunks and place in separate bowls.
For the salted butter, add the desired amount of salt and work into the butter with either your hands or a fork until combined. Roll the butter into a ball and wrap in plastic wrap to store.
For the blueberry lavender honey butter, add all the ingredients to the bowl with the butter and mash together with a fork until well incorporated. Roll the butter into a ball and wrap in plastic wrap to store.
Nutrition Information:
Yield:

20
Serving Size:

1
Amount Per Serving:
Calories:

167
Total Fat:

17g
Saturated Fat:

11g
Trans Fat:

1g
Unsaturated Fat:

5g
Cholesterol:

54mg
Sodium:

105mg
Carbohydrates:

2g
Fiber:

0g
Sugar:

2g
Protein:

1g
This website provides approximate nutrition information for convenience and as a courtesy only. Nutrition information can vary for a variety of reasons. For the most precise nutritional data use your preferred nutrition calculator based on the actual ingredients you used in the recipe.
*Thank you to Ford for sponsoring the "Switch It Up" series and this post.