A sweet and spicy broccoli rabe recipe that takes the bitterness right out of the nutrient dense vegetable in this easy sauté.
If I was half way good at this blogging thing I would've had a very entertaining (only in retrospect) story for you today involving a 5 mile run, a thunderstorm and a towed car.
Whipping out the camera and properly documenting such events when they are actually occurring, however, was just not second nature at the time.
There were the practical thoughts such as my phone getting ruined from the torrential rain I got to stand in while calling Ulysses 25 times to no avail. And, there was also the reality that while this was happening I was in no way thinking about how *blog worthy* the event was.
I'll leave it up to your imagination the expletives that were coming from my mouth instead.
Also, I like to try and keep my blog content under the $175 price point.
Yeah, that was the most expensive run of my life.
So instead of funny stories, I shall give you vegetables in the form of this sweet and spicy broccoli rabe recipe.
I know, it's a sorry excuse for a tradeoff.
I promise it's good though.
To make it even better I highly recommend you start here.
Wine + music. A cook's best friend.
I'll give you a minute to open the bottle.
Ok, ready? Good.
We eat a lot of broccoli. Like a lot, a lot.
I buy at least 4 heads of the stuff a week. It's easy, it's cheap and it's good for you. Every week I walk right up to the broccoli section, grab my plain 'ole broccoli and move on.
Yesterday however, I decided to get crazy and pay broccoli's more expensive and bitter cousin, broccoli rabe, some attention.
I used to hate this stuff as a kid.
My parents loved it though and therefore it would inevitably end up on our dinner plates at least once a week.
If dad was working late, mom just boiled it. When dad was home, however, it got sautéed in lots of yummy olive oil and doused in salt. The days dad was home were much better.
Alone, broccoli rabe is a pretty bitter green and doesn't have many redeeming qualities besides its nutritional profile. That's why you have to jazz it up.
And jazz it up I did.
Garlic, red pepper, little nuggets of gold, raisins and dried cherries.
Spicy & sweet may sound like a weird combo but, I assure you it works here. Deliciously.
Served with this for dinner? I can't believe I'm about to say this but,…amazeballs.
The end.
More greens like this to try:
Simple Sautéed Swiss Chard
Dandelion Greens + Beans Skillet
Girl and the Goat Grilled Broccoli
Simple Grilled Baby Bok Choy
Roasted Tomato Spinach Salad with Citrus Mustard Vinaigrette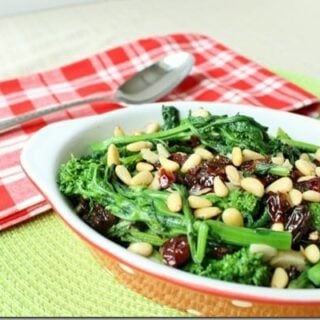 Sweet and Spicy Broccoli Rabe
Yield: 4 servings
Prep Time: 10 minutes
Cook Time: 10 minutes
Total Time: 20 minutes
A sweet and spicy broccoli rabe recipe that takes the bitterness right out of the nutrient dense vegetable in this easy saute.
Ingredients
1 head of broccoli rabe, washed & trimmed
2 tablespoons extra virgin olive oil
2 cloves of garlic, chopped
1/2 tablespoon red pepper flakes
2 tablespoons raisins, chopped
2 tablespoons dried cherries, chopped
2 tbsp pine nuts
salt & pepper
Instructions
Bring medium pot of water to a boil.
Blanch broccoli rabe for 2 minutes, quickly drain and set aside (you could submerge in an ice bath here if you're ambitious. That's just more bowls to clean so I skip that step).
Heat pan with olive oil to medium high.
Saute garlic and red pepper flakes for 30 seconds to a 1 minute, careful not to burn garlic.
Add broccoli rabe to pan, season generously with salt & pepper and coat with olive oil mixture. Cook 1-2 minutes.
Add raisins and cherries and cook for another 1-2 minutes.
Transfer to serving bowl and top with pine nuts.
Do you like broccoli rabe?
What's the most cooked vegetable in your house?