This pumpkin seed nut bread is a hearty, chewy and dense bread great for a high protein snack.
This is not some fluffy, melt in your mouth, sweet kind of bread. This is a bread that will put hair on your chest.
Ok, not really. Or at least I hope not. I don't need hair there and neither does my balding but hairy beast everywhere else husband. #thankyouGreekgenes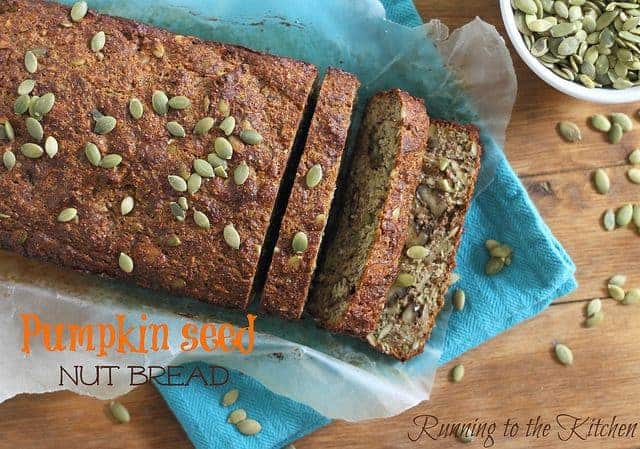 But seriously, this is a bread with some legit chew factor. It's nutty, seedy, hearty and makes for an awesome pre or post workout snack.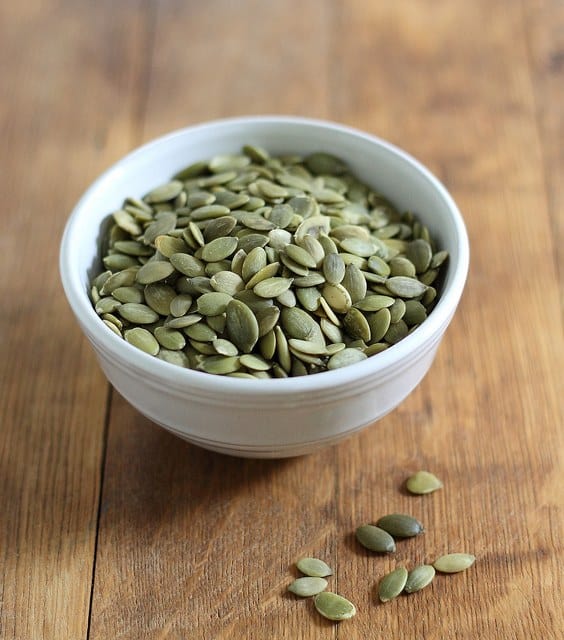 I've had a really good 4 days back at crossfit this week after almost 2 weeks off while in Italy and I'm thanking the bread. It's been my go to "I'm so hungry but if I eat a real meal before crossfit I'll puke" snack come 5pm every day. Because clearly the bread is everything and the fact that I had 2 full weeks of rest has nothing to do with it.
It's funny because a month ago I promised not to start the pumpkin thing too early and so even though I had already opened a can of it for myself, I refused to post anything pumpkin related until October. Then I go away and avoid the internet for 2 weeks, accumulate over 500 unread posts (omg, anxiety attack) in my reader and like 300 of them have "pumpkin" in the title. So without ever having even made something myself for the blog, I'm sick of it and have no desire to get all pumpkinified on you.
Seeds, however, seem different enough to not annoy me and fit with the whole fall "must do pumpkin" thing.
And if you miss the actual pumpkin, spread it on a piece of toasted bread and call it a day.
Pumpkin Seed Nut Bread
Yield: 8-10 servings
Prep Time: 10 minutes
Cook Time: 50 minutes
Total Time: 1 hour
This pumpkin seed nut bread is a hearty, chewy and dense bread great for a high protein snack.
Ingredients
1/2 cup pecans
1/2 cup walnuts
1/4 cup sliced almonds
1 cup pepitas (pumpkin seeds)
1 1/2 cup almond meal
1/4 teaspoon salt
1/2 teaspoon baking soda
1/4 cup unsweetened coconut flakes
3 eggs
1/3 cup egg whites
1/3 cup melted coconut oil
2 tablespoons honey
1/4 cup pumpkin puree (or 1/2 mashed banana)
Instructions
Preheat oven to 340 degrees. Line a loaf pan with parchment paper and grease with baking spray.
In a food processor, pulse half of the pumpkin seeds until finely chopped and almost a "meal-like" consistency.
Combine all dry ingredients including pulsed pumpkin seeds in a large bowl.
In a small bowl, whisk together remaining wet ingredients.
Add wet to dry and mix until incorporated.
Pour batter into loaf pan and spread evenly into the corners.
Bake for 45-50 minutes or until fully cooked through.
Remove from oven, pull the bread out by the ends of the parchment paper and transfer to a cooling rack.
Slice and serve once cooled.
Notes
This is not a sweet bread. If you like things sweet, add extra honey to the recipe.