This peach and cherry watercress salad is simple seasonal eating at it's best.
So I made this salad over a week ago and at the time it was like the best thing in my life…sweet peaches and cherries with a light lime dressing. It was like summer exploding on your plate in salad form, but kinda almost a dessert too with the perfectly ripe, juicy fruit.
But since then, I've flown out to California and spent 3 days watching the CrossFit Games on behalf of Reebok. Guys, that stuff was just unreal. Seriously hot people walking around half naked, wods with celebrity CrossFit trainers, paleo food trucks, changing race car tires with Christmas Abbot, Reebok gear in every direction and Rich Froning, Jason Khalipa & Sam Briggs just 6 feet from me at a press conference. With an inordinate amount of pictures and videos of it all to now sort through.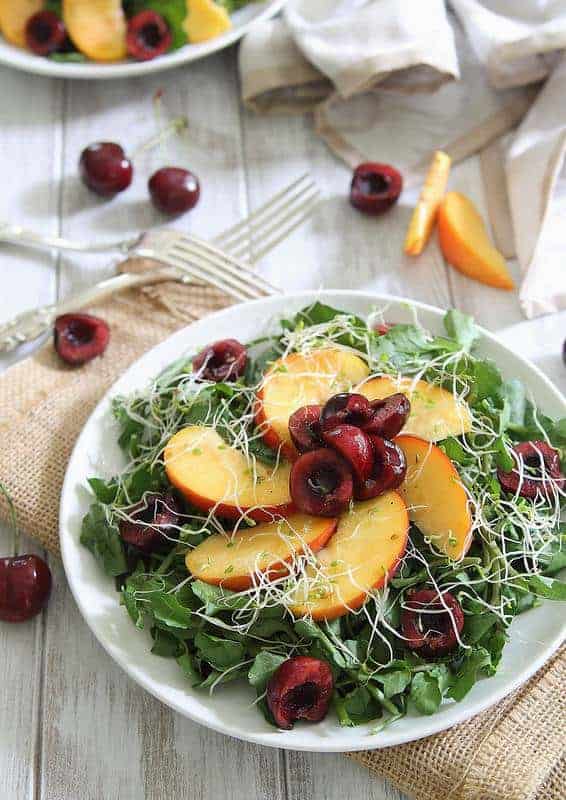 So this salad has like nothing on the past weekend.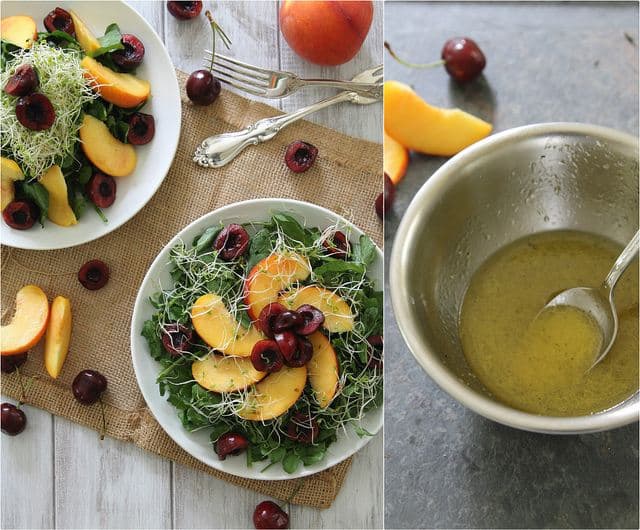 I'm star struck, I'm freakin' pumped to get back to my own box and try to get like 1/4 as good as the athletes that competed this weekend and I'm so grateful to have had this opportunity.
But since most of you weren't chatting it up with the fittest man and woman on earth, I suggest you make this salad. It'll probably be the best thing in your life for awhile. Until you find yourself sitting across from a world class athlete at least.
Peach and Cherry Watercress Salad
This peach and cherry watercress salad is simple seasonal eating at it's best.
Ingredients
1 bunch of watercress, cleaned & ends trimmed
1/2 cup cherries, pittled & halved
1 peach, sliced
1/3 cup alfalfa sprouts
juice of 1 lime
2 tablespoons extra virgin olive oil
1 tablespoon agave (or honey)
salt & pepper to taste
Instructions
Arrange watercress, peaches, cherries and sprouts in a bowl or plate.
Whisk together remaining ingredients in a small bowl and pour on top of salad before serving.
Nutrition Information:
Amount Per Serving:
Calories:

116
Total Fat:

7g
Carbohydrates:

14g
Protein:

1g