This parmesan lemon chicken and broccoli is a perfect quick weeknight meal ready in just 20 minutes.
Takeout Chinese menus are probably one of the few things in life that leave me speechless. A 70+ year old Italian man in a leopard print g-string speedo thong I saw in the Dominican Republic a few weeks ago was another. I'll open one and literally stare (most likely with my mouth open a bit) for minutes on end with absolutely nothing to say and no clue what to order before inevitably ending up with wonton soup and chicken & broccoli. How exciting.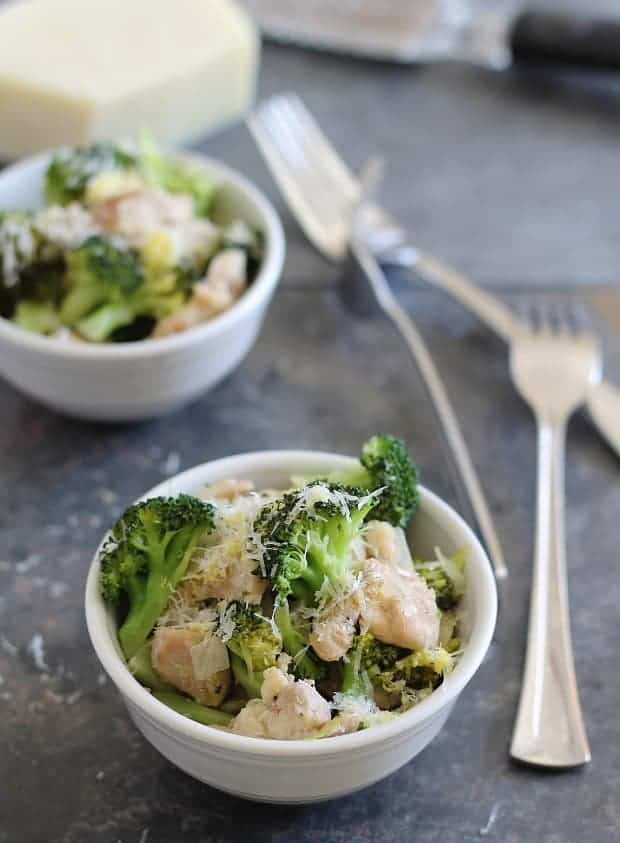 I guess the wonton soup could actually be considered exciting since the meat stuffed inside those things is pretty suspect, but I try to push that kind of excitement out of my mind temporarily. Which leaves us with chicken & broccoli, pretty much the most basic American combination one can think of just drowned in some mysterious brown sauce and with a fortune cookie on the side. So basically, I have no business ordering Chinese takeout when that's what I end up with.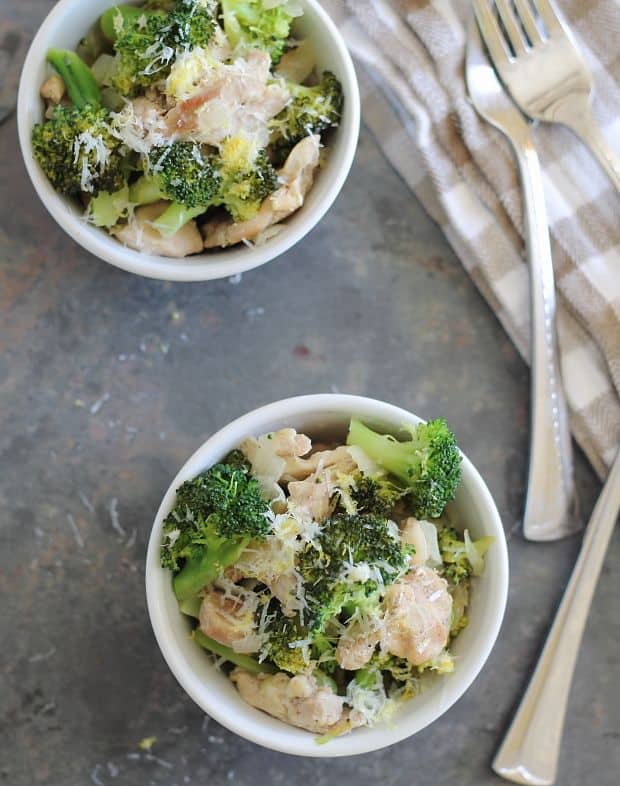 Which is why this recipe now exists.
A Chinese takeout craving shot down by myself and turned Italian.
It couldn't be simpler, there's no suspect meat, mysterious brown sauce or waking up at 3am with unquenchable thirst from all the salt and it cooks in about the same time as it'd take you to pick up the takeout anyway.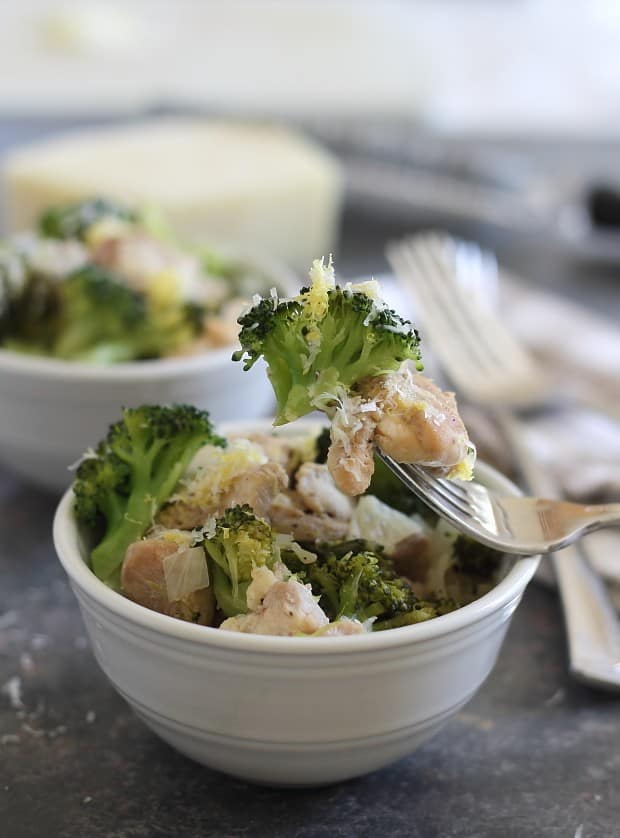 And while there's no fortune cookie afterwards, you know you really didn't care about how to say that random word in Chinese. Chances are you'd butcher the pronunciation anyway.
Parmesan Lemon Chicken and Broccoli
This parmesan lemon chicken and broccoli is a perfect quick weeknight meal ready in just 20 minutes.
Ingredients
1 tablespoon extra virgin olive oil
1 small yellow onion, chopped
1lb. boneless skinless chicken thighs cut into strips or chunks (breasts will work too)
salt & pepper
1 large crown broccoli, washed and cut into florets
1/4 cup chicken broth
zest of 1 lemon
juice of 1 lemon
1/2 cup grated parmesan cheese
Instructions
Place broccoli florets in a medium skillet with about 1/4 cup of water, cover with a lid and turn to high heat. Bring water to a boil and cook for about 2 minutes. Drain water and set broccoli aside.
While broccoli is cooking, heat olive oil in a large skillet over medium-high heat.
Once hot, add the onions and cook for about 3 minutes, until softened.
Season chicken generously with salt & pepper.
Add chicken to the pan and cook for about 5-7 minutes until it's no longer pink.
Add chicken broth, lemon zest, lemon juice to the pan and simmer for a minute or two.
Add the broccoli and parmesan cheese to the pan and toss to combine.
Serve and top with more parmesan cheese and lemon zest if desired.