These pancake battered pineapple rings are a fun breakfast to change things up from your normal pancake routine. Sweet juicy pineapple + doughy pancakes collide!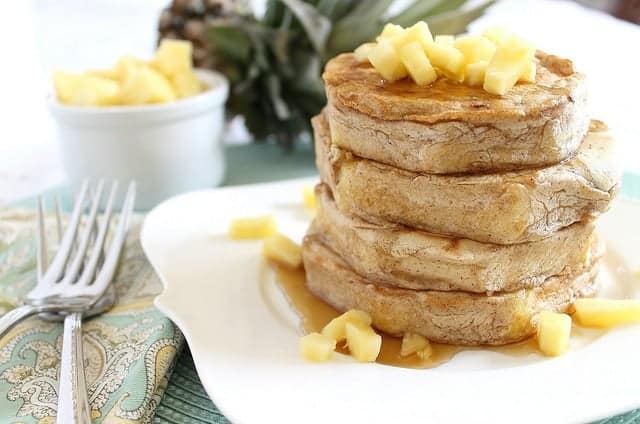 Things to make your Friday fun:
-discovering Starbucks toffee nut lattes. A big thank you to Megan for that!
-deciding to take an impromptu rest day even though you've been sporting your spandex running capris all day long.
-a Home Depot date night to buy $600 worth of cabinets for a rental unit when the ones you're replacing are only 1.5 years old. <sarcasm>
-discovering the amazing 70s CD left in your husband's truck from the previous owner with classics like "I Can See Clearly Now," "Lean on Me" and "Dust in the Wind" and then imagining your parents high as a kite jamming out to those tunes back in the day.
–this sloth video. Omg. I can't even think about it without crying hysterically from laughter.
-pancake battered pineapple rings.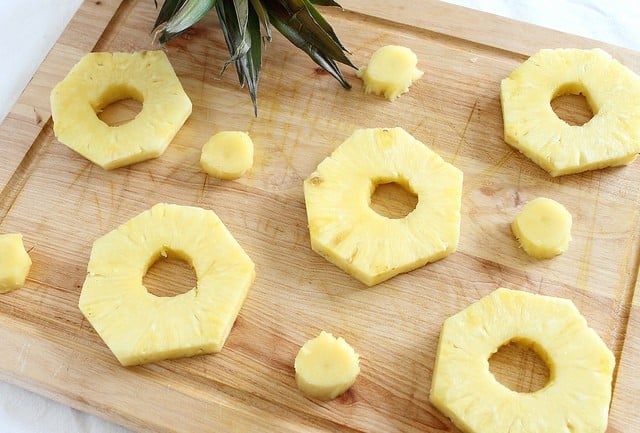 I look at a lot of food porn during the week. I hate that term, not even sure why I used it here but there it is, let's roll with it.
This week these maple apple rings caught my eye. I don't have an apple corer, but I did have an almost too ripe pineapple on the counter.
Destiny.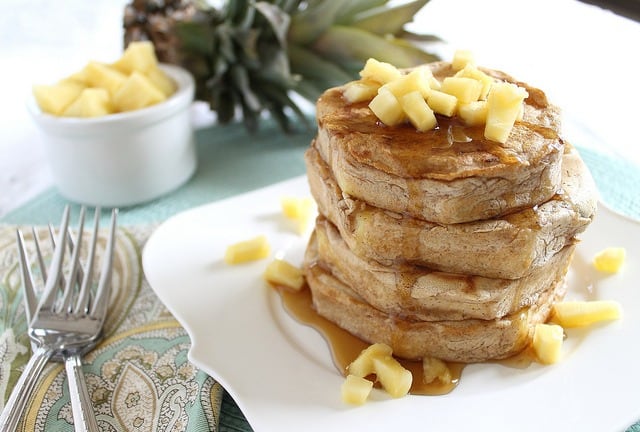 They're basically a pancake surrounding an entire pineapple slice. Kinda like these pineapple buckwheat pancakes but a little more fritter-like.
A healthy baked pineapple fritter, if that can be a thing.
My love of pancakes runs deep and if you click that link to check out all 25+ pancake recipes on this blog, you'll see fruit + pancakes is definitely a favorite.
There's these orange basil ricotta pancakes, these Meyer lemon quinoa pancakes, apple spice pancakes and cinnamon pear pancakes to name just a few.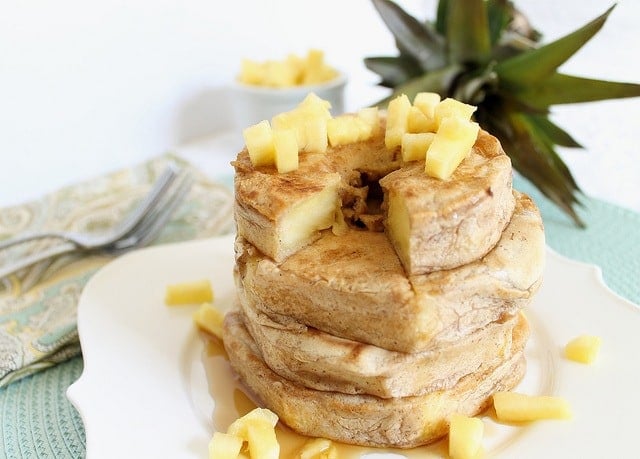 And then if you consider squash a fruit (is it? Let's just say it is…) there are all these pumpkin pancake recipes to try too!
–Pumpkin protein pancakes
–Oatmeal pumpkin pancakes
–Paleo pumpkin pancakes
–Gingerbread pumpkin pancakes
Pancake battered pineapple rings are also basically heaven in your mouth.
Sweet, sweet tropical heaven.
Coconut pancake batter, slightly warmed pineapple, it's what my tropical vacation that I'm not going on this winter tastes like.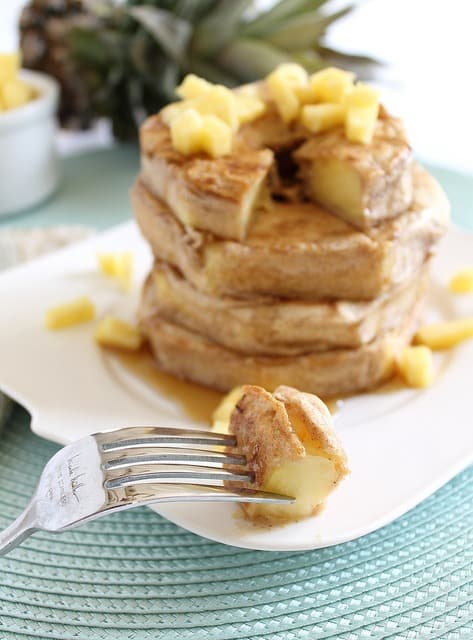 Things that don't make your Friday fun:
-eating an entire half a pineapple and feeling like your stomach might explode.
If you're a regular pancake kind of person and fruit + pancake batter isn't quite your thing, try out these protein pancakes! With 30g of protein per serving, they're a great base pancake recipe that will keep you full straight through until lunch!
Or maybe you prefer your breakfasts savory? Try these savory Canadian bacon pancakes or this cheddar Dutch baby, guarantee either of those will be right up your alley!
Pancake Battered Pineapple Rings
These pancake battered pineapple rings are a fun breakfast to change things up from your normal pancake routine.
Ingredients
1 pineapple, sliced into rings about 1/2 inch thick
1/2 cup all purpose flour
1/4 cup whole wheat pastry flour
1/2 teaspoon baking powder
1/4 teaspoon baking soda
pinch of salt
1 egg
1/2 teaspoon vanilla extract
1 tablespoon coconut oil, melted
1 cup coconut milk (from a carton, not canned)
Instructions
Heat pancake griddle or skillet on medium high heat.
Combine all ingredients (except pineapple) in a medium bowl and whisk together. Add milk as needed to get a good "drippy" consistency. You want it to be able to stick to the pineapple but still allow the excess to drip off.
Once griddle is heated, grease with butter or spray and dip one slice of pineapple into the batter and then place on griddle.
Cook for 2-3 minutes and then flip. You might want to sear the sides too depending on how thick your slices are.
Repeat for remaining slices.
Serve immediately, top with maple syrup.