These paleo crepes made with coconut and tapioca flour are just like the real thing, paper thin and perfect with your favorite sweet or savory filling.
Last week, after a gorgeous afternoon strolling through the outdoor outlets in Florida, spending far too much money in Under Armour (because I only enjoy clothes shopping when it's for workout apparel) we went to Whole Foods for lunch. When you live 45 minutes away from the nearest Whole Foods, the hot bar lunch is actually somewhat exciting. That is until you get to the register and realize your eyes have far exceeded not only your stomach but your wallet too and end up paying something close to $20 for lunch because your cardboard container is filled with nearly 3 pounds of every superfood under the sun.
I can't be the only one that happens to. Right?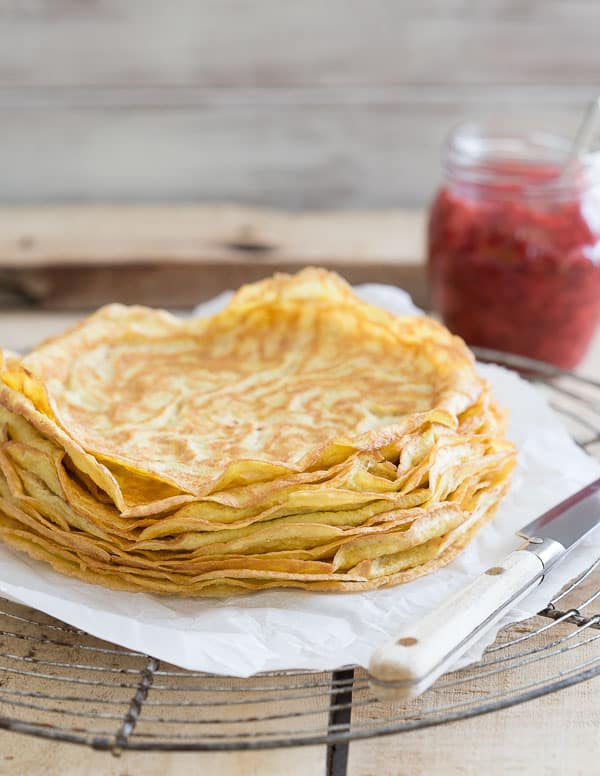 This time though, I made it through the register relatively unscathed at $8 and change. Incredibly proud of myself, I sat down to start digging in when I saw it.
A made to order crepe stand BEHIND the register area.
WTF?
Want to know when a big bowl filled with healthy delicious superfood-this and organic-that doesn't taste good? When there's freshly made crepes wafting their deliciousness everywhere and jars of Nutella staring you down precisely 4 feet to your right.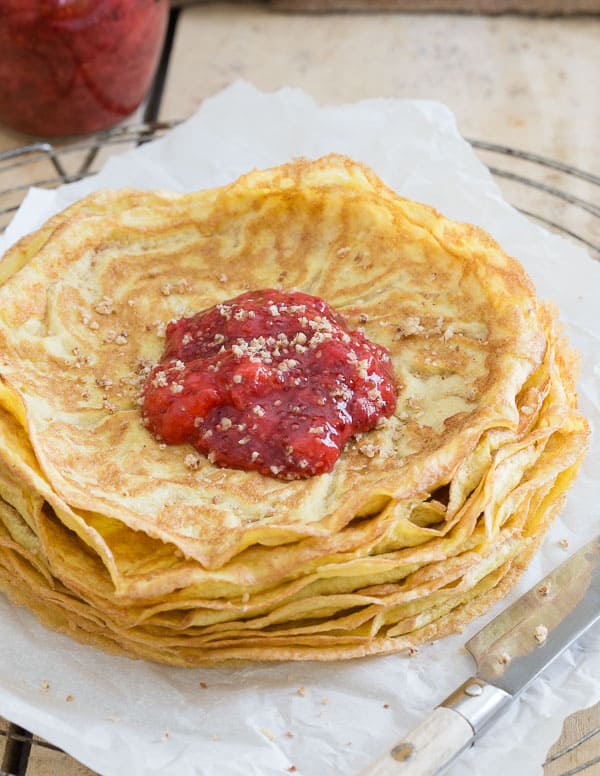 I somehow avoided the temptation as I begrudgingly ate my lunch that day but when I got home, these paleo crepes happened. There's nothing like laying out on a Floridian beach to make you want to get your diet back on track which is why I busted out the coconut and tapioca flour for this paleo version.
There might not be Nutella in these, but that homemade strawberry chia jam isn't a bad substitute.
They're paper thin with crispy edges and the perfect way to enjoy crepes grain-free.
Looking for more paleo goodies? Check out this paleo lemon poppyseed bread or this fudgy paleo skillet brownie.
Paleo Crepes
These paleo crepes made with coconut and tapioca flour are just like the real thing, paper thin and perfect with your favorite sweet or savory filling.
Ingredients
For the Paleo Crepes:
5 eggs
2 Tbsp coconut flour
1 Tbsp tapioca flour (also known as tapioca starch)
3/4 c almond or coconut milk
1 Tbsp melted coconut oil
1/2 tsp vanilla extract
pinch salt
butter, ghee, or coconut oil for the pan
For the Strawberry Chia Jam
1 lb strawberries or other fruit, frozen or fresh
1 tsp honey
2 Tbsp chia seeds
Instructions
For the Paleo Crepes:
Whisk the eggs, coconut flour, and tapioca flour in a large bowl until smooth.
Add the milk, coconut oil, vanilla, salt, and whisk again until smooth. Set aside.
Heat an 8-inch non-stick skillet over medium heat.
Once hot, melt butter, ghee, or coconut oil to grease the bottom.
Pour about 1/4 cup of the batter into the pan at a time and swirl the pan around so that the batter coats the entire pan evenly. Place back on the heat and cook about 1 minute until the edges start to crisp. Carefully flip and cook 30-45 seconds on the other side. Transfer to a cooling rack and repeat with the remaining batter.
Serve with the strawberry jam and freeze any leftover crepes with parchment paper in between each crepe for easy defrosting.
For the Strawberry Chia Jam:
Combine the fruit and honey in a small saucepan over medium-high heat. Cook until fruit starts breaking down and liquefies. Break up with a fork or spatula until it's the texture of chunky jam.
Reduce the heat to medium-low and add the chia seeds. Stir and cook for another 1-2 minutes.
Remove from heat and set the saucepan aside to cool. The jam will thicken considerably as it cools.