It's been just over 6 weeks and I'm officially done with stage 1 of nrolfw. Unfortunately, stage 1 went out with a bang and I seriously tweaked my back last night on the 3rd deadlift. I was able to complete the rest of the workout (minus the deadlifts) but I'm in a severe amount of pain right now and hoping to get to the chiropractor later today. I herniated 2 discs in my back when I was 15 (from sneezing!) and have had on and off again back problems since then occasionally throwing it out here and there but I have to say, this is one of the worst reoccurrences since! Good thing the plan calls for a week rest before starting stage 2 because I can't even stand up straight right now.
What I've liked:
Limited time commitment: During the first half of stage 1 the workouts only called for 2 sets and the workout would be over in 20 minutes. Even when moving to 3 sets half way through, it wasn't much more than 30 minutes each time which was key to keeping me on committed.
Design of the plan: The way the plan moves from higher reps with lower weights to lower reps with higher weights makes you feel like you're getting stronger. This was crucial to keeping me engaged. I need to feel/see improvement and the plan is designed to highlight that.
Visible change: Half way through stage 1 I documented my progress and was psyched to already see visible changes, particularly in my arm definition. Having now completed the entire stage, I think I see even more change. I notice definition that I don't think was there before but interestingly enough, the measurements have barely changed as you'll see below.
What I haven't liked:
Repetition: I know that stage 1 is the longest stage so I doubt this will be as much of an issue down the road but, after 8 workouts of A & B each, I started to get bored. Particularly with step-ups and deadlifts. They were my least favorite moves and the ones I dreaded before the workout even began. Interestingly enough, they were also the two moves that I didn't feel really did anything. I kept referencing the book to make sure I was doing it right because I didn't feel a huge burn like I would with the other exercises like pushups & shoulder presses.
Out-growing my gym: While I still plan to continue this workout at home and it is possible, I feel like I'm going to soon outgrow my home gym. My dumbbell set only goes up to 20 lbs. I started many of the workouts at 15 lbs. so there wasn't much room to increase weight without needing to purchase more equipment. The heavier the dumbbells get, the pricier they get too!
Difficulty in balancing running with strength training: It has sometimes been very difficult to get a good run in after some of these workouts, especially after increasing weights. They leave my legs sore and I've definitely seen a decrease in my average weekly mileage because of it. I think my plan moving forward is to actually run on the same day as nrolfw and do it beforehand this way when I'm the most sore, the day after a workout, I can cross train and not worry about having a "bad" run.
Measurements:
| | | | |
| --- | --- | --- | --- |
| | 5/31/2011 | 7/17/2011 | Change |
| Chest | 36.0 | 36.25 | 0.25 |
| Waist | 26.5 | 26.5 | 0 |
| Hip | 36.75 | 35.25 | -1.5 |
| Left Bicep | 10.5 | 10.5 | 0 |
| Right Bicep | 10.75 | 10.75 | 0 |
| Left Thigh | 21.75 | 22.25 | 0.5 |
| Right Thigh | 21.0 | 21.5 | 0.5 |
| Weight | 131.5 | 130.0 | -1.5 |
I have to admit, seeing those measurements is kind of deflating. I did use a legit measuring tape this time instead of marking baker's string and then laying it against a tape measure but I doubt that made a big difference. It's weird because I think I see a lot more changes than the measuring tape is showing. I was shocked to not measure out any difference in my biceps and I'm not sure what's up with my hips! Not quite sure I totally believe that one but I did measure it 3 times.
Here are the side by side pictures, tell me what you think.
5/31:
7/17:
5/31:
7/17:
5/31: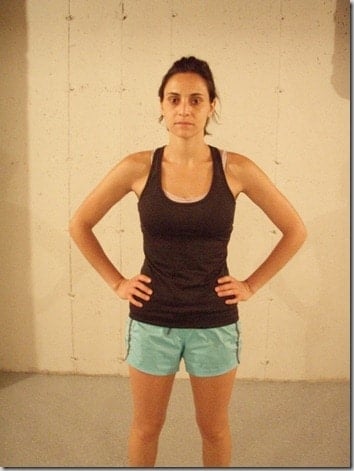 7/17: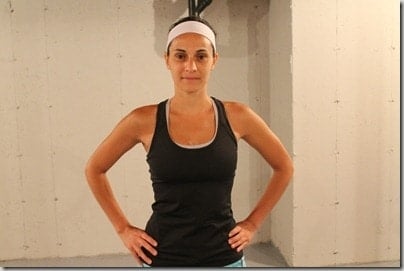 5/31:
7/17:
I do notice two things:
1. I have a better tan.
2. I have a much better camera.
Even though the measurements are not as great as I expected, I'm still excited to begin the 4 weeks of stage 2 and see my progress after that. It may not show in the numbers yet, but I know I'm stronger than when I started. That's one of the great things about documenting each and every workout; your progress is visible right there on paper. It's not chance that I can now do 15 full legit pushups when I could barely do 10 "girly" ones before.
Here's to hoping my back can fully recover in a week and I can start stage 2 ready to go!
What's your favorite strength training move for arms & legs? Arms: shoulder press Legs: barbell squats
Do you think measurements tell the whole story?