This is a simple lemon roasted asparagus recipe that's the perfect spring side dish to almost any meal.
I feel like I'm surrounded by complexity lately.
Life stuff, work stuff, everything just seems way more complicated than it needs to be most of the time.
Like going to the bank.
I seriously don't think I've stepped foot inside my bank in at least 6 months up until yesterday.
But when a transaction more complicated than the ATM could handle was necessary, I found myself face to face with a real live teller instead of the drive up machine.
All I wanted to do was complete the transaction, walk out and be on my merry way to finish the rest of my lunch time errands around town.
Except I got the pitch.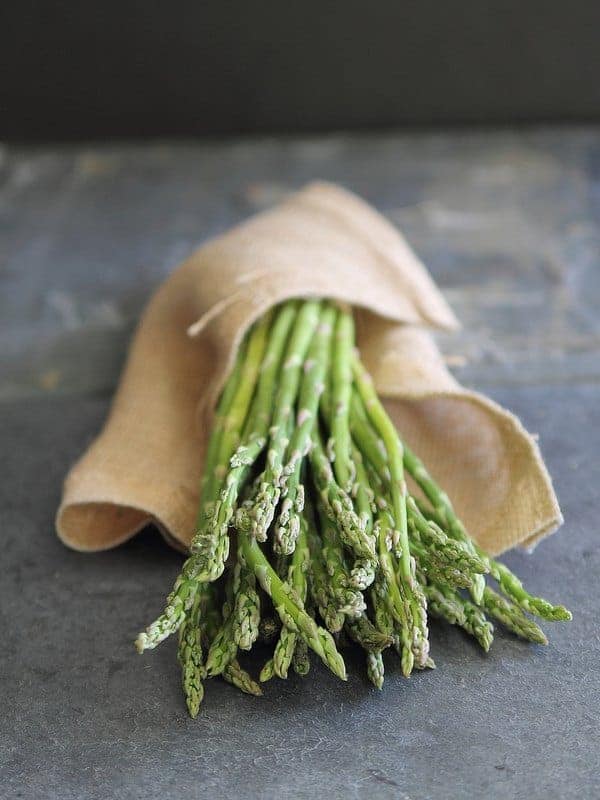 You know, the one where they ask you ever so casually if you've heard about their "xyz" program because your assets (which I'm convinced could be anything from $1-$100,000,000) qualify you.
You try to politely say you're not interested with a smile on your face but they persist.
Next up is the guilt trip angle.
You know you could be making x% interest by switching.
At this point you're tempted to start explaining why you're not interested but realize there's no way to do that without divulging way more financial information than you want some random stranger behind a bank counter to know so you just again decline, a little more sternly this time.
While holding your transaction receipt hostage, you're now informed that the account manager is actually free right now and would be happy to speak with you about your options.
Of course he is.
You hold your ground, ask for your receipt now showing your annoyance and say once again how you're really not interested at this time.
She caves, finally hands over the receipt and you breathe a sigh of relief until you're about 175 degrees turned around ready to walk out and you see the "account manager" walking towards you from his desk.
He opens his mouth to speak and now you're pissed.
So before the words can even come out, you say "I am NOT interested at this time, thank you" and continue walking.
Your face is red, frustration is coursing through your veins, you get in your car and wonder, how the heck a simple bank transaction just turned into the most complicated situation of your day so far.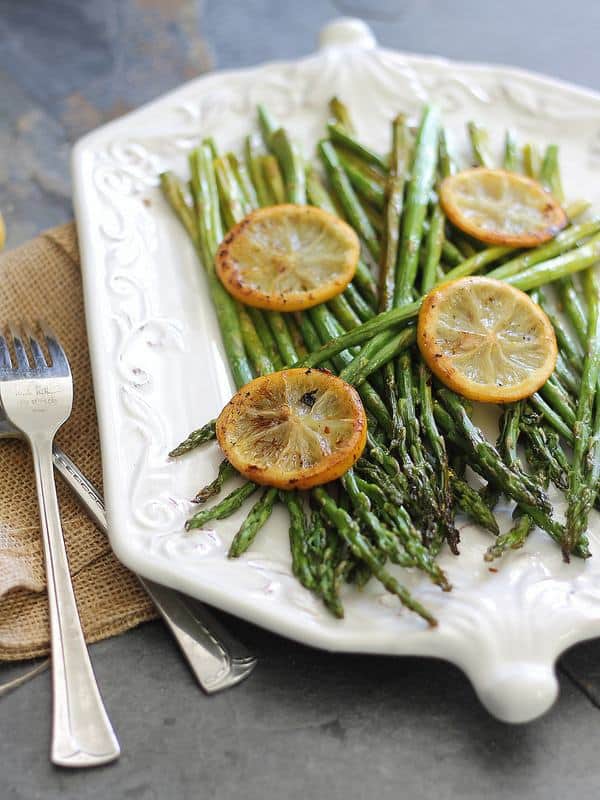 I miss simplicity.
And since one of the few things I can actually control in my life is the food I put in my mouth, I'm starting there with this easy lemon roasted asparagus recipe.
Simple spring ingredients.
Simply roasted.
Simply uncomplicated.
One of the best ways to enjoy asparagus.
Equally as easy is my Instant Pot asparagus recipe. Literally takes just minutes!
Lemon Roasted Asparagus
This is a simple lemon roasted asparagus recipe that's a perfect spring side dish.
Ingredients
1 bunch thin asparagus, ends trimmed
1 lemon, sliced
2 tablespoons extra virgin olive oil
salt & pepper to taste
dash of red pepper flakes
Instructions
Preheat oven to 400 degrees.
Arrange lemon slices on a baking sheet.
Lay asparagus on top of lemons and drizzle with olive oil.
Season with salt & pepper and red pepper flakes.
Roast for about 7 minutes then turn to hi-broil and broil for another 3-5 until asparagus tips are crunchy and lemons have started to brown.
Nutrition Information:
Yield:

4
Serving Size:

1
Amount Per Serving:
Calories:

67
Total Fat:

7g
Saturated Fat:

1g
Trans Fat:

0g
Unsaturated Fat:

6g
Cholesterol:

0mg
Sodium:

75mg
Carbohydrates:

2g
Fiber:

1g
Sugar:

1g
Protein:

0g
This website provides approximate nutrition information for convenience and as a courtesy only. Nutrition information can vary for a variety of reasons. For the most precise nutritional data use your preferred nutrition calculator based on the actual ingredients you used in the recipe.