These frozen coconut peach bites are an easy, adaptable icy summer treat.
Saturday we bought a newer car for me. Sunday we sold my old car to the first person that came to see it off Craigslist (how did we even function before Craigslist? Also, someone please explain to me how Craigslist makes money. This has been a dinner time discussion more than once in our house with no conclusion). You would think that's perfect timing and it would be if the car we bought wasn't in Manheim, Pennsylvania sitting on the auction lot. Ulysses' job doesn't have many perks but one of them happens to be access to wholesale cars. Great for the price, not great for convenience as I wait for it to be inspected and shipped to me.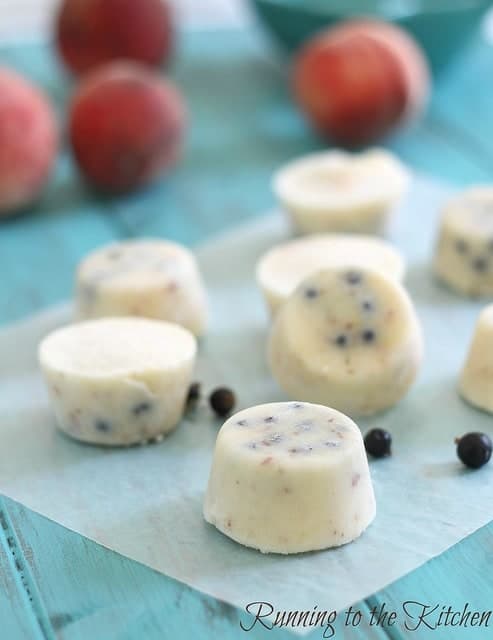 In the meantime, I'm driving my father in law's old 2000 Hyundai Accent because Ulysses also happened to sell his truck the day before we sold my car. Impeccable timing. I'm usually cool with driving whatever, but let's talk about this car a bit.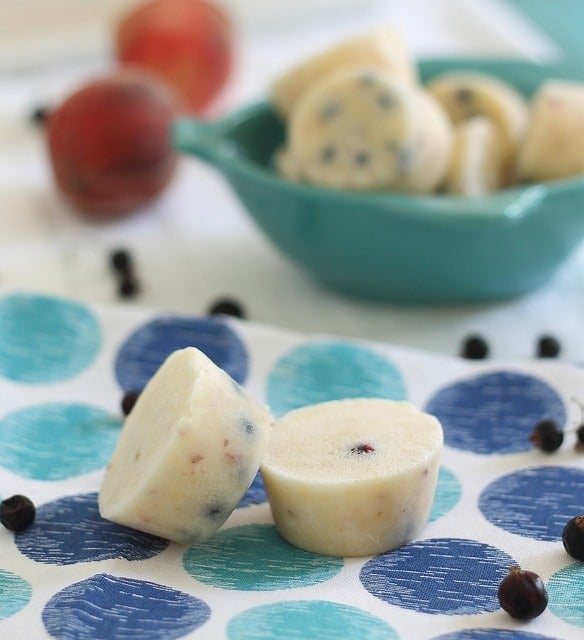 The exterior has seen better days. I don't know what he hit, a guardrail, a deer maybe? But the driver's side has a nice big horizontal dent that is now rusting across 80% of it, the inside might never have been cleaned in it's entire lifetime (I had to sit on a towel yesterday for fear my white pants would've been black when I got out if not), it's stick shift, no power anything and the kicker?
No air-conditioning.
Besides the embarrassment factor of this car (coincidentally, every stoplight I'm suddenly flanked by hot men in pickup trucks) and wanting to plaster a sign to the windshield that says NOT MINE, TEMPORARY LOANER, the A/C part is killing me.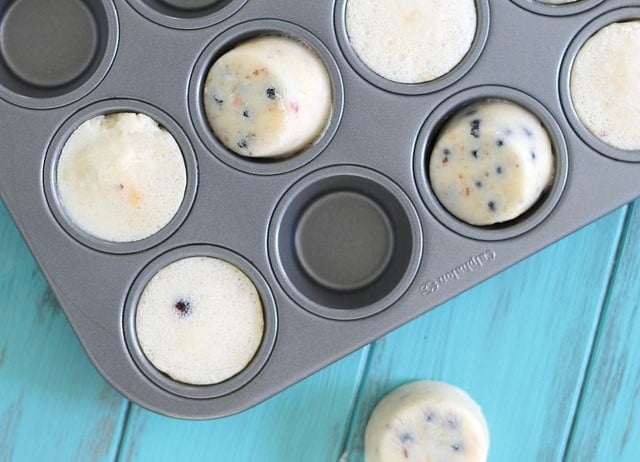 I'm totally that person that drives with the windows down and the air on in the summer just to enjoy the "summer breeze" but when it hits 95-100 degrees like it has every day since selling my car, the windows part becomes overrated. Give me air of the conditioned variety please.
So after 4 separate trips to and from a conference yesterday, I arrived home with my pants sticking to my legs from sweat, my foot cramping from driving stick shift in heels, my hands tacky from dirt caked onto the steering wheel and popped one of these frozen treats in my mouth.
They almost make me forget the horror that is that car.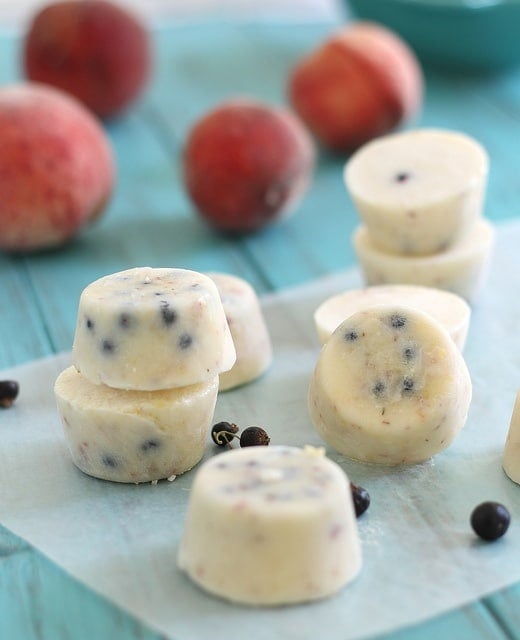 They're good, but I'm ready for my car to get here.
Frozen Coconut Peach Bites
Prep Time:
2 hours
5 minutes
Total Time:
2 hours
5 minutes
These frozen coconut peach bites are an easy, adaptable icy summer treat.
Ingredients
1 cup coconut milk (from a can)
1 peach, chopped
1/4 cup currants (optional or substitute blueberries)
Instructions
Combine coconut milk and chopped peaches in a food processor and pulse a few times until blended but a few chunks remain.
Pour mixture into a small bowl and add currants or blueberries if using.
Pour coconut mixture into either and ice cube tray or a mini muffin tin.
Either leave as is and freeze for a couple of hours until frozen or, freeze until just starting to set and insert popsicle sticks in the middle for an easier handheld treat.