This quinoa corn fritters are made with egg and green onion cooked in coconut oil and a fun way to change up your side dish.
Sometimes I make my way into the kitchen with just an idea. It starts out with a mental list of ingredients or chicken scratch on a post it note from the bright pink stack on my work desk when something randomly popped into my head (most likely while writing some boring proposal about facilities work on some college campus). I start combining ingredients, then begin to slightly deviate from the chicken scratch post it, poke through the pantry or fridge and throw some more random ingredients in here and there and before I know it, the dish has morphed into something completely different than what I set out to do.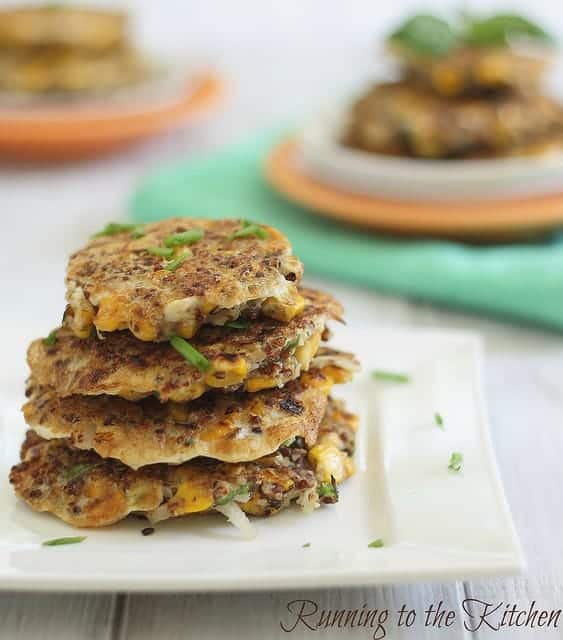 Sometimes I probably would've been better off sticking to the post it note, other times it's like divine intervention and it was meant to be.
Divine might be a stretch, but this is definitely one of those meant to be times.
Roasted corn, coconut oil, smoked paprika, almond meal and eggs. So weird, so many different flavors and yet, they work together magically in a way I never would've thought of on paper.
That's why I love food. There are so many variations out there to play with. It's like the world's biggest blank canvas except instead of coming up with some crazy Bob Ross painting, you get fritters.
Delicious eggy, quinoa, corn fritters. They could be a great savory brunch dish, lunch or a side to dinner. A versatile flavor explosion in your mouth.
So if you have nothing to do this weekend, go play with your food!
Quinoa Corn Fritters
This quinoa corn fritters are made with egg and green onion cooked in coconut oil and a fun way to change up your side dish.
Ingredients
1 1/2 cup frozen roasted corn (or fresh off the cob)
1 shallot, minced
1 clove garlic, minced
1 green onion, chopped
1 jalapeno, minced
1 egg
1/4 cup egg whites, plus more on hand for cooking (see directions)
1/2 cup cooked red quinoa
1/4 cup + 2 tablespoons almond meal/flour
3 tablespoons coconut oil, divided
1/2 teaspoon smoked paprika
salt & pepper
Instructions
Combine corn, shallot, garlic, green onion, jalapeno, egg, 1/4 cup egg whites, quinoa, almond meal and spices in a medium bowl.
Stir together until completely combined.
Preheat a skillet to medium heat.
Add 1/2 tablespoon coconut oil.
Scoop mixture in approximately 1/4 cup spoonfuls onto hot skillet and press down into patty form.
Carefully pour about 1 tablespoon of egg whites over fritter to help bind it together while cooking.
Cook for 2-3 minutes, flip and cook for another 1-2 minutes.
Set aside on a paper towel to drain.
Repeat the same process in 1/4 cup spoonfuls until mixture is gone adding more coconut oil to the skillet as needed in 1/2 tablespoon increments.
Notes
-These can be made without the extra egg whites on top while cooking but they will be harder to flip and stay together.
-Regular flour can be used in place of almond meal/flour.