Dark chocolate almond butter and strawberry cups you can make at home that are way healthier than any store bought treat.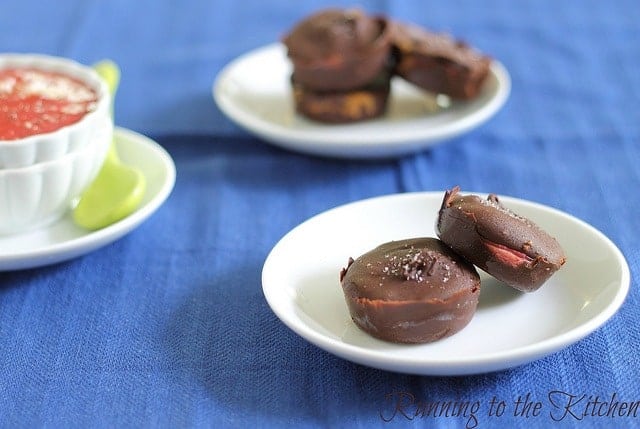 I could blame these little bites of heaven on a slew of things.
-that oh, so wonderful time of the month.
-the sweet comment I received yesterday telling me my profile picture is unflattering.
-the weekly work conference call that makes me want to bash my head against a wall.
-the fact that Friday feels like it should've happened 3 days ago, not today.
But really, life's too short to make excuses about wanting chocolate.
I wanted it.
So I made it.
Then I ate it.
Excuses are overrated.
ps- the profile picture is staying.
Yield: 6 servings
Dark Chocolate Almond Butter and Strawberry Cups
Dark chocolate almond butter and strawberry cups you can make at home that are way healthier than any store bought treat.
Ingredients
3/4 cup dark chocolate chips
1/2 tablespoon coconut oil, melted
1/2 cup fresh (or thawed frozen) strawberries
1 tablespoon water
1 tablespoon chia seeds
3 teaspoons almond butter
sea salt (*optional)
Instructions
Grease 6 mini muffin tin spots with baking spray or line with mini-muffin paper cups.
Melt chocolate chips over a double boiler or in a small bowl in the microwave.
Add melted coconut oil once chocolate is almost fully melted and stir to thin out and incorporate fully into chocolate.
Spoon half the chocolate mixture into the bottom of the muffin tins.
Using a pastry brush, brush the chocolate up the sides of the tins a bit. (If you greased the tin, it will take some persistence to get the chocolate to stick to the sides but do not skip the greasing step otherwise it will be very difficult to get the chocolate out later).
Freeze for about 20 minutes.
Meanwhile, combine strawberries and water in a food processor and pulse until it reaches the consistency of jam.
Transfer to a small bowl and stir in the chia seeds. Set aside.
Remove muffin tin from freezer and spoon half a teaspoon of almond butter into each muffin tin. Then layer on half a teaspoon of the strawberry chia jam on top of that (you will have extra jam).
Freeze again for another 20 minutes.
Remove from freezer and spoon remaining chocolate (you may have to reheat again slightly) on top.
Sprinkle with sea salt if using and freeze one last time for 10-15 minutes.
Remove from freezer and using a knife, carefully pop out chocolate cups from tin.
Keep refrigerated.
Nutrition Information:
Amount Per Serving:
Calories:

151.66
Total Fat:

12.01g
Carbohydrates:

11.52g
Protein:

3.48g
This website provides approximate nutrition information for convenience and as a courtesy only. Nutrition information can vary for a variety of reasons. For the most precise nutritional data use your preferred nutrition calculator based on the actual ingredients you used in the recipe.