This strawberry and orange smoothie is packed with kale to help kick any winter cold away.
know what you're thinking.
Another green smoothie…boring. But, before you click away let me say this.
I'm not a huge green smoothie person either. Swear. And I loved this one.
I'm not going to sit here and tell you I drink them all the time because "you totally don't taste the spinach or kale." That's a lie. Anyone that says such things should not be trusted.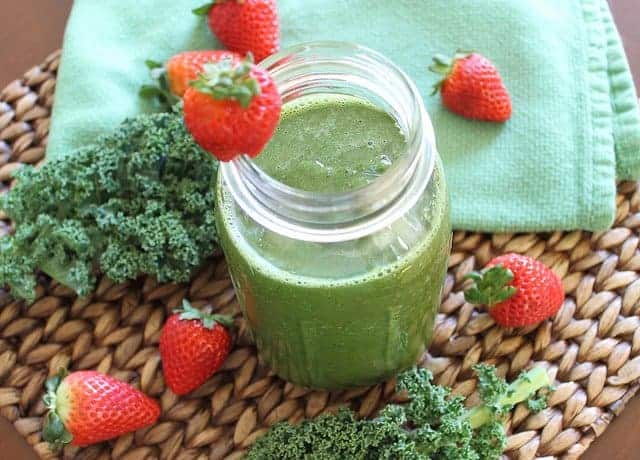 Yes, there's kale in this smoothie. But you better believe I blended the shiznit out of it so I wasn't chewing on kale pieces with every sip. AND, the strawberries and orange in this really steal the flavor show. I promise.
I used a blood orange because I still had 3/4 of one sitting in my fridge, but this would be fine (just a little sweeter) with a regular orange.
Waking up yesterday morning, I really felt no better than the previous day. I hate when colds just linger. I always expect to be on the upswing by the third day but apparently this one wanted to hang around a little longer. Not cool.
This was my attempt to really kick it in ass and shove it out the door. I've been looking forward to this weekend since 9am on Monday morning so I refuse to let this cold keep me down. Not sure if any of this is actually working but I'm not going down without a fight!
Kale seemed like the perfect nutrient dense smoothie ingredient and strawberries and oranges just give it a tartness and tang that at least taste like they're doing something to help my body fight off these germs.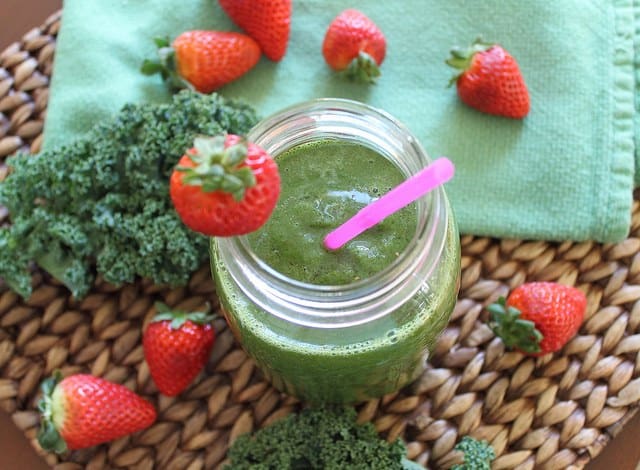 And if I'm wrong, at least I drank something pretty tasty (and healthy!) in the meantime.
Cold Buster Smoothie
This strawberry and orange smoothie is packed with kale to help kick any winter cold away.
Ingredients
1 cup chopped strawberries
1 orange
2-3 large kale leaves, stem removed
1/2 cup almond milk
1 tablespoon honey
handful of ice
Instructions
Combine all ingredients in a blender and blend well until smooth, at least 2 minutes.