All the flavors of spring are in these vegan stuffed tomatoes that are packed with protein.
Iamsofrigginreadyforspring.
I'm ready for the one pathetic spot my daffodils came back up this year to bloom (seriously, do they not realize how hard it was to plant their bulbous asses? They couldn't even give me 2 years in a row?)
I'm ready to stop having to look at sad puppy dog eyes every afternoon because someone is stir crazy from not getting enough exercise over the past 5 months.
I'm ready for some color on my pasty white body that I'm pretty sure blinded people on the bike trail yesterday as I ran in shorts and a tank top.
I'm not ready for the insane allergies that are going to plague me in about 6 weeks though. Be thankful our relationship is behind the computer screen because otherwise you'd be staring at one snotty, watery eyed, throat scratching mess with a tissue shoved up my nose at all times. #hotness
And, I'm ready for fresh herbs from my own pots outside so I can stop paying an arm and a leg for 3 sprigs of basil.
In fact, I deemed this basil purchase the last one. It was a pretty good way to go out though.
Laura posted a recipe for vegan goat cheese stuffed tomatoes last week that caught my eye. I don't usually make stuff vegan on purpose having no reason to, but I'll gladly eat that way if it tastes good. We ate these along side a skirt steak though so I'm thinking the vegan-ness got cancelled out. Oops.
In typical fashion, there was a container of tofu about to expire in my fridge so I figured I'd give this whole "cheese" thing a try.
Here's the deal…
If you had fed this to me blindfolded, I would've never known it was tofu. My guess would've been some sort of ricotta mixture. Tofu is like a magical blank slate. Load it up with enough flavor and process the heck out of it and somehow weird white coagulated soy milk becomes whatever you want it to be.
In this case, a delicious protein rich filling with all the flavors of spring.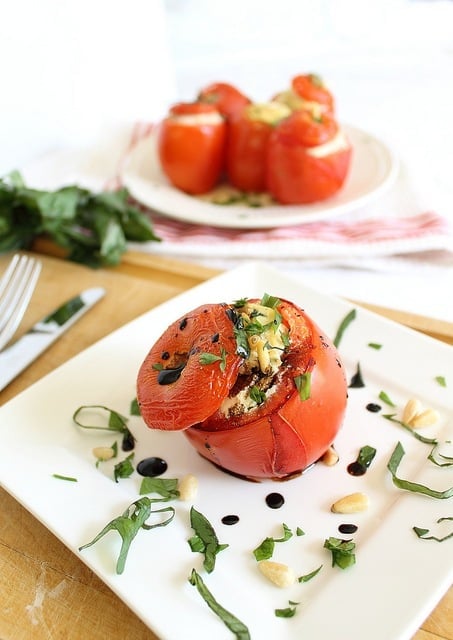 Too bad they do nothing for my pasty legs.
Basil "Cheese" Stuffed Tomatoes
All the flavors of spring in vegan stuffed tomatoes that are packed with protein.
Ingredients
1 block extra firm tofu
4 tablespoons extra virgin olive oil, divided
2 tablespoons nutritional yeast
juice of 1/2 a lemon
zest of full lemon
1/8 teaspoon red pepper flakes
1 shallot, chopped
1 clove of garlic, chopped
salt & pepper
3 tablespoons fresh basil, chopped
6 medium tomatoes, tops sliced off and insides scooped out
2 tablespoons pine nuts
1/4 cup balsamic vinegar
Instructions
Slice tofu in half and press for at least 30 minutes to drain excess water.
Combine pressed tofu, 3 tablespoons of olive oil, nutritional yeast, lemon juice, lemon zest, red pepper and salt & pepper in a food processor. Set aside.
In a medium skillet over medium-high heat, saute the shallots and garlic with the remaining tablespoon of olive oil until softened, about 3-4 minutes.
Add sauteed mixture to the food processor.
Process ingredients until smooth.
Add in basil and pulse a few times until incorporated but visible pieces still remain.
Preheat oven to 425 degrees.
Stuff gutted tomatoes with tofu mixture, place sliced tops back on and arrange in a sprayed baking dish. It might be necessary to slice a small part of the bottom of the tomato off to get it to stand upright.
Drizzle with olive oil and sprinkle with salt & pepper.
Roast for 25 minutes.
While tomatoes are roasting, toast pine nuts on the stove top and reduce balsamic vinegar by cooking it on med-high heat until it becomes thickened and syrupy.
Garnish tomatoes with pine nuts, balsamic reduction and extra basil.