This roasted peach cinnamon swirl bread is just perfect with a spread of butter for breakfast.
You know how there are some things that just epitomize childhood in your memories?
Pepperidge Farm cinnamon swirl bread is one of them for me.
It was in constant supply in our fridge, never with raisins and always two perfectly toasted pieces, slathered with butter next to my dad's cereal bowl (hello, carbfest) in the mornings.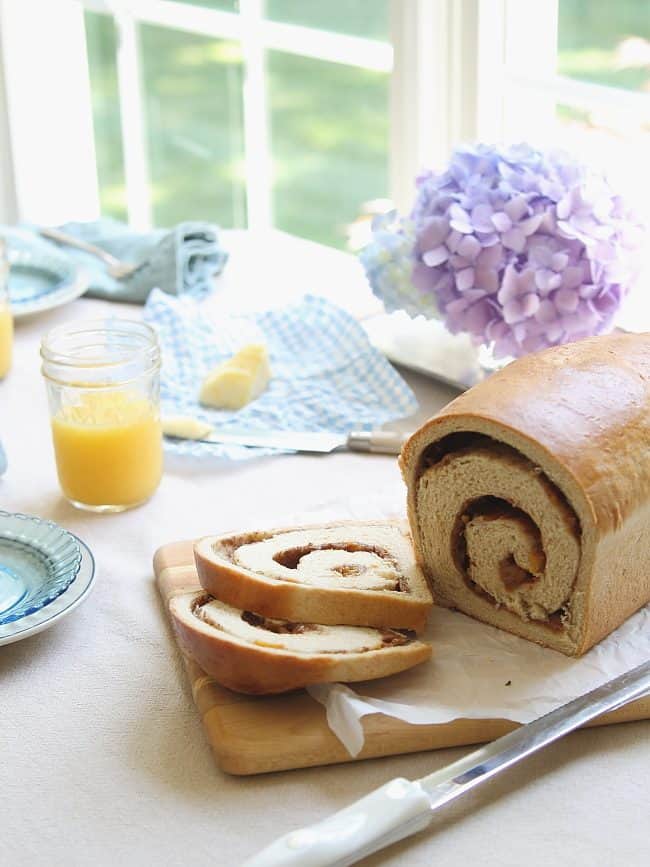 The cinnamon smell would permeate the house and it would take all the willpower I was capable of not to eat the entire loaf every single day before school.
I've always wanted to make cinnamon swirl bread at home but honestly, I avoid playing with yeast too much.
It still freaks me out when it's anything other than pizza dough whose imperfections can be hidden with toppings.
And with cinnamon swirl bread…it's pretty nerve-wracking cutting into that first slice as you pray for that perfect swirl to show up behind the knife.
Well, the yeast cooperated beautifully, the swirl worked and the bread is beyond the most delicious thing to ever come out of my oven.
What these pictures don't show is the idiocy of me putting the first batch of dough in the oven to rise and then stupidly forgetting it was in there (with a towel on top nonetheless) and preheating the oven to roast the peaches for the filling.
The oven got all the way until it was ready at 425 degrees at which point I opened the door and got blasted with smoke to the face, a burnt to a crisp kitchen towel and a ruined perfectly risen batch of bread dough.
This is take #2.
As much as it pained me to throw out an entire batch of dough (I totally still tried to roll it out and salvage it but Ulysses talked me out wasting even more ingredients and just starting fresh-smart man), I think this one turned out even better.
The dough just "felt" right, rose beautifully and the bread literally melts in all of its peachy cinnamon swirl glory in your mouth.
The satisfaction of perfectly risen dough is hard to beat, whether it's peach cinnamon bread or sourdough from your beloved starter.
Which I've recently become obsessed with as well. Next up on that journey is learning how to make sourdough focaccia. I can't wait for the dimpling part!
I beg you to make this bread for your weekend breakfast.
It's just that good.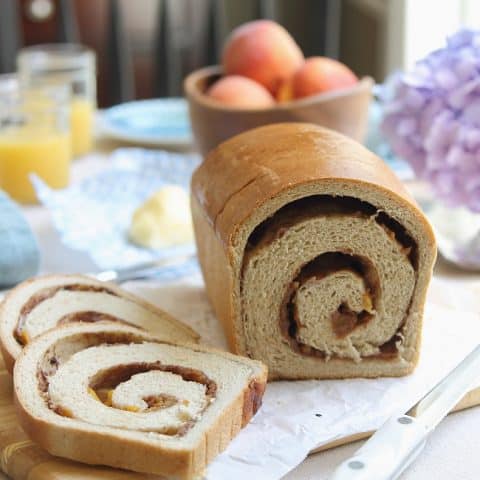 Roasted Peach Cinnamon Swirl Bread
Total Time:
3 hours
30 minutes
This roasted peach cinnamon swirl bread is just perfect with a spread of butter for breakfast.
Ingredients
For the Dough
1 1/2 cup all purpose flour
1 1/2 cup whole wheat white flour
1 1/4 teaspoon salt
1/2 teaspoon cinnamon
4 tablespoons softened butter
3 tablespoons sugar
2 1/4 teaspoons (1 pkg) dry active yeast
1/2 cup warm milk
1/2 cup warm water
For the Filling
2 peaches
juice of 1/2 a lemon
2 teaspoons cinnamon
1/4 cup brown sugar
2 tablespoons flour
1 egg
1 tablespoon milk
Instructions
Combine the warm milk, warm water, yeast and sugar in the bowl of stand mixer. Gently stir and let sit for about 10 minutes to activate the yeast.
Combine the remaining dough ingredients in a bowl and stir together.
With the mixer running on a medium low speed and fitted with a dough hook, slowly add the flour mixture to the liquid yeast mixture already in the bowl.
Mix until the dough pulls away from the bowl and is silky in texture, about 7-10 minutes.
Turn the dough out onto a floured surface, knead a few times to form a ball and place in a greased bowl. Cover with a towel and let rise until doubled in size (about 1 1/2 hours).
Meanwhile, prepare the filling by preheating the oven to 425.
Cut the peaches in half and place on a greased baking sheet. Drizzle the lemon juice on top and roast for about 20 minutes, flipping half way through. Remove from the oven, let cool and then finely chop.
Combine the cinnamon, brown sugar and flour in a small bowl.
Beat the egg and milk in another small bowl.
Place the risen dough on a floured surface, punch down, knead a few times and roll out into a rectangle about 18"x10".
Brush the dough with the egg and milk mixture, saving the leftovers.
Sprinkle the cinnamon sugar mixture all over the dough.
Scatter the chopped peaches evenly on top of the cinnamon sugar mixture.
Starting with a short side, carefully roll the dough into a log tucking and pinching the ends together once rolled.
Place the roll of dough in a greased 9x5 loaf pan, cover with a towel and let rise until the dough is about 1 inch above the rim of the loaf pan (about 1 hour).
Preheat oven to 350 degrees.
Brush the top of the dough with the remaining egg wash.
Bake for about 30 minutes, covering the top with tented tin foil after about 15 minutes when the top starts to brown.
Remove from the oven, let cool for about 5 minutes before carefully removing the bread from the loaf pan and transferring to a cooling rack.