This roasted cherry chocolate chip frozen yogurt can be made without an ice cream maker!
This summer has felt like a blur. There's been exactly 2 weekends since the start of June that we've just chilled at home. There have been exactly zero nights we've used our chiminea on the porch and kicked back with a beer (or cider if your name is Ulysses). Instead, it's been a stream of go-go-go, struggling to feel like you have any control over your life from both a work and personal standpoint and barely coming up for enough air to keep at it. And you know what makes it 10 trillion times worse, leaving you feeling completely on edge all.the.time?
Social media updates.
Last week I finally had enough.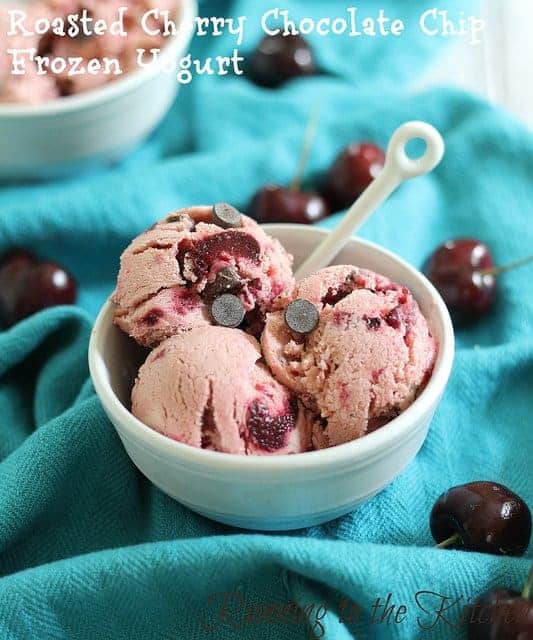 I turned off email push notifications on my phone.
Turned off instagram "like" notifications.
Told twitter mentions to shut the heck up.
Deleted my Facebook "pages" app.
And made frozen yogurt.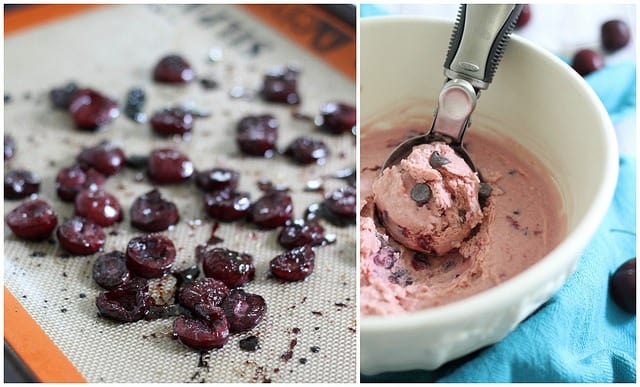 I can't even begin to explain how freeing it is to not have your phone buzzing at you constantly, waking up to see 25 emails in your inbox or obsessing over who has "liked" your stupid picture of food on instagram. These things take up so much mental space that you don't even realize until you're outside on your front porch, in bare feet, soaking up the sun, eating roasted cherry frozen yogurt that you made from scratch without any technological distractions watching your dog jump around like a maniac trying to eat a bee.
Just you, sweet honey roasted cherries, handful of chocolate chips and a crazy weimaraner that make you wonder why the heck you didn't do this sooner. And then in the irony of all ironies, you write about it on your blog. Ha.
******************
Hop on over to Brandy's ice cream social party today for the full recipe and to check out all the other awesome ice cream posts during this 2 week event!